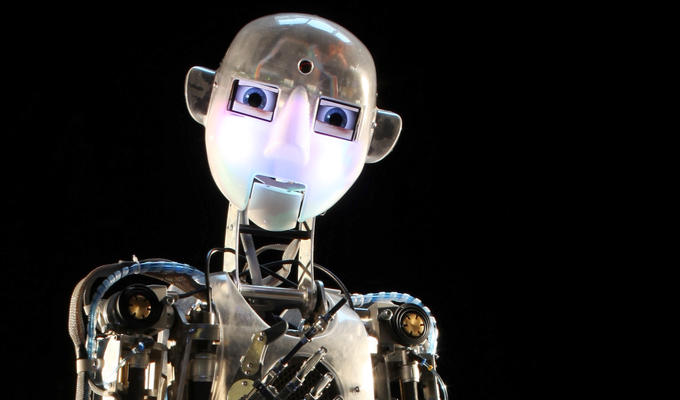 Rise of the Robocomics
Comedians are to be replaced by robots in several experiments this week.
The artificially intelligent RoboThespian will take to the stage at the Barbican Centre in London; comedian and computer programmer Owen Niblock will be performing with his Gig-A-Tron 5000 at the Edinburgh Fringe; and other researchers in the Scottish capital are working on joke-generating software based on Twitter one-liners.
The RoboThespian will be performing stand-up routines written by comic Tiernan Douieb – but the life-sized humanoid automaton will respond to the audience reaction based on its programming.
It will deliver five minutes of robot-themed humour alongside Douieb and Andrew O'Neill, with researchers analysing both the robot and his flesh-and-blood support acts for the way they interact with the audience and 'deliver their material to maximise comic effect'.
Douieb said: 'When people talk of machines taking over people's jobs I had assumed us comedians were safe. I was obviously wrong.
'I'm a big fan of robots, though, and I'm looking forward to see if RoboThespian can relate to a crowd like people can, or if it's only something for us humans.
'His voice is terrifyingly real, as are his movements. The team that created him have done an amazing job and I think he could storm it. Either way, much like RoboThespian is, I'm pretty wired about the gig.' 
The free gigs on Wednesday and Thursday are part of research by the Cognitive Science Research Group at Queen Mary's University into how performers and audiences interact and how this affects the experience of 'liveness'.
Kleomenis Katevas, one of the PhD students conducting the experiment, said: 'It is well known that successful joke-telling is a difficult task that requires performance techniques and trained skills.
'Stand-ups have developed special techniques for engaging with the audience and eliciting the preferred responses. For example, they usually smile or even laugh with the delivery of every punchline, comment negatively on the lack of laughter, or use special gestures that elicit applause from the audience.'
But RoboThespian, developed over six years by Engineered Arts, is not the first automaton to try stand-up.
Data, the creation of Heather Knight of Marilyn Monrobot Labs in New York City performed at this year's SXSW Festival in Texas. Unlike the RoboThespian experiment, it was programmed to find the best jokes by measuring the audience's reaction and was less about interaction between the two.
Both of these criteria are aims of Niblock's Gig-A-Tron 5000 invention currently appearing in Niblock's Free Fringe show, Calculating Comedy. Robin Ince has remarked that: 'Not since Jimmy Carr have I seen a cold computer program on stage generate so much laughter.'
Returning to the festival for the first time since Niblock's aborted 2007 run, Gig-A-Tron responds to heckles from a series of pre-prepared rejoinders. Niblock hopes to have her competing successfully against a human comedian by 2020.
But at the moment, her well-written material is still impaired by the idiosyncratic timing and stresses of the automated delivery, seldom serving the punchlines to best effect.
Alos in Edinburgh, computer scientists at the city's university have created a programme that generates jokes based on a template developed from Twitter one-liners.
The jokes all follow the formula of: 'I like my men like I like my tea – hot and British'.
Examples included: 'I like my women like I like my computers – exported from a sweatshop in China'; 'I like my women like I like my computers - free of viruses' and 'I like my men like Iike my acorns – buried.'
Volunteers testing the quality of the computer-generated ­witticisms found they made them laugh, although not as much as the material of human comedians.
-by Jay Richardson
Here is RoboThespian:
Published: 5 Aug 2013
What do you think?