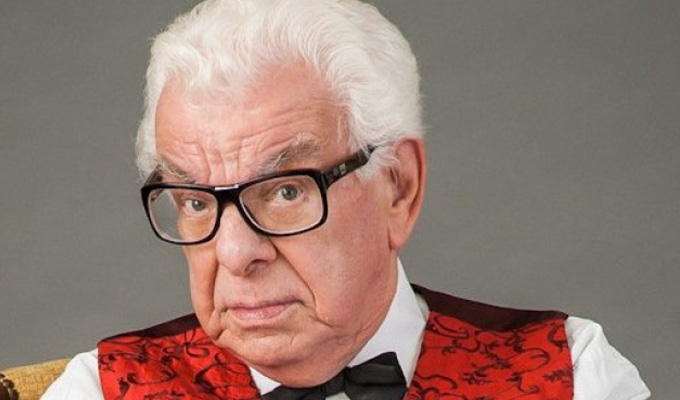 Sitcoms are stuck in the past
It is not uncommon for older comedians to complain that the generations who follow them have lost sight of what is funny.
But veteran writer Barry Cryer has turned that idea on its head – by complaining that modern TV comedy is stuck in the past.
He says shows like The Wright Way and Mrs Brown's Boys have put the sitcom back 30 years because of their thinly-drawn characters.
And while ITV's Vicious was hailed as the first mainstream sitcom to revolve around a gay couple, 78-year-old Cryer has blasted it as 'homophobic'.
But his main complaint was about the shallow characters in modern TV comedy. In an article in the Radio Times, he said: ''It's a serious business writing comedy. You don't necessarily need funny lines all the time.
'The key is to create characters. Characters people can identify with. But right now we've gone back at least 30 years in terms of format. From Vicious to Mrs Brown's Boys to The Wright Way, the old-fashioned situation comedy is suddenly all the rage again.
Cryer added: 'The great sitcom writers of the past didn't think jokes were remotely important. Ray Galton and Alan Simpson, who wrote Hancock's Half Hour and Steptoe and Son, knew that instinctively.'
He said Vicious should have been 'fantastic' thanks to the acting talents of its stars Sir Ian McKellen and Sir Derek Jacobi, 'but it was insult, insult, insult every other line. You don't believe in them. You don't like them, for a start. It was positively homophobic. It made John Inman look restrained.'
Cryer, who has written for Tommy Cooper, Les Dawson, Kenny Everett and Frankie Howerd in his long career, did rate Rev and Miranda – even though 'the falling down has got a bit out of hand'.
But he did hold out hope for the future of sitcom,saying: 'We will laugh again soon...
'The secret to the truly funny sitcoms is simple - they are basically all about life.'
The interview with Cryer is in the new issue of Radio Times,on sale today.
Tweet
Follow @chortle
Published: 18 Jun 2013
What do you think?