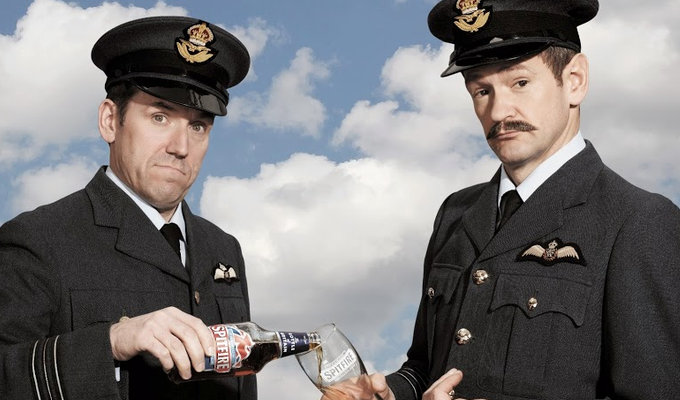 That is well unfair, blud
An Armstrong and Miller ad for Spitfire beer has been banned for being offensive to Polish and Irish people.
The duo are returning to TV screens next month with a new series of adverts featuring their Second World War RAF pilots, who speak with clipped accents but using modern slang.
However one of the commercials has been banned by watchdogs at ClearCast, the body which vets ads before they are screened, in case it causes upset.
The butt of the joke is the ignorance of Armstrong's character, when meets a high-ranking Polish officer.
He says: 'Listen blud, is you like one of them geezers that's like a Pole from Poland or Russia or something place like that?'
The other character replies: 'I am General Vladimir Zhigorski, Supreme Commander in Chief of free Polish forces, yes.'
Armstrong's character responds: 'Only my nan's patio needs doing and I thought we could do, like, a deal for cash?'
Miller's then remonstrates with him: 'Man, you can't say that, that's just wrong. That's like stereotyping a whole people by profession… anyways it's the Paddies what does the building isn't it?'
The Federation of Irish Societies has slammed that line as being 'disappointing, outdated and unfunny'. However, ClearCast said the version of the script submitted to them by brewer Shepherd Neame had no reference to Irish people.
But they said: 'The proposed script depicted Polish people in the UK in a way that we felt could cause offence. In circumstances such as these, it is up to the advertiser to demonstrate that widespread offence would not be caused and Shepherd Neame have not to date come back on this point.'
A spokesman for the brewery said they were 'surprised' by the ruling, saying: 'The butt of the joke is quite clearly the comedy duo and their reliance on absurd caricatures'.
The company is no stranger to controversy, having garnered headlines with previous Second World War slogans, such as Downed all over Kent, just like the Luftwaffe and No Nazi Aftertaste.
Armstrong and Miller signed a two-year deal to promote the beer in March, but Miller tweeted yesterday: 'Oh dear... banned before we even start.'
As part of the deal, one pub will host a live gig by the duo – if it orders enough Spitfire.
Tweet
Follow @chortle
Published: 13 Jun 2013
Recent News
What do you think?