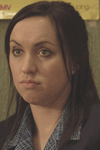 BBC Three show for Kerry Howard?
Him And Her star Kerry Howard has made her own sketch show for BBC Three.
The comic actress, who also played Reggie Perrin's secretary in the recent reboot, has already recorded a pilot episode of the show, which has her name in the title.
The BBC are expected to make an announcement about the show in the coming days, but a spokeswoman declined to give any details of what that might be.
Objective Productions – whose credits include Peep Show, Fresh Meat and The Cube, made the pilot last month which was not meant for broadcast and also featured Will Andrews and actor Mark Davison, who appears on the stand-up circuit as Mr Susan.
Afterwards, Howard, who plays Laura in Him And Her, tweeted: 'I finished my pilot of the Kerry Howard show and it was amazing. Cast, crew, objective production excel themselves. Fingers crossed.'
A spokeswoman for Objective said: 'It was a non-T pilot and we await further news.'
Kerry – the sister of stand-up Russell Howard - is also working on a sitcom called Jilted for the BBC's in-house comedy department, which she is writing with Sarah Morgan, whose credits include Radio 4's Bigipedia.
Tweet
Follow @chortle
Published: 10 Apr 2013