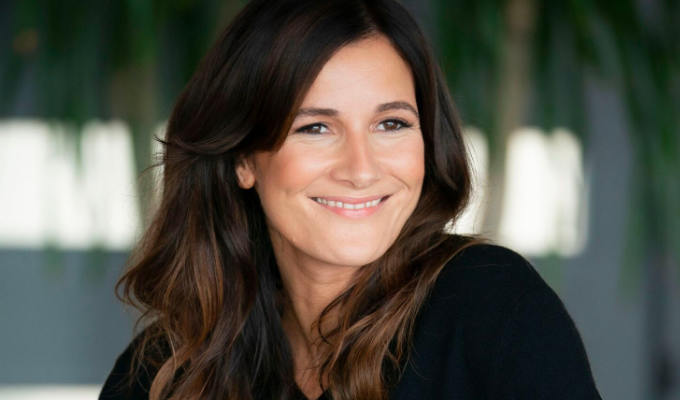 'It's a very particular type of pain, being an artist and a mother'
Sarah Solemani is currently appearing with Steve Coogan on the Channel 4 show, Chivalry, which they both wrote and which explores the impact of the MeToo reckoning on Hollywood. Here she talks about laughter being a healer, giving a voice to women, and the pain of being an artist and a mother.
---
How did the idea for Chivalry come about?
Steve Coogan and I were filming [the Michael Winterbottom film] Greed in Mykonos in 2018 when Me Too had just happened in Hollywood and we had a lot of debates about what it was and what it meant and whether it had gone too far.
We hadn't seen anything before that unpacks what is happening between the sexes and what would happen if two people, pitted against each other on paper, were to develop feelings for each other. To put those characters in that debate so we could not only unpack what had happened but also laugh at it, felt like a really complicated starting point and journey to go on - and it turned out it was, in a good way.
Laughter is such a big healer when you're talking about trauma and shame which MeToo is.
And so those two characters are Bobby, an indie filmmaker who takes over as the director on a problematic Hollywood movie and Cameron (played by Steve Coogan), who is producing the movie…
Bobby's brought in to fix a film the studio thinks is sexist. It was made by an old French director so Bobby's job is to reshoot and detoxify the sex scenes. She then finds out about cover-ups and bad behaviour and discovers Cameron did nothing so it becomes about more than just reshooting a film, it's the whole culture.
Bobby has moved to Los Angeles, bringing her husband Aston (Adjani Salmon) and seven-year-old son Noah with her, for this job. What is she motivated by?
She really wants to make this film about menstruation set in Iran and so she has to do a bit of a dance with the devil by working with Cameron and pleasing Jean. She thinks in doing that, she'll get a pass to make her movie, so the show is also a satire on the artistic trade-off.
Without giving too much away, Bobby gets seduced and Cameron is the seducer. It's an anti-romantic comedy because Bobby has this idyllic life with a marriage and a kid but Cameron represents money, power, influence and sex.
We're telling a story about what integrity means now and the dance with the devil that we all do; that tug between income and principle that George Orwell talks about.
Where does Bobby's husband fit in?
He's the trailing spouse and is invested in her. There's a tired archetype of the frustrated spouse whose partner works too much and doesn't spend enough time with the family but in this, it's more of a personal internal development that Bobby has via Cameron which alienates her from her husband because she's not sharing her truth with him.
And so rather than it being a dull, boring, domestic marriage that she wants escape from, it's more of a painful, truthful dilemma. Do you go with the person who you've got a child with and who is good, or do you go with the person you're romantically and sexually attracted to?
It's really about a personal awakening. But the audience should be rooting for both of them.
Did you base the character of Bobby on anyone in particular?
A lot of the earnest, dedicated artists from England who will probably never make the work that they should; who slog away or try and campaign for more equity or representation or childcare on set. I wanted to give a voice to those women because were they given the resources that some men are given, what would they make?
In one scene, Bobby says to Cameron: 'I've had to hack through this jungle which most average men just stroll into.' It's that sense of fighting and pushing and the doors being closed, until finally you get your small window of opportunity and the fear and thrill that comes with that.
It's a love letter to the female artist mother which is a very particular kind of pain. It's so painful having two callings. On the one hand you're a mother who'd die for your children but then without your work, well, you might not die, but you'd definitely fade. You'd lose something.
It's very hard for mothers to negotiate both those roles because you never have enough time for both - and you need both to survive.
What was it like writing with Steve Coogan?
My joke with him is that he brings a lot to the table but sadly not a pen or a laptop. We talk and then I write. And then he reads and we talk and he'll pitch ideas and give notes. And then I'll restructure it and work out the story.
We wrote the whole thing on Zoom during Covid. He's very much an actor who can write and I think I'm a writer who can act. Writing is my happy place. I'm quite controlling and I like to be over it all, whereas he likes to pace and throw out ideas or riff.
And then because we're both actors we'll often be speaking the dialogue and rhythms of the scenes and if anything is bumpy then we'll know just by how we can access it. It has to make us both laugh and if it doesn't make us both laugh, it's out.
How challenging was it to make a comedy-drama about MeToo?
It was a massive interrogation because you don't want it to be funny in a way that undermines what the movement is but then you don't want it to be earnest.
When you're just playing the trauma of something, sometimes that can feel really cheap, like you're just pulling at the heart strings. Finding catharsis through laughter is how we can recover and get perspective. So it was a real tightrope at all times.
What kept you going?
[Co-stars] Wanda Sykes and Sienna Miller kept saying to me, 'I'm so glad you're making this, I'm so glad to be a part of it, I haven't read a script like it.' Even though it sometimes felt overwhelming that we wouldn't crack it, we would do a disservice or it wouldn't be funny, having the team reaffirm the enormity of the challenge helped a lot.
It reminds you of why you're doing it. When you're in the weeds and you've got to figure out practicalities like shooting during Covid and the relocation from the UK to Hollywood, it's like: 'This is so challenging and it shouldn't be,' but then you're like, 'it's because it's an ambitious piece'.
It's much more ambitious than even Ridley Road [a drama adaptation Solemani wrote about the anti-fascist movement that aired on BBC One in 2021].
They say running your own show is like being beaten to death by your own dream which is totally how it feels but we live in a complex time and we have to make work that is helping unpack things.
What sets Chivalry apart from other TV shows and films inspired by the MeToo movement?
I think it's having Steve's voice and guts; having a white older man's perspective and dialogue. Lots of work that's come out looking at sexual assault has been refreshing - we ate it up because we hadn't seen it before - and so we didn't want to do a bad impression of that.
Our show is, I think, the first one putting polarising opinions in the same scene; the dialectic between men who feel like they have some guilt and women who feel angry at men for this reason.
How closely does the Hollywood depicted in the show resemble the real thing?
I think it's pretty accurate. It presents as very diverse and socially conscious but it's still a profit-driven industry.
When Trump happened, Hollywood was galvanised and there was a resistance movement that emerged from that era that was very invigorating. But it's not this utopia.
There's still a lot of very desperate people who want to make it and will do anything to sustain their status and their power and I have been privy to that. There isn't the same desperate drive in the UK that there is in Hollywood.
Do you have a favourite scene that sums Chivalry up?
There's a scene with me, Steve and Lolly Adefope [who plays Ama, Cameron's assistant] that I really like in episode one. The characters are discussing how to fix a sex scene and Ama suggests the actress should squirt.
We're not laughing at anyone but we have empathy for all three players - the white rich boss, the black assistant who is trying to contribute, the liberal feminist who is getting it wrong. There are loads going on and that's the sweet spot of the show - embracing where we are in this moment in the culture but laughing at how ridiculous it all is at the same time.
• Episode 3 of Chivalry is on Channel 4 at 10pm tonight, or the full box set is available on All4. Read an interview with Steve Coogan here.
Published: 28 Apr 2022
What do you think?