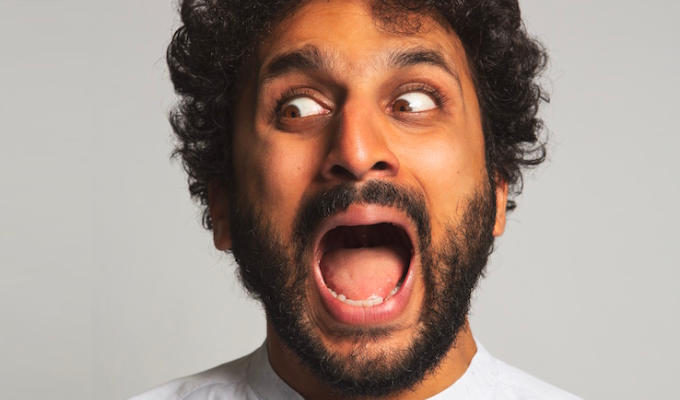 'Victoria Wood not enjoying my gig was a career low'
There can't be too many comedy touring shows revolving around the throwing of a bread roll. Nish Kumar's Your Power, Your Control strongly features the time he hit the headlines when the projectile was hurled his way during an anti-Brexit routine at the Lord's Taverners charity Christmas lunch in 2019.
'I looked to my right and saw it rolling near me and I just had to say, "Did someone throw a bread roll at me?",' he recalls. 'There was a table of comedians there and I saw Tim Key's face through the darkness: he was just nodding at me. I think Chris Addison was having an argument with the bread thrower but the identity of that person remains unclear to me.'
During Your Power, Your Control, Nish places the bread-roll incident into the context of his worst five gigs ever, which also finds a place for a night during his Edinburgh Fringe debut run in 2012 when a seat was taken in his 50-seater room by one Victoria Wood. By his account, not only was this national treasure not especially rolling in the aisles, but she also looked extremely displeased throughout.
'It's like your nightmare day,' Kumar recalls: 'I saw her when I walked on stage and in that venue she was too famous for all the attention in the room not to be fixated on her. '
And he said he would have at least pretended to enjoy the show had he been in her shoes.
'I'm not by any means in the pantheon of British culture and she is one of the most beloved comedians of all time, but if I go to a show and know I'm very visible, I definitely do my best to make sure that it looks like I'm having a good time.'
Her nonplussed reaction was especially brutal as Kumar holds Wood up as a comedy icon. 'If you look at Acorn Antiques there's something of the Garth Marenghi about it. But then you look at Dinnerladies, and everyone – my parents, my grandparents – we all loved it. So obviously her having a bad time at my gig is a low career point for me'
Your Power, Your Control does not entirely focus on those people who have not been admirers of Nish's comedy, as there's also routine where he pokes a pointy stick straight down the gullet of the national anthem: the closest Nish has come to the confrontational tactics of Stewart Lee where a repeated phrase or gesture carries on for quite a long time.
'It has got longer every night because it's as much fun as I've ever had on stage,' he says. 'But I don't have the stones or iron will of Stewart Lee. That man has balls of steel and he would just keep going with it.'
Kumar previously pushed the envelope in having long show titles such as Actions Speak Louder Than Words, Unless You Shout The Words Real Loud, and Long Word… Long Word… Blah Blah Blah… I'm So Clever – so Your Power, Your Control is relatively restrained.
"The long-winded title is my metier, that's my brand," Nish confesses. "I did have more long-winded titles in mind but there was a lightbulb moment where I thought yes, that's it. My therapist used the phrase when he said to me "you've got to focus on what's in your power and in your control", and I thought "that's a good title for something".
'The phrase occurs in the show in its entirety, and I thought it would be nice to have a title from a phrase that does pop up in the show at some point. I think Power, Corruption And Lies would have been good, but New Order had already taken that.'
» Nish Kumar: Your Power, Your Control tour dates and ticket links.
• Edited version of an interview supplied by Kumar's publicists
Published: 15 Apr 2022
What do you think?