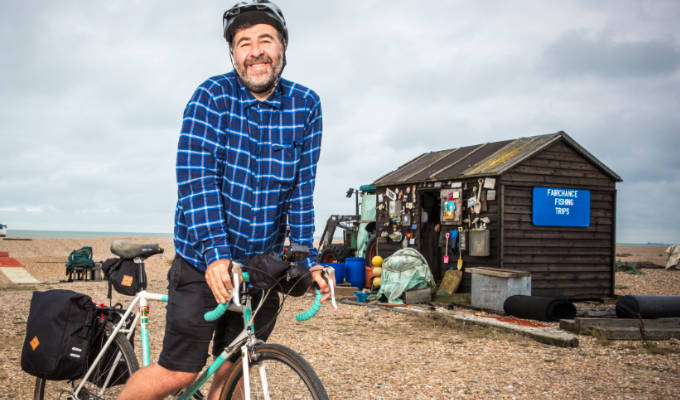 'I had a break-up, my career stopped and I moved to a tiny island with my parents all in the same week'
David O'Doherty's new series Along For The Ride, in which he takes fellow celebrities on cycling tours of the UK, begins on Channel 4 tonight. Here he tells us of how he uses cycling to escape and get creative, how lockdown prompted som serious thinking about his stand-up career - and how motorists who get angry at cyclists should just chill out...
---
Tell us about the series and what we can expect from it.
Well, I've always been obsessed with cycling and then during lockdown, I moved to a remote island off the west coast of Ireland with my 83-year-old parents.
Apart from them, my only company was the bike I'd got for my 14th birthday. I had raced on it when I was a teenager and back then I wanted to be a professional cyclist. While the drugs scandals ruined professional cycling for me, I've still always loved bikes, so, while I was on the island, I fixed it up using a billion bike refurb YouTube videos.
I wanted to go out cycling on it as soon as the world came back. I suppose that's the origin story of this show.
How did that evolve into a show where you're interviewing people whilst cycling?
I'm not sure I'm really interviewing anyone - it's really just a chat. I think when you're cycling, the boring half your brain is taken up with steering and trying not to ride into the back of that Toyota Yaris. This frees up the other half - the creative part.
I've had some of the best chats of my life on bikes. Very often you get straight to the heart of the issue - big stuff – love, death, food... I thought of all the people I'd most like to go cycling with, and they all said yes, which was phenomenal.
What is it about cycling you love so much?
For me, there's a permanent mystery to cycling which is: 'how the hell does the bike stay up?' As in, if you stand a bike up, it just falls over. Yet place your bum on the saddle and twiddle your legs around, it somehow floats in the air.
For me, cycling is like a magic trick that has never lost its 'woah'. Every time I get on a bike, I can't believe it's happening. I remember before I could cycle, I'd see people on bikes and think, 'Well, I'll never be able to do that'. And I still can't quite believe that I can.
Then there are the obvious environmental benefits of cycling, and it's good for your brain. After the year and a half we've all had, there's something life affirming about being back on the road again.
In episode one, you're with Richard Ayoade, how did he get on?
Richard Ayoade is an enigma. He presents as a nerd but is really fit. He flies round London on a three speed Brompton, and the thing about a three-speed bike is that every time you come to a hill, on a racer I can find an easy gear, but he has to absolutely attack it.
He pulled up in a pair of shorts and I've never seen or thought about Richard Ayoade's calves before. But one glimpse at them told me all I needed to know.
We hammered through the countryside of Kent towards Dungeness and I think he could have ridden four times that distance no bother at all.
Episode two features Grayson Perry, a former mountain bike racer. Did you bite off a bit more than you could chew going riding with him?
The first thing about Grayson is that, unbeknownst to him, he was a huge figure during my lockdown. Oh my goodness, the episode of Art Club where the second wave has kicked in and the art exhibition has to be cancelled, almost made me drop to my knees and shake my fists at the sky: 'I thought Covid couldn't get any worse, but it has!'
So I've been a Grayson Perry fan for ten years. I'd also noticed that sometimes, lurking in the background of his shows there'd be a bike. After a while, when you're obsessed with bikes, you start to recognise the parts and I realised that it was a very good bike.
Then a few years ago, he did an interview with a cycling magazine and was talking about mountain bike racing in the 1990s. I like people who have strings to their bow that aren't at all close together. You can imagine that Grayson would like music or read certain books, but being a champion mountain biker, you know, that's something I really wanted to get to the bottom of.
It was quite a challenging ride with Grayson, wasn't it? And you possibly had a bit too much to drink when you were camping?
Firstly, how dare you, we are very serious cyclists. In Great Britain and Ireland, there aren't many of those long Tour de France length climbs, but there are a few in the Brecon Beacons.
When we were picking routes for the show, I wanted it to be a bit like the computer game Mario Kart and for each episode to have a different vibe, I wanted one by the coast, one in the countryside and then one in wild, Tour de France-y mountains.
The problem is, there's a big difference between seeing all these lines on a map and keeping your angry legs going round and round while you ride up it.
I also need to point out that I was riding the bike I got for my 14th birthday and the technology has come on a bit. Also, I had loads of stuff in my bags – my goodness, listen to me, getting my excuses in early. What I'm saying is, we did it all for real. We weren't taking lifts in cars or sneaking off to hotels We were staying in tents and wooden sheds and I had all the gear: tools, wet weather clothes and some wine in my bags.
So if I'm not quite going up these hills at Tour de France speed, in the Tour de France, they don't have to carry all their stuff with them.
Did you use the bike you got when you were 14 for all four episodes of the series?
I used two bikes across the series. In the first two episodes I rode the bike from when I was 14, and then a bike I bought on Facebook Marketplace for £200 during lockdown.
Full disclosure, I'm in my sitting room at the moment and there are four bikes over there, three bikes in the hall, then there's the shed... I live in a house with 14 bikes. I need to point out that none of them are ornamental. I cycle them all, though, obviously, not at the same time.
Was it a more genteel cycle with Mel Giedroyc who we'll see in episode three?
Mel knows a lot about everything, that's why it was fascinating to cycle from castle to castle, through Northumberland. Mel's another good cyclist. If your daily commute involves riding five miles, you're a good cyclist and that will absolutely transfer into the countryside.
We had to ride to the tidal island of Lindisfarne, so you're under pressure to get there and then even more to get back before the tide traps you on a medieval island for the night. Mel was phenomenal company and we made up a lot of songs as we cycled, most of which are unfortunately, unbroadcastable.
Do you feel like you've done a lot of putting the world to rights whilst you've been filming this?
There's a variety from episode to episode. For example, Joe Wilkinson is one of my best friends and I hadn't seen him for 18 months. So that one was about falling back into the rhythm of being with one of your great friends.
Across the series there are profound bits and a whole lot of really stupid stuff. I love cycling but I'm not a terribly serious cyclist - this is a non-lycra show. At no point does anyone mention their Strava or produce a heart rate monitor.
Has cycling been a bit of a saviour for you in the past 18 months?
I had a pretty tough lockdown. In mid-March 2020 I had a break-up, my career stopped and I moved to a tiny island with my parents all in the same week. So to have the bike and to have the sort of places that cycling transports your brain was my escape.
And it's something that made me want to go cycling with other people, because that was all solo for a few months. With this show, I didn't know Grayson at all, I know Joe well, and I knew Mel and Richard a little bit. So it was about making friends too, and that's something I think we've all missed.
What advice would you give to anyone who either hasn't ridden a bike for years or has never gone on a scenic, countryside cycle?
Put some air in your tyres and go for it. With the cycling boom of the last 15 years, people think that it involves a lot of gear and planning - spare tubes and tiny spanners and energy gels. But it really doesn't.
If you cycle to the shops occasionally, you can just cycle a bit further to a cafe that does a nice chocolate eclair, and maybe the following week go to the bottom of that hill just past it. Build it up slowly and you'll get more confident.
There's something really nice about reaching a destination you planned to reach. I tend to use cake as the carrot part of the carrot and stick approach. In the episode with Grayson, there's a part where we tear off our clothes and jump in a river. It's stuff like that I've missed.
Cyclists aren't always popular and come in for some criticism, what would you say in defence of cyclists?
Whether you like it or not, cycling is the future. If our grandchildren aren't underwater, cycling will have been part of the solution. Yes, some cyclists can be a bit annoying when you're in your car, but not only is your car wrecking the environment, it can knock over us cyclists, so chill out.
It's been a difficult 18 months for the comedy world, are things looking more positive now shows are coming back?
I didn't do a show from March 2020 till June 2021. That's a long time to think about whether I really I enjoyed all of the stress and boring train journeys to strange places, and weird gigs and getting shouted at by strangers that entail stand-up comedy. But my conclusion was, absolutely, yeah, and I've loved doing stand-up again.
There's a bit of extra in the audience when you come out on stage at the moment. They're really happy that this is back. It's exciting and reminds me why I started doing it.
• Along For The Ride with David O'Doherty​ is on Channel 4 at 10pm tonight, starting with the Richard Ayoade episode in Kent. Interview courtesy Channel 4 press office.
Published: 22 Nov 2021
What do you think?