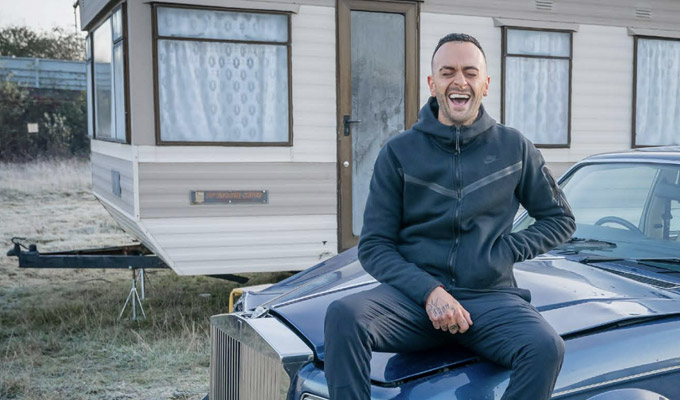 'There's something liberating about having your bits out in public and no one can arrest you for it...'
Brassic returns to Sky next month, picking up with the criminal gang as Vinnie, played by co-creator Joe Gilgun, is released from prison. The broadcaster says the show is 'bigger, braver and more bonkers than ever, it's a hectic world of bulls, snakes, kidnappings, betrayal, and this time, a full-size horse...' But here's Gilgun's take on the show:
---
Tell us about the world you've created with Brassic?
For me, it's everything. It's loosely stories about my life, it's my dad, it's my mental health, it's the pills I'm on. You know, it means a lot.
And the big fear for me always is, 'are people going to fucking understand this, or do I just come across as a twat?'
You can't control what people think of you. And it's one of the worst feelings as a human being, that thing of just wanting to be liked. I just want people to like me even though I'm messed up. It's an ego thing!
So there's an element of imposter syndrome?
Oh, fucking right there is! I mean, it's bad for me. Really, really bad. I assume that every single person I meet is much, much older and wiser. Miles more experienced. The mad thing is, and I'm going to sound like a right idiot, but I've made my money now. I could disappear back to the woods, not do anything, and just go and be homeless again. Which I enjoyed doing. I was happy doing that.
But I still feel like an imposter even then. If you're sat firmly in your comfort zone, you then start panicking that it's all going to be taken away from you, but then when you're out of your comfort zone you're panicking that everyone will think you're shit, so you can't win! I think part of being human is just that constant struggle.
Do you think you've upped the ante for series three of Brassic?
I do, yeah. Some of the criminality I got up to was heavier than just nicking bees. So what do we do? Do we go with it, or do we pull it back? You have to up the ante a little bit and do something different each year. It has to be a different album by the same band.
I sat in a room with the cast and I just said, "Look, we'll never fail as long as you're here, every one of you is here, we'll never fail. Ever." I swear to God almighty, I will never ever put out a shit episode. I'll run off before I do that.
I can't stand the idea of being that guy who just does it for the sake of it. It's almost like, don't get too big for your boots. Remember where you come from. And remember that the engine we've got, it's not broken. Don't be fixing it if it isn't broke. We're winning races every time. We've got a winning formula. Let's not add extra tools or extra engine parts that just don't need to be there, you know?
Is it easier to take risks now?
Totally, it is. I mean, you can underestimate it. The biggest problem with this industry, it's that ego thing. No one wants to piss on the work, they just want to mark their scent. And before you know it, you've got this tree that has been pissed all over by everyone. You're killing the tree.
But this lot [the Brassic cast and crew] they just get it. Brassic doesn't belong to me, it belongs to all of us who work on it. I think that's why it's so special, I really do. It is not like a dictatorship. Everyone's considered. No ideas are stupid until they are completely stupid.
I don't want to work on those kind of sets ever again… where everyone thinks there's a hierarchy and the crew are terrified to suggest ideas, it has to be this way. I'd rather just not work and go back to the woods.
How much of the scams the gang get up to are based in truth from your actual life?
They're all kind off fucking true, dude! Like, to an extent, they're all kind of true. Apart from finding body parts. I have never found a body part.
But, a lot of the theft, the stealing of objects, it's all happened in some shape or form!
They steal bull semen this series, is that true?
It wasn't a fucking bull. It was a horse! Dude, it's the worst. It was a bad job. We had frozen sperm being passed to different houses for weeks and weeks! I'm not even joking!
What was it like getting naked with the other lads during that episode?
We actually decided to do that on the day, it just felt funnier! I was like, 'Look. We all hate our bodies, it wouldn't be the same if you didn't, right'" Well, apart from Damian [Molony, who plays Dylan] who's fucking ripped! He's a beautiful man!
I look like E.T. now because I've put on a fucking stone over the pandemic. But anyway, we all did it. Do you know what? There's something really liberating about having your bits out in public and no one can arrest you for it.
We've seen a simmering romance between Vinnie and Michelle Keegan's character Erin, would you like to see them together?
I would. I think they both need each other. think it's that thing of, they're meant to be together but they're absolutely not meant to be together. It's a perfect description of what love is.
There is an element for most people that love is suffering. I mean, the intoxication that you feel where you want to have sex all the time, cuddling and watching the same things, and having all the same opinions, it's wonderful.
But from my experience as a little boy, watching endless relationships just splinter apart and affect everything around you, what I've realised is real love is the moments where you dislike them terribly, but you're still there, you've got each other's backs.
Love is tough, it's not a fucking fairytale like we're all told it's supposed to be. Erin knows that Vinnie's a twat, but he's her twat. And actually, she can be a total twat as well. So it's there, simmering, but will they give in to it? Let's see.
This season you gave Michelle, Bronagh Gallagher and Jo Higson their own episode as Erin, Carol and Sugar.
Yeah, we simply weren't using them enough, frankly. They are powerhouses, all of them, they really are. We were doing them all a disservice by not putting them at the front so as creators, we sat round and were like, "What the fuck are we doing? We're fucking up here. Guys, like, these girls are fucking awesome, let's use them".
We've always said that we chuck the fucking rule book out the window on Brassic, but we'd accidentally created a rule which makes the lads the centre of everything, but it shouldn't be the case all the time. So we just poured everything into a proper all girl episode. And the whole fucking episode, they carried it brilliantly.
Do you think Brassic could run for ten series?
Definitely. But it's not something we're necessarily aiming for. We've not even got a rule with that. We don't have an answer for each other. We don't. In fact, if anything we're getting better with each series and I'm worried about it. What the fucking hell are we going to do? Like, it's brilliantly tough every time, how can we keep going on that trajectory without fucking it up? That's the battle. That's not an easy fucking cross to be lumping about with you.
But listen, we all love the show, we want to carry on.
Would you ever consider a movie version of Brassic?
I'd do anything. I don't think there's any rules. I'll do a spinoff if the idea is right. If it's good, I don't care what anyone thinks, we can go for it. We have a group of people who love our show and if they want more, we'll give it to them.
Do you have any plans for outside of Brassic?
I'd like to be able to get to a point where - I mean, it's a big ask at this stage in my career - but to be like Shane Meadows. I learnt from him to stick with what you know. Surround yourself with people who love what they do and who are frightened the night before. If you're shitting yourself the night before, then you're the ones I want to work with. So there are lots of ideas knocking about.
• All episodes of Brassic series three will be available on Wednesday October 6 on Sky Max and streaming service Now.
Published: 28 Sep 2021