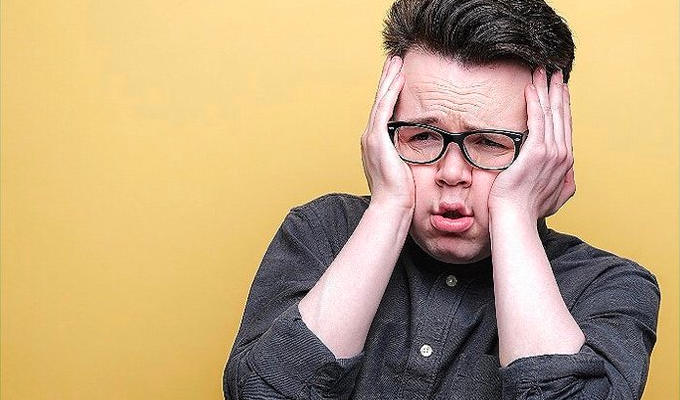 I love the Fringe... you get to perform for people who love comedy
Christopher Macarthur-Boyd, as seen on BBC Scotland's Up For It and The Comedy Underground, returns to the Edinburgh Fringe with a new work-in-progress show, Oh No, promising 'jokes about sex, drugs and pasta'…
What have you learnt about yourself and your comedy during lockdown? Has it changed anything?
I have learned that I was wrong when I said that the only thing stopping me from writing a novel was not having enough free time.
Did you do any Zoom or drive-in gigs? How did you feel about them?
I didn't mind Zoom gigs, but the drive-in stuff was so odd. Very weird to stand on a stage, and to look out and just see cars. Felt like I was doing a private gig at Lightning McQueen's stag do.
What does the Edinburgh Fringe mean to you?
I love it. I'm happiest when I'm on stage, and you get to spend so much time actually performing for people who love comedy. It's got its problems - too many shows, too many arseholes, too many posh wanks. But August is my favourite month of the year, and I think this year is going to be really special.
What would your perfect Fringe day be, in a normal festival year?
No shows. Just an absolute lunch-crawl going from eatery to eatery. Mary's Milk Bar for the best gelato in Scotland, then to Civerinos for pizza, then to Bross Bagels, then to Mosque Kitchen for makhni, then the currywurst stand outside Teviot, then finally to Palmyra Pizza for a nine-inch pepperoni and a can of Irn-Bru at 3am. No comedy, no theatre, no nothing. Meal after meal after meal, alone, until I explode.
What's the best experience you've ever had doing comedy?
I remember when I was a baby comedian in 2015 and randomly being introduced socially to Eddie Izzard. I loved him so much growing up, and I was in shock to be face-to-face with him. I said, 'Do you have any advice?' and he began to speak passionately and enthusiastically at length.
Unfortunately, just as he began to speak, I remembered how vociferously he campaigned against Scottish independence, and all I could hear was, "No voter, no voter, no voter, no voter, no voter.'
What does your show reveal about you?
I'm hoping to shock and electrify Edinburgh by talking about mental health, which I'm pretty sure has never ever been covered by any comedian at the Fringe ever.
If you have special walk-in music for this show, what is it, and why did you choose it?
When people are getting settled, I'll play Ryo Fukui's breezy 1978 j-jazz classic Early Summer, which is what I listen to when I'm cooking in the kitchen. Then when the lights go down, For Whom The Bell Tolls by Metallica for a dramatic entrance, and to create a thematically relevant vibe of dread.
Describe your show in the form: 'the bastard child of X and Y on (drug Z)'
The bastard child of Los Campesinos! and Rey Mysterio Jr on krokodil, the Russian synthetic heroin substitute.
• Christopher MacArthur-Boyd's Oh No is on at 8.30pm at Gilded Balloon Teviot from Friday until August 29
Published: 11 Aug 2021
What do you think?