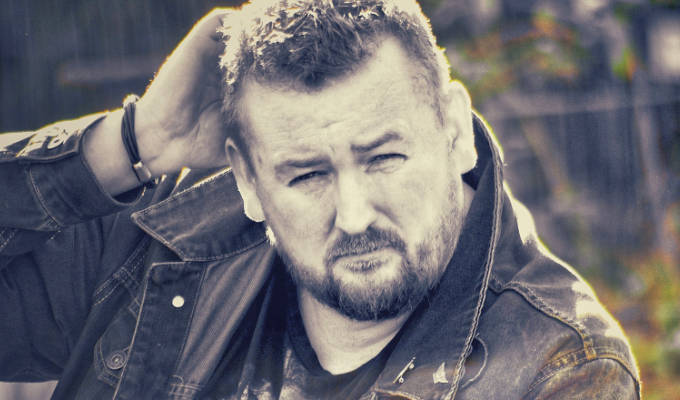 'Zoom gigs are terrible, no one likes them'
Rick Molland is the resident compere at Edinburgh's Monkey Barrel comedy club. During the Fringe he decamps to the Scottish Comedy Festival at The Beehive Inn, where he performs the improvised stand-up show Freestyle Comedy with Sully O'Sullivan and hosts the nightly compilation Scotland's Pick of the Fringe.
What have you learnt about yourself and your comedy during lockdown? Has it changed anything?
I'm not sure I possess the ability to learn about myself any more! I missed being out of the flat on a Friday and Saturday night, I guess it hadn't ever clicked just how much my social life was connected to gigging.
I've always been pretty confident, things will come back eventually, I didn't think it would be this long though, I'd sort of mentally planned for February or March this year. But, I always figured the longer it went on, the closer we'd be to it being over.
I don't believe comedy is fundamentally changed forever by Covid, basically Zoom gigs and car park gigs are terrible, no one likes doing them, and no one is feeling brilliantly satisfied having watched them. They just filled the gap. Comedy belongs in dark basements, with audiences packed into rooms that are too small, and too warm. We'll get there again.
Did you do any Zoom or drive-in gigs? How did you feel about them?
I did a couple of TV shows via Zoom which were grand. No actual Zoom gigs, as I figured what I do as an MC really just doesn't work over a camera. It's pretty difficult to be invited into someone's living room and then take the piss out of them.
The drive-in gigs, fuck me! I did two of them, one at Edinburgh Zoo and one at Glasgow Airport. I'll start this by saying I've got no problem with drive-in cinemas, in fact I've always felt I'd missed out on them being raised in UK. I like the idea of watching a film, and having a burger and shake delivered to the car by a waitress on roller skates - You know, like American Graffiti.
Here's what doesn't happen in American Graffiti, no one at the drive in gets up to tell jokes to cars before the sodding film.
It's safe to say, I don't believe stand-up at drive-ins is the future of comedy. It doesn't work, no one wants it. The fun thing to find out just before the Edinburgh gig was that the film was Back To The Future, and was therefore a PG audience, so now I'm playing to 350 cars and I'm not allowed to say 'fuck!'
What does the Edinburgh Fringe mean to you?
Fringe equals work for me. I'm in Edinburgh all year round, so if I don't throw my hat in the ring then my work disappears. I tend to do multiple shows throughout the day and a bit of MCing later on. Most of my shows are with Sully O'Sullivan, we normally do an improvised stand-up show, a political State-of-the-Union type show, and Pick Of The Fringe showcase.
We also programme and venue manage the Scottish Comedy Festival venues, so that adds any number of issues into the mix on any given day.
In 2019 we had venues flooding, audience members sneaking through buildings and nicking stuff, then the same audience members who'd been recorded on CCTV deciding to hang out outside the venue a few days later, this resulted in an incident at 3am on the Grassmarket with acts restraining people and police viewing video footage on my phone. So y'know what? A little bit of Covid knocking about this year is not going to stop us!
What would your perfect Fringe day be, in a normal festival year?
After the last 18 months my hopes and dreams are much lower than they used to be so my for my perfect Fringe day basically It doesn't piss down, there no issues at the venues I run, my shows sell out (basically just so I don't have to flyer), I don't get Covid pinged and have to work out the logistics of shutting a venue mid Fringe run, keep fingers crossed that [Chortle reviewer Steve] Bennett didn't sneak in to one of my shows yesterday and give me unquotable 2 star review, grab 30 minutes sleep in a comfy chair in the bar at the Beehive, and MC a late night gig.
What's the best experience you've ever had doing comedy?
1) The post-show drinks we had after performing an atheist comedy show to an audience made up exclusively of members of the Free Presbyterian Church of Scotland and about 15 porn stars.
2) Hitting the 15 minute mark at that fucking Edinburgh Zoo car park gig.
3) Pretty much every weekend at Monkey Barrel Comedy. It's an incredible club and I get to book and MC it every weekend. I'm always happiest on that stage.
What does your show reveal about you?
Freestyle Comedy is unlike any other show. Yes, it's improvised but it's not improvised in that 'give me a relationship between two people' way. It's very much being in the moment and looking for laugh from second to second. It's improvised stand-up meets crowd work - every show is unique.
I guess more is revealed about the audience than us. We're the two constants, it's the audience mix that's different each time. That combination is what makes the show so much fun.
If you have special walk-in music for this show, what is it, and why did you choose it?
The right pre gig music is important. Some gigs do get that wrong and you feel the mood of the gig is damaged before the show starts. We just stick to a rock/punk/hip-hop classic playlist before the shows.
As for walk-on music, we don't have that luxury as we're self teched from stage. Walk-on music doesn't really work when you have to walk on the stage to turn your walk-on music on, before walking off the stage in order to walk back on.
Describe your show in the form: 'the bastard child of X and Y on (drug Z)'
The bastard child of Ant & Dec and Robin Williams on two shots of Oxford-AstraZeneca
• Rick Molland and Sully O'Sullivan's improvised stand-up show Freestyle Comedy is on at the Scottish Comedy Festival at The Beehive Inn at 7.30pm; the Rick hosts Scotland's Pick Of The Fringe at the same venue at 9pm. Both shows now run from tomorrow until August 30.
Published: 10 Aug 2021
What do you think?