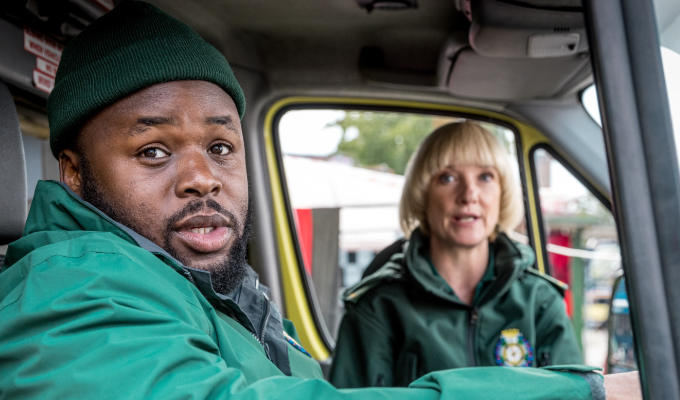 Jane Horrocks was amazing... but she doesn't stop going on about bees
Samson Kayo co-created the new Sky One paramedic comedy Bloods, and also co-stars alongside Jane Horrocks, Lucy Punch, Julian Barratt Sam Campbell and others. Here he talks about the show, which starts tomorrow…
---
How does it feel to be finally bringing your show Bloods to the screen?
I'm so excited! It's so timely, especially in the world that we're in at the moment, and to be able to create it with a friend of mine, Nathan Bryon, just makes it all that sweeter.
Where did the inspiration come from?
Well, when I was about 18, I applied to be an ambulance support driver. But back then you didn't have to be a paramedic. You could just drive the ambulances and support the paramedics. So, I just thought, 'Imagine what would have happened if I'd carried on with that plan?' Luckily, I became an actor and got to do it on screen instead!
What happened with that application?
I got through! I did a little bit of training and then I got an acting job and I was like... "I'll give this acting thing a go instead." But I've always appreciated paramedics and always wanted to do something in that field. I thought that would be my career at one point, it was never supposed to be acting.
How would you describe Bloods?
It's a show set in the South East London ambulance depot, and it's the day-to-day goings on of two paramedics who are matched up but they're not exactly each other's type. It's how these two people from two different worlds can join together to try and save lives.
Essentially. Jane Horrocks' character Wendy, who's from up North, comes down to London and she's paired up with my character, Maleek, who's like a maverick and just wants to go it alone. She teaches my character a lot about himself, and I teach her too. So, it becomes a lovely friendship and partnership that you'll see on screen.
What research did you do?
A few of my friends are paramedics. One of my friends in particular who's a paramedic in South East London, came in and gave us some tips, factual stories and broke things down for us.
We actually had a few paramedics come in and give us a few life lessons. The thing that came across is that they all seemed to have quite a dark sense of humour sometimes, because they're dealing with such weird situations that you have to have that humour to get through it.
Given that, did you feel a sense of responsibility to make sure that you got the tone right?
Yeah, absolutely. The main energy, and it was so key for me, was to make sure that we don't make the NHS paramedics look as if they don't know how to do their job. We really take that seriously, especially in these tough times.
Maleek, he could have been a useless paramedic that's always getting things wrong but he's not. He's actually really good at what he does.
Funny situations may happen but ultimately you see that they're here to save lives and they are serious professionals who take their work seriously. That's what I wanted to express in amongst all the madness and silliness that they find themselves in.
The comedy comes from their personal lives and personalities rather than their profession.
What was it like working with Jane Horrocks?
She is like a national treasure! She's so dope, man. Working with her and learning from her and just having such a cool and close relationship with her was amazing, even though she doesn't stop going on about bees!
She loves bees, and now she's made me love bees. I'm signing bee petitions everywhere, it's mental!
As a person, she's so smart and so cool. She's such a people person. She wanted to know about me. She wanted to know everything about me, about my family, about my culture, about my life. There was no negative energy. She was just great from day one. Those are the types of people you want to work with, people you can learn from and also be cool with.
There's loads of South London lingo that we were bantering with In Between takes that sometimes fell into the shot. I think they've kept it in, it's funny, man. And then just cultural stuff, for example, she couldn't kiss her teeth like we do in Afro-Caribbean culture. It was the funniest thing ever. And we were singing some Caribbean songs.
She actually introduced me to some Caribbean songs, which was dope. She's really educated in her music genres.
How would you describe your character, Maleek?
A lone ranger. He feels as though he doesn't need help when he definitely needs help! He's actually quite shy underneath all the bravado. But he's also very good at his job and he knows exactly the lay of the land, especially because he grew up in that area of London. He's a lovable character once you settle with him.
It helps that Wendy comes in and gives him Home Truths about himself and allows him to find himself.
What does he make of Wendy?
It's a big culture shock for both of them actually because neither of them has been to where the other is from, he's an out-and-out Londoner and she's from the North. For both of them it's trying to understand each other's lingo and cultures.
But when it matters they've got each other's back. That's the most important thing because it brings their relationship closer. It brings trust, especially as a partner in such a serious, fast-paced job.
The show flicks between big, dramatic action scenes and then really funny moments…
One of the main things that I stressed with the show from the very beginning was that we wanted to make the comedy really funny but take the reality of it very seriously, if that makes sense. We're not here to make fun out of the situations the paramedics find themselves in… But at the same time it was equally important to blend really quite slapstick comedy within serious moments because that's often how real paramedics cope.
How did it feel to be filming a show about paramedics when the country's in the middle of a national health crisis?
Yeah, it was a lot, but I feel like it was quite timely. It was important because you want to pay homage to them in our own way, show that we appreciate them for all their hard work. We just wanted to show a little bit of light in these tumultuous times.
That's why I say it was really timely because when we created Bloods it was a few years back and no one was anticipating this situation now. So it just all came together and was like, 'This is a good thing to do."'We wanted to be able to make people smile in such a sad world at the moment and hopefully we have done the paramedics proud.
How have you looked after your mental health during the pandemic?
The same way that I check on everyone, everyone checked in on me. Thank goodness for PlayStation! I was playing a lot of Zoom Mafia with friends. It's actually how I met one of the cast members, Aasiya [Shah, who plays trainee Kareshma].
We were playing Zoom Mafia - it's this weird game with Villagers and Werewolves - we were playing and Aasiya came on, she's a friend of a friend. She was so bad at the game but she was so funny!
When we came up with the show, I just remembered that she was really funny. We were looking for a specific type of actor and she came in and smashed it and got the role.
You've had such a divers career, when people stop you in the street, what's the show that they most want to talk to you about?
It's weird. I get a lot of Famalam fans. I get a lot of Horrible History fans, the younger ones love them. Recently, I've been getting the Death To 2020 fans coming up to me because that was the most recent.
What's on your bucket list career-wise?
I don't know. I just take every day as it goes. I get inspired like with Bloods, I had this idea of, 'Why don't we make this into a show'" and then I did. I'd love to do a biopic one day, maybe of Louis Armstrong, that would be good. But yeah, I take everything as it comes. I want to work on stuff that I'd love to watch, basically.
I'd love to be in Bond actually. I would love to be Bond. There you go, there's a character that I'd want to play. I'll play Bond! I want to be driving either a Porsche Carrera or an Aston Martin
.If you could pick anything to happen to Maleek in a second series, what would you want to happen to him?
So many things! Maybe a fire. I don't mean he starts one! Maybe he has to attend a huge building fire, it would be a cool scene to film. More stunts, more stunts. Absolutely more stunts. Did I mention I want stunts?!
We've got a few ideas for another season already so let's just see what happens with this series, hopefully the fans will love it as much as we do.
• Bloods starts on Sky 1 at 10pm tomorrow. Interview supplied by Sky
Published: 4 May 2021
What do you think?