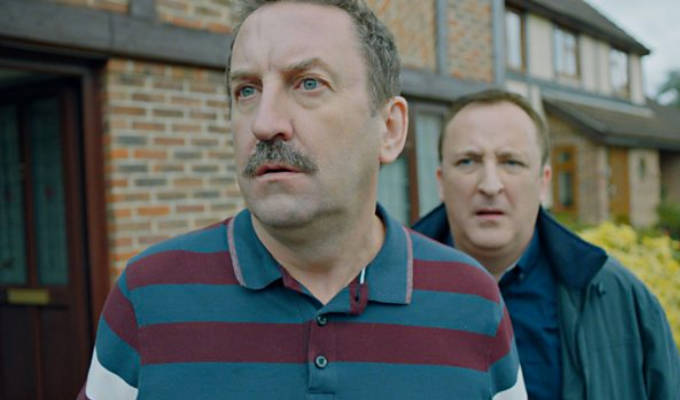 'We're equally proud and ashamed of one scene...'
What can you tell us about Semi-Detached?
It's about divorced couple Stuart (Lee Mack) and Kate (Samantha Spiro), who live on opposite sides of the same cul-de-sac and are trying to make the best of the situation for the sake of their teenage daughter Madonna (Sarah Hoare).
This is made all the more difficult by Kate's new husband Ted (Patrick Baladi), a posturing, would-be alpha male, who's favourite sport is undermining Stuart. On top of this, he has to deal with a criminal brother, a promiscuous, drug-taking father, a younger girlfriend he can't keep up with and a six-month-old daughter. All under the same roof. And he has chronic IBS. And panic attacks. And every episode unfolds in real-time.
What can viewers expect from it?
Hopefully this will be unlike any other comedy, in that the real-time element gives it a unique pace and sense of tension. It should also come as a surprise to fans of Lee Mack who've watched him over the years in Not Going Out and are going to see a very different side to him. Lee is very much the straight man this time, although watching him crumble in every episode is a lot of fun.
As we were writing the show, we always had in mind Stuart's primary objective, which was to navigate his way through the day with as little fuss as possible so he could get back to bed. Spoiler alert: this never happens.
Does writing an episode in real-time present any challenges?
The main thing that became apparent was that we'd removed the possibility of cutting to other locations and time-jumping in order to further the plot. We also made the decision early on to stay with Stuart for the entire show, which meant that we had to create a beginning, middle and end without the luxury of being able to set things up in a traditional way.
We constantly found ourselves wishing we could cut away to fill in story gaps, but ultimately the challenge of real-time is what made it such fun to write.
How has it been working with the cast?
We were really lucky to get such a fantastic cast, who immediately got along, which made the shoot great fun. It was also great to see respected theatre actors like Sam Spiro embracing our silliness. Lee and Patrick had a lot of fun needling each other, which comes through in their performances, and it's always a treat to see your characters come to life. It's also worth noting that Lee was in virtually every shot of the series, which he handled like an absolute trooper.
What is your writing process for the show? How do you collaborate together?
We met at drama school more than 20 years ago and have been writing together for at least 13 of those, so we've developed a shorthand that makes writing pretty seamless.
We've always shared an obsession with odd character detail and eccentricity, which the show is crammed full of. With Semi-Detached we usually start by imagining where Stuart finds himself at the end of an episode - the more extreme the better. It's then a matter of figuring out how we get him there with the help of other characters.
Left unchecked we have a tendency to career headlong into silliness, often bordering on absurd, which meant early drafts had to be wrangled back by our extremely patient producers Alison Marlow and Neil Webster. We both have a background in acting, so we'll always read out a draft by taking on all the characters, which helps us identify where it needs improving.
What's changed since the pilot episode?
Stuart and April now have a baby girl, Bertha (Stuart wanted Brenda, April liked Earth, so they settled on a compromise). Other than that, the big changes are going to be the ones that happen over the course of the series. In other words, wait and see!
Without giving away any major spoilers, do you have a particular favourite scene or episode?
As we were writing we became aware of at least two scenes we weren't sure we'd get away with, so we're very pleased to say that nothing has been cut. Episode three contains a scene that we're both equally proud and ashamed of. We'll leave it at that.
How would you describe the show in three words?
Crisis in suburbia.
• Semi-Detached starts on BBC Two at 10.05pm on Friday August 6.
Published: 28 Jul 2020
What do you think?