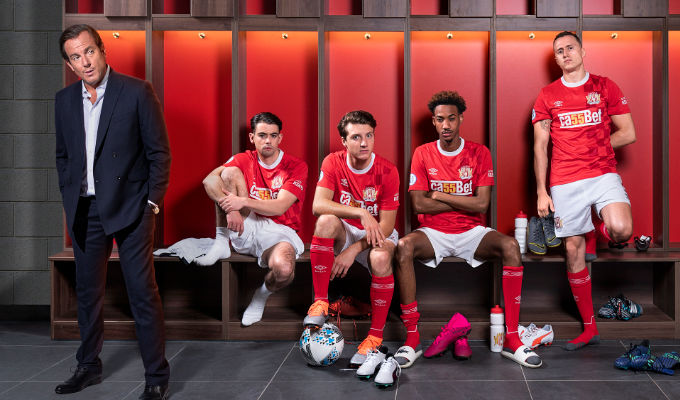 We love exploring the fault lines where masculinity and insecurity collide
How did The First Team come about?
Damon: As far as I remember - I'm very old now - we started toying with the concept of a comedy set around professional football after we shot the second season of The Inbetweeners. The idea crystallised that summer following a chance encounter Iain had with a footballer while on a trans-Atlantic flight - remember them? I particularly enjoyed Iain discovering midway through the chat that the footballer played for Queen's Park Rangers, the team he supports. Not only did Iain not recognise him, but he then went on to find out he'd been voted player of the year for that season.
Iain: About 11 years ago I was on a flight to see my then girlfriend, now wife, in LA. I was sat next to a very nice, heavily tattooed man. We got chatting and it turned out he was a footballer. The season had ended the day before and he - finally - had a holiday after 11 months of work. I was a huge football fan, but talking to him about his day-to-day existence was fascinating and revealed all sorts of things I never knew, and had never even considered. One of the main things was that often training can only last about an hour, so for most days they have an extraordinary amount of time on their hands during the day.
I came back and told Damon about it and we discussed making something about footballers, and what it would be like to work in what was an increasingly rare almost all-male environment. Then we made the third series of The Inbetweeners, and two films, and Damon made White Gold and we kind of forgot about it.
We've been planning it for ten years, but things just got in the way I suppose. We wanted the next TV show we wrote together to be the right one.
What is your writing process?
Damon: Despite living on separate continents we still spend a remarkable amount of writing time face-to-face. I'd describe the process as a mixture of comfort eating, scribbling on Post-It notes and odd tangential conversations. I'm sure we could probably write remotely on Google Docs or some such app, but it turns out we enjoy hanging out together almost as much as we enjoy dark chocolate digestives.
Iain: The process for The First Team was very similar to The Inbetweeners. We get together and sit in a room and chat about characters and ideas very vaguely: for instance, maybe there's an owner character, maybe there's a foreign player. Then we do a lot of research - for The First Team we interviewed at length players, managers, owners, ex-players, chairmen, kit men, PR people - and then sit down again and see if what we want to say is reflected in the reality.
Then we try to map out together what each episode might look like. This then gets sent to the people we trust to give us helpful but honest feedback - Caroline Leddy and Tom Werner, our exec producers, Robert Popper, our script editor, and Shane Allen, our BBC commissioner -
and we rewrite those episode maps based on their notes. Then we turn those into 'scene-by-scene' guides which we will split up into quarters and take two quarters each to type up.
These then form the first drafts. We'll normally do a private read-through of these scripts with friends reading in the parts. Each script is then redrafted, again with notes from our team - many, many times up to rehearsals. I think we usually redraft at least ten times by this point. After each day of rehearsals there's more redrafting and then, finally, if something doesn't work on set, we change it then too.
Did any footballers offer insight?
Iain: Matthew Lawrence, former Millwall captain, was helpful over a number of years and really helped keep the project ticking over when we might have forgotten about it. We also interviewed lots of people from across the sport - from current players to kit men to chairmen - to make sure we were portraying the world correctly.
Damon: Matty Lawrence a former Premier League pro and now a sports commentator on Major League Soccer in the US, gave us some valuable insight into the game from the player's perspective; QPR's chairman Lee Hoos gave us a fascinating tour of their training facilities and was extremely generous with his time; Tom Werner himself knows a thing or two about running a top level sports club so obviously he was a brilliant resource too. [He is chairman of both Liverpool Football Club and the Boston Red Sox as well as being a TV producer]
How did Tom get involved?
Iain: I've known Tom for a number of years in his role as one of the best comedy producers of all time. He's an extraordinarily generous and fun man and when this idea came up, he felt like a natural fit. Even without his football connection we would be lucky to work with him just for his incredible comedy track record, and it's been great fun.
Damon: Iain had worked with Tom in LA a few years ago, so when we started thinking about making this show we knew he'd be the perfect choice to produce it with us. Not only does he own the best team in world football at the moment, he's also a comedy producing legend - making unbelievable hit shows like Roseanne, That 70s Show and The Connors across the last four decades.
How did you go about casting the three?
Damon: We had no idea who we wanted for the roles, so to begin with the search was exhaustive both in the UK and the States. We'd always wanted the character of Mattie to be American. It seemed important that he had an outsider quality to him. We wanted our Mattie to have a wide-eyed perspective on the English game so that he could both marvel and scoff at the privileges on offer.
There are lots of guest appearances on the series from Will Arnett to Phil Wang. How did they get involved?
Damon: We've both been huge fans of Will's since Arrested Development and 30 Rock. I think Netflix originally put us in touch just after White Gold had aired in the US as Will was a fan. Somehow, we successfully bamboozled him into joining us on our next show.
We'd worked with Phil on a pilot with our production company the year before. He's such a phenomenally smart and funny stand-up, and he brought exactly the right air of prickly self-importance to the role of Brian. They were both wonderful to work with. And they were both so encouraging and thoughtful and helpful with the work, and when you're making a new sitcom having that confidence boost is a huge thing.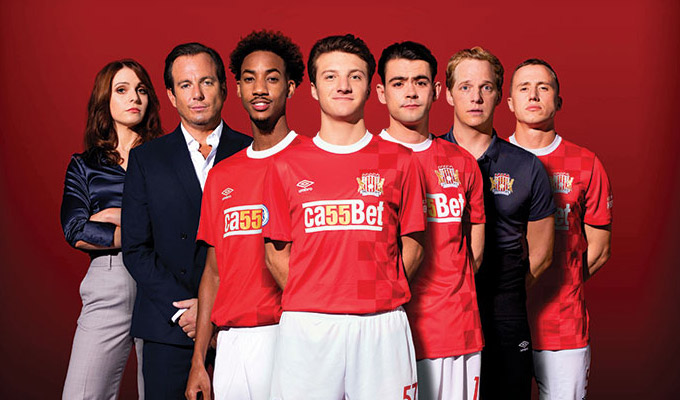 What were your favourite scenes to shoot (avoiding any spoilers)?
Iain: There was a farewell scene that was a favourite. Night, lots of supporting artists, up against the clock, quite cold. But those big scale things are really what you want to be doing for a show like this.
Damon: A Man City and England superstar popped by set one day! Shaq [Ali-Yebuah, who plays Benji] had always maintained that he was good friends with Raheem Sterling. We naturally assumed he was bullshitting. After wrapping late one night, an assistant director came over to say Shaq would love to introduce us to Raheem. Even then we gave him short shrift - as if Raheem Sterling was going to be waiting out the back of a cash and carry just outside of Chester on a miserable October night. Which he was. I think Iain and I both said something awkwardly fawning to him before sloping off to our cars, genuinely star-struck. So there you have it. Never doubt Shaq.
Can you discuss one of the themes of the series, toxic masculinity in sports?
Damon: Definitely. Even the bubble of professional football isn't immune to societal changes and young footballers breaking into the game today have generally got very different attitudes from previous generations. Also, the vast sums of money at stake for the elite players has shepherded in a more mature, professional ethic across the sport. The spotlight has never been as intense with social media and a planet full of budding iPhone paparazzi desperate to retweet your every misstep. And like any workplace setting, the dressing room spans generations, making it an intimidating place for a 17-year-old fresh from the academy having to rub shoulders with seasoned pros. Older, alpha males, facing the prospect of their careers ending, who see the younger generations as a visual countdown on their own dwindling relevance. I guess we've always enjoyed exploring these fault lines, where masculinity and insecurity collide.
Iain: I think the show is about something that is relatively rare these days, thankfully, which is an almost all-male working environment. From our research it does seem that the newer generation of footballers are more aware of the fact that in the age of social media one mistake or misconstrued joke could ruin their career, and therefore their life. At the same time, you are talking about young men who, if they were students, would be up to all sorts of raucous behaviour.
The series also explores celebrity culture and fandom generally…
Iain: I think that in football, in particular, there's a strange blurring of the lines between 'business owner' and 'customer', which is encouraged by the owners and abused by some of the fans. And the players very often are stuck in the firing line as the public face of that business. Football is unique in that clubs really do mean something vital, to people and to towns and cities, and their owners are really just custodians, but just because it means something to you, that doesn't give you the right to abuse the staff. And it's especially tough for footballers I think because they can't leave. If I worked in a bank and was getting abuse every time we opened from customers I could change my job. If a footballer gets abuse he has to wait till his boss decides he can leave, or wait years to run his contract down.
Damon: The level of public scrutiny that these guys face is insane. After every performance they run the risk of being eviscerated on social media. They are expected to be role models, ambassadors, social warriors, philanthropists and yet for many of them, all they've really cared about or experienced is playing football with their mates. Frankly it's terrifying. And there's a complicit element to this as well because the players are acutely aware that increasing their profile on social media can have a huge impact on their earning potential.
Iain: I'm yet to see anything long-term positive come from social media. For celebrities it seems like a long game of Russian Roulette. At best you get to keep the career you had anyway, which is why loads of people follow you. At worst you say something or picture something problematic and your career is over.
I am very active on Twitter, mainly due to loneliness and a desire for affirmation, and find people there genuinely nice and interesting and funny, but I didn't have a Twitter shaped hole in my life before it existed.
Clearly you're football fans…
Iain: I played a lot of football. In fact there's not much I can remember from my youth that wasn't playing football. I played in goal, which I loved, and miss every day. I was not very good, but I did get a couple of games for my university first XI when everyone else was too hungover. My dad and I are QPR season ticket holders of many years, and I love Loftus Road in a way that's hard to explain
Damon: I'm an Arsenal supporter. I've been a season ticket holder since 1996. I played as a youngster without distinction, although the school team I was in did qualify for the North West Kent District Cup Final in 1985. Only three teams entered the tournament that year.
What can audiences expect from The First Team?
Damon: First and foremost, it's a comedy. So there are jokes. I promise you. They may be funny. Hopefully the viewers will find characters they can relate to living in a completely un-relatable situation. It's a chance to peek behind the curtain and see how privileged life can be inside the bubble of elite professional football. And there are brilliant, hilarious performances from the cast, some familiar faces and some breakthrough new talent.
Iain: Hopefully some laughs. I think there are some messages in there too, but they are very much secondary to the hopeless lives of these players.
• The First Team launches on BBC Two on May 28
Published: 8 May 2020
What do you think?