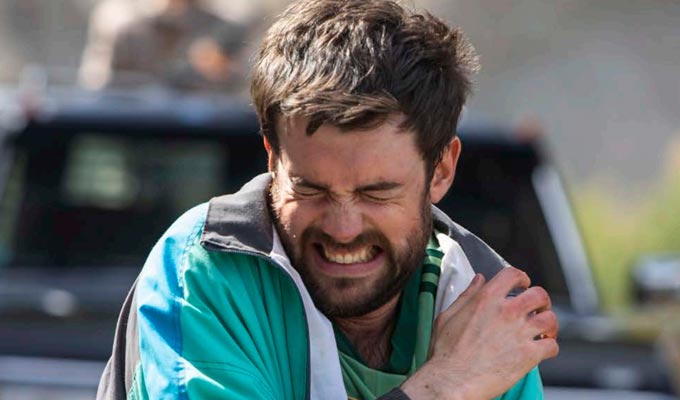 'I'm the most mal-coordinated person in the world'
Jack Whitehall's action comedy Bounty Hunters, co-starring Rosie Perez, returns to Sky One next month. Here the star and co-writer talks about difficult fight sequences, putting his character through the wringer and landing Steve Pemberton as a co-star.
---
Was the plan always to write a second series?
It was a story that we left hanging and we wanted to complete it. We had so many ideas for where the characters could go. So the fact that we got the chance to do it again made us feel very lucky.
You've worked with co-writer Freddy Syborn on a few projects now – what makes you work so well together?
I think we have really good shorthand and we can both be very honest with each other. We can both be very critical when we need to be and we also have the same sense of humour - we find the same things funny and that still remains the case today. So we egg each other on as much as we censor each other so I think we're a good team.
The other great thing is that Freddy is always there on set so it's very fluid if we want to try things, work out bits that maybe that aren't working as well. It's a very organic process. Having him there to do that is always really useful.
What is different about this second series?
The episodes are slightly shorter this series so I think that the pace is quicker. This series is probably more paced like a thriller. There are still plenty of laughs though. We wanted to ramp up the comedy a little bit because we felt like the show was best when it had humour at the forefront. I think this series has a really good dramatic journey but we tried to look at the comic set pieces and see how we could make them as exciting, funny and surprising as possible too.
How does the relationship between your character Barnaby and and Rosie Perez's Nina develop this series?
We wanted to pull them apart and get them to a place when they're at their worst. We really wanted to push that relationship, test it and put it under a lot of pressure. So that's what you see over the course of the episodes – they really put their relationship through the ringer and it's great seeing what happens when that occurs.
Steve Pemberton has joined the cast for the second series. What was it like working with him again?
I worked with him on Inside No. 9 and I'm a huge fan of his. Freddy and I really bonded at school over our love of The League of Gentlemen and it's definitely been a huge influence for us as to why we went into comedy. So getting to work with one of your heroes is very exciting.
We wrote him a really juicy part and it was written with him in mind so when he said 'yes' we were so pleased. He brings so much to the show and he plays a very creepy, villainous character.
Doing scenes with him was so exciting because this is a guy that I've looked up to and admired for so long and to get to work with him was an absolute joy.
He's definitely got a natural sense of mischief and he's an incredibly funny person. So we would just want to wind him up and give him the space to do what he does and fortunately there was enough space to let him play with it a lot. I think people are going to really like his character.
It's always really dangerous when you write something specifically for someone because you have no idea whether they're going to be able to do it or whether they're available or any of those things. We'd wanted Steve in things before and we'd written parts for him in Bad Education and things like that and it had never worked out for various reasons. Obviously he's in high demand so we were so pleased to finally, after years of trying, get him in something. It all worked out and he certainly delivered.
What were the most challenging scenes during this shoot?
We shot a lot of stuff in Spain that was challenging. We did fight sequences which are always quite difficult as I'm not naturally gifted in that department. My combat skills leave something to be desired so doing those are always quite frantic days on set. I mean you're trying to teach the most mal-coordinated person in the world how to fight, so those days are always quite stressful for me.
Finally, in one sentence, why should viewers tune into this series?
They should view this series because it's got all the same thrills and excitement as the first series but we've ramped everything up a notch and it's a lot funnier... I've run out of words for one sentence.
• Bounty Hunters returns to Sky One on March 14.
Published: 23 Feb 2019
What do you think?