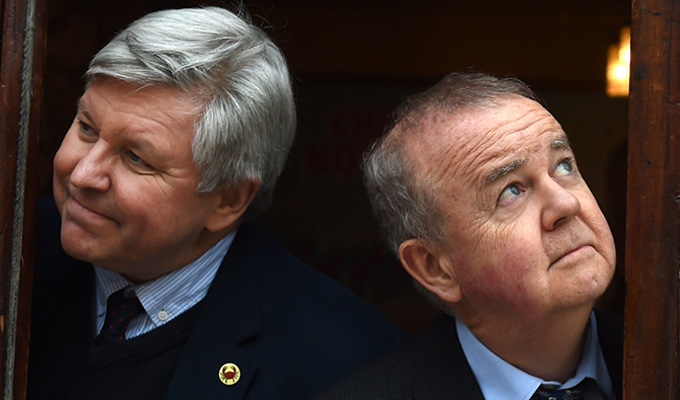 'There's a feeling of people not wanting jokes any more'
◼INTERVIEW BY JAY RICHARDSON
'I've been up for contempt of court, with the attorney general asking for a two year committal' grimaces Ian Hislop. 'I've sat there, toothbrush in pocket thinking, "Oh God!" So I've had a taste of that fear. But Hone was fighting for his life in court. And he was rude, funny and uncowed.'
The Have I Got News For You captain is reflecting on the trials and tribulations of William Hone, the 19th century satirical pamphleteer who became a pioneer of investigative journalism and reformer of the jury system. A hero of Hislop and his long-time writing partner Nick Newman, cartoonist for the Eye and Sunday Times, Hone's prosecution for blasphemy and seditious libel in 1817, across three successive days, is the subject of their new play, Trial By Laughter.
Like the First World War trench satirists of their previous theatrical production, The Wipers Times, Hone has been largely overlooked by history. But his struggle and work, particularly with the cartoonist George Cruickshank, established a tradition of speaking truth and blowing raspberries to power, of demanding freedom of speech and for the press, that feels as relevant today as ever.
'Thank God no-one knows about him, otherwise we couldn't have written this' Newman observes. 'But as a result of his fight, setting a precedent that you can't be prosecuted for a parody, we have so many of the freedoms we enjoy today.'
Tried at London's Guildhall for daring to attack the oafish Prince Regent and his ally, the Tory government, by parodying the Lord's Prayer and Ten Commandments, Hone became a cause célèbre as he overcame ill-health and the threat of deportation to Australia, ridiculing the prosecution and making the thousands assembled inside and outside the court roar with laughter.
'I think the reason Hone is forgotten is because this was a victory for jokes,' Hislop suggests. Unlike the Peterloo Massacre of 1819, which Hone and Cruickshank did much to publicise, 'there was no bloodshed, nobody died. There were no dragoons slashing people's insides out.'
Despite his remarkable wit and endurance, standing six hours on his feet in the first trial, eight hours the next and seven on the third, with bowel protestations throughout, Hone was not destined for martyrdom like Oscar Wilde. But 'it was an extraordinary, unbelievable win, all the commentators of the age said so,' Hislop maintains. 'That may not be as dramatic as revolution on the streets. But we thought it was a courtroom thriller in itself.'
Likening the play to The Madness of King George meets A Few Good Men, Hislop says, admiringly, that Hone was 'one of those permanent members of the awkward squad who, whatever he was told, he would say "no, I don't believe that".'
'He was an atheist when it was unfashionable to be one' adds Newman. 'And perhaps another reason he's forgotten is that he covered so many areas. He campaigned for universal suffrage, for better conditions in prisons and lunatic asylums. And he was an investigative journalist.'
He was 'forensic' in his arguments Hislop maintains, citing the case of Elizabeth Fenning, a cook executed for poisoning her employers with arsenic, the meagre evidence for which Hone doggedly demolished in a 'landmark challenge to a miscarriage of justice.'
Trial By Laughter is directly based on the trial transcripts, published by Hone himself. 'So not surprisingly, he comes out of it very, very well' laughs Newman. 'But they are very funny and they are his own words and the judge's own words and you can't better them really. The judge speaks very clearly, very succinctly and is an absolute bastard …'
' … and makes no bones about trying to direct the jury to find him guilty at all possible moments,' Hislop chuckles.
Reminding the court that the Bible had been widely spoofed, and that even Martin Luther parodied the Psalms, Hone made jokes and disrupted the trial's proceedings throughout.
'At one point, the sheriff literally said we'll arrest the next person who laughs,' recalls Hislop. 'But in a British court, everyone's going to laugh at that. [The prosecution] were infuriated because no-one was taking them seriously.'
Despite their clear and obvious regard for Hone, the pair were determined to avoid a hagiography, noting that he had a family of eight children at the time of his prosecution.
'He was much loved, certainly by his friends and family, nobody had a bad word to say about him' says Newman. 'But he was an incredibly selfish man. He got obsessed with the Eliza Fenning case and just locked himself away for three weeks. And his wife couldn't get him out, he just wrote and wrote till the thing was published.'
With satire, 'it's very easy to be selfish' acknowledges Hislop. 'The excitement of it and the feeling that your work is so important. When we started writing for Spitting Image, there was no end to that. We were a lot younger though.'
But the pair say Hone's fight is far from won. 'It's great that we won a lot of these battles with the Establishment' argues Hislop. 'But if you look further than Britain, any time a Turkish journalist or a Saudi blogger is banged up, it's always for blasphemy. They say "you're criticising the government. And we're God".'
They acknowledge that the current tone of the free speech debate has become more fractious. Despite record recent sales, the Eye's letters page suggests more people are offended and threatening to cancel their subscription than ever.
'I put all those in to make a point' states Hislop. 'There's this sense of, "do you know, I've just noticed after 30 years of reading your publication that you're quite rude about people? And if the people you're being rude about are me, then I don't think that's tolerable."
'We've had a wave of them. A lot of SNP originally, then there were the Brexiteers. The really furious Ukippers just before. But they were coming to politics a bit late. The Ukippers in particular hadn't given politics a huge amount of thought, got exorcised about Europe and just couldn't bear the thought you didn't agree with them.
'Then it was the Corbynites, who said, "Do not criticise our man, what are you Establishment tools?" There's a feeling of people not wanting to have any debate anymore, certainly not wanting to have any jokes.'
Newman agrees. 'The dreaded issue of Brexit has made everybody much more angry about everything and that's echoed on the letters page.'
Hislop's favourite response followed last month's cover, headlined '[Theresa] May In Mental Health Boost', featuring the PM saying 'I'm the Prime Minister, you know', and a nurse replying 'Of course you are, dear… just come this way'.
'We thought that was very, very funny' he says. 'But we got letters saying mental health is a really serious issue. We don't want you to do this, you're really offensive, I cancel.
'But that was followed by a letter from a nurse in a mental health institution saying "that cover's the only thing that keeps us going". Then last week I sent a copy of that cover off to the actual nurse who's on the cover, who asked if she could have it. She thinks it's funny and she deals with these problems every day. Much more than anybody who's ever complained about it.'
Newman ventures that because 'we've got these freedoms, we start self-censoring. Non-platforming in universities makes it seem like the freedom of speech to say "I don't want to hear your point of view". It's very odd.'
By contrast, the Georgians believed in 'robust debate' argues Hislop. Hone 'addressed the jury at one point and said: "I don't expect you to agree with my political opinions… but I expect you to respect them.
'Battling things out verbally is a brilliant compromise. This was shortly after the French Revolution, he'd seen what killing large numbers does. He thought the government was corrupt and should be removed. But he didn't think we should kill them.'
Having arrived relatively late to the theatre, with the stage adaptation of their 2008 film A Bunch Of Amateurs five years ago, Newman concludes that playwriting is 'more fun than anything else really', while Hislop speaks delightedly of the scatological gags in Cruickshank's cartoons continuing to resonate with a modern audience and declares: 'There's nothing quite like a live laugh, you immediately know the idea is alive'.
The Wipers Times was initially shown on television before transferring to the stage. Trial By Laughter was first broadcast on Radio 4 in 2016. And they're hoping it might yet come to the small screen.
'There's talk but there's always talk' says Hislop. 'With the wigs, fat people, dancing, breeches and colour, it seems to me far more of a visual treat than Wipers, which was khaki and chrome in small spaces. But who knows? Let's see when we get to the end of this tour.'
Meanwhile, the pair are trying to revive their script about disgraced former Royal Bank of Scotland boss Fred Goodwin. Set to air on the BBC, it was dropped in 2015 amidst claims of negative bias from the SNP.
'Everyone tends to write about the very serious stuff with banking' says Newman. 'But when you read the actual detail, it's mad and silly, which appeals to us. It's all about biscuits, filing cabinets and paper clips. Whether it'll be a play, a musical or an opera, I don't know'.
Hislop smiles. 'The world's largest bank was British farce at its very best. And we'd love to tell it.'
• Trial by Laughter continues to tour until March 9. Dates.
Published: 15 Feb 2019
What do you think?