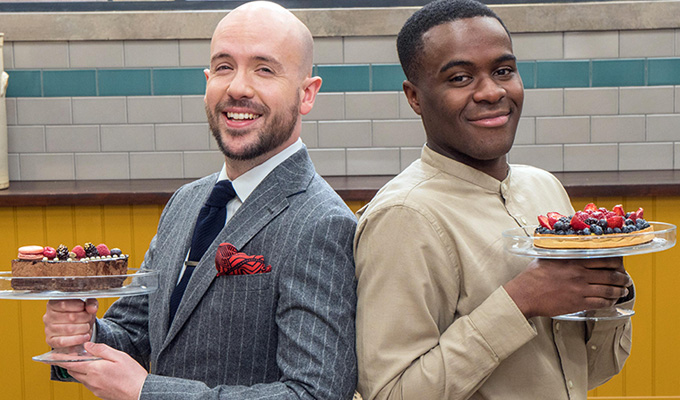 'It's Bake Off's bitchy older sister'
Tom Allen starts a new job hosting Bake Off: The Professionals this weekend. Here he talks about why he thinks GBBO is 'camp', his best and worst stand-up gigs – and how Sarah Millican was such an inspiring influence.
Describe your role in the new series…
I am co-presenting the show with Liam Charles [a contestant on last year's Bake Off] who is a very nice young man, and I have loved doing it, it's been a dream job for me, I have always watched Bake Off and I love the almost camp sense it has, of making something seemingly frivolous quite important.
I have tried to be like a viewer who hasn't seen it before. I am asking the questions that they would want to ask. It's been a lot of fun!
How does the presenting double act work?
I met Liam at the beginning of the year, I had of course watched him on Bake Off and like everyone else in the country thought, 'Who is this guy, he is so lovely and adorable?'
It's been a huge learning curve for me. It's the first time I have co-hosted a series and I have learned so much from Liam's natural enthusiasm. I always try and make it funny so I have done that as much as possible, and we both make each other laugh, and I hope that comes across on screen.
While Professionals still has the warmth and humour of GBBO, it is different, can you describe the vibe of the show?
It's a heightened version of Bake Off, the standard is much more exacting I suppose. The teams put themselves under so much more pressure. They are doing something that they have built their whole careers and life around so there is that added element to it.
You learn so much more about them as people, it's lovely to watch their journey. It has all of that warmth and human interest. The highfalutin patisserie side is there, but you also get to see the humour, which is a coping mechanism.
I call it Bake Off's bitchy older sister who has been away at university and comes back with a lot of knowledge and a bit of attitude. Passions run high. It's got that added edge and drama to it.
But what I thought was lovely was that there was also this great element of support at a disastrous moment. It's a rollercoaster of a series and there are disasters that happen along the way but everyone felt for the team that suffered, and they all learned from each other. They were all going through the same experience.
Were you surprised at the overall expertise of the professional pastry chefs?
Before I started filming I didn't even know what an entremet was, and I have also learned how to taste and appreciate patisserie.
Benoit [Blin, one of the judges] explained all the different parts of your tongue that experience the savoury or sweet side. I have learned what makes a particular piece of patisserie outstanding.
I think what is interesting is how each team want to try for the best, and push themselves just that little bit further all the time, challenging themselves.
On a foodie desert island what would you take with you and why?
A chicken – it could lay eggs?
Do you bake and do you have a signature bake?
I think it has to be a Victoria sponge sandwich – it's easy to bake and most people like it, and you can dress it up a bit if you want.
Who has been the biggest influence or mentor in your life?
Sarah Millican. She is such a craftsperson, she always pays such attention to detail. I have supported her on tour and she can also make a good cake!
Stand-up or TV presenting, which is tougher?
They are both interesting and similar skills, because you are responsible for the audience's experience. Obviously with live gigs you can see how it is going but with TV, you have to wait until it is transmitted. You just hope you have done a good job and they both rely on playfulness.
Best and worst gigs?
Live at the Apollo, it felt like such a big thing. My parents and friends were there and I felt very nervous but it did go well, and it's a lovely feeling when it pays off. It was 2016 and a bit of a turning point for me.
And the worst gig was for a Mayoral event, and I was on in the middle of dinner but the guests hadn't been served. So they were very hungry and a bit grumpy. I ended up directing the waiters to tables, it was a bit of a nightmare.
Baking terminology is like a whole new language, are you now an expert?
I thought lamination was a form of protecting documents. I know my entremet from a petit gateaux now.
What else is happening for you this year career wise?
My tour dates have been extended into the autumn which is exciting. I also have a show, Ready Or Not, for BBC One on Saturday evenings this autumn.

• Bake Off: The Professionals starts at 8pm on Sunday on Channel 4.
Published: 2 May 2018
What do you think?