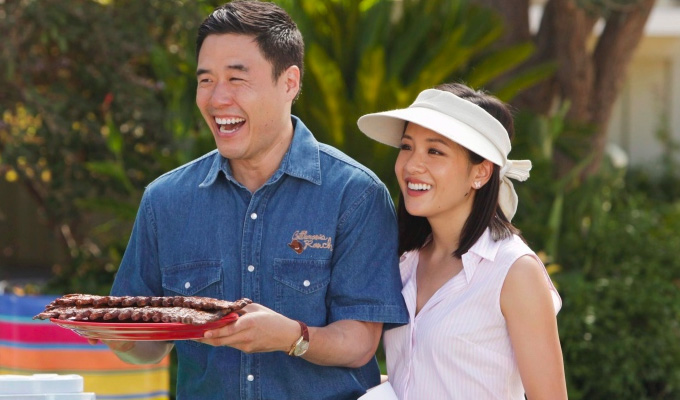 'That we speak with accents isn't a funny thing'
American sitcom Fresh Off The Boat started on 5Star last night. Loosely inspired by the life of celebrity chef Eddie Huang, it tells of an 11-year-old Taiwanese-American boy who moves with his family from Washington DC's Chinatown to the less cosmopolitan Orlando, Florida in the 1990s. Here star Randall Park, who plays the father of the family, speaks about the series:
You don't have a lot of shows featuring Asian-Americans on screens in the US...
On network TV, definitely not. This is the first in 20 years that we have an Asian family as the centre of a network show. The last one was Margaret Cho, An All American Girl 20 years ago, which was the first one on network TV.
Why do you think it's taken so long to do something like this again?
The easy way to explain it would be to say racism is at the root of it. If you really break it down, there are so many factors as to why a TV show gets on the air. As a business move, it doesn't make sense because the numbers aren't there for the number of people who will watch it.
White audiences aren't ready to watch a show about an Asian family, and there aren't enough Asian people to watch it.
But I really feel like it's time now, because people are more open minded. There's a lot more diversity. There's a lot more need to hear different voices and to represent different voices. Especially in the television landscape there's just so many options so it makes sense to talk from these perspectives that have traditionally been underrepresented.
Is Washington, DC so different from Orlando?
You know, it is.It is a culture shock because Washington, is a big city. They have a rising Chinatown there. They have people who are similar to them there, in this big city. And Orlando, especially in the 1990s is predominantly white. They move into this predominantly white suburb.
While it's not the same as moving from Taiwan or China to the United States, it still is relatively comparable culture shock that they experience.
My parents came from Korea to Los Angeles in the 1960s. It was a big move for them in search of a better life. And a better life for their family.
I wasn't born yet. I was actually born in Los Angeles, as was my brother. But they came out here for the same opportunities that the family in the show moves out to Orlando for. The difference for the move is that the father's opening up a restaurant and his hopes and dreams lie in that restaurant.
I got to see his own struggles to really get that operation off the ground in order to provide for his family. It's kind of universal- finding yourself in a new environment in search of opportunities. A lot of people identify with that: definitely members of immigrant families could identify with that for sure.
Have you tried to avoid stereotypes?
For sure. In the States, when you see Asians on TV or in the movies we're usually relegated to the smaller roles.
One thing that our show does that I'm really proud of is making sure that our characters are all fully-realised human beings and that our ethnicities aren't the crux of the joke.
The fact that we speak with accents isn't a funny thing, you know. The funny things come from just being a family and how we see the outside world. Often the show is pretty much from our perspective looking at the outside world as opposed to the outside world looking at us, which is so often the case.
We are funny characters, and there are things that are funny about us. But those things are not because we are a minority group, or they're not because of our ethnicity.
They're because we're human beings who maybe make mistakes or put ourselves in awkward situations – just those kinds of universal things that people can relate to and that aren't poking fun at us.
How was it for you being a Korean American playing a Taiwanese American?
I had a lot of difficulties with that. I went to Eddie Huang and I told him, 'I don't know if I'm right for this. it's such an important show. I don't know if I should be playing this.'
He told me that I am the right one and that they couldn't do it with anyone else. He really had my back and really wanted me to play this character. That really meant a lot to me because, ultimately it's his story.
So that gave me kind of a vote of confidence, and I went in and talked to the producers about it. They all supported me in it, too, so I felt it's something I should do and approach the show with as much respect and dignity as possible.
It's been a great experience. I'm glad, despite my initial reservations, that I've decided to really stick to it and inhabit this character.
There's always pressure when you're playing someone who really was a real person.
For sure. With that said, this is definitely a TV-version of that person – there are many differences. The character in the book is a lot more complex.
The actual Louis Huang is a really tough guy. He's a badass. Those elements aren't so evident in the TV version of the character. But there are other aspects about him that are really prominent, like he's a man of the people.
When we went out to Orlando, Eddie gave us a tour of the city and took us through all the restaurants depicted in the show. And I noticed people coming out of the woodwork to shake his hand and to see how much he meant to those people. He was kind of a star in Orlando. People just love him. That's definitely an aspect about the real Louis that I could take and use in my character
• Fresh Off The Boat airs on 5Star on Wednesdays at 8pm and is available on My5. The fourth season has just started in the US.
Published: 2 Nov 2017
What do you think?