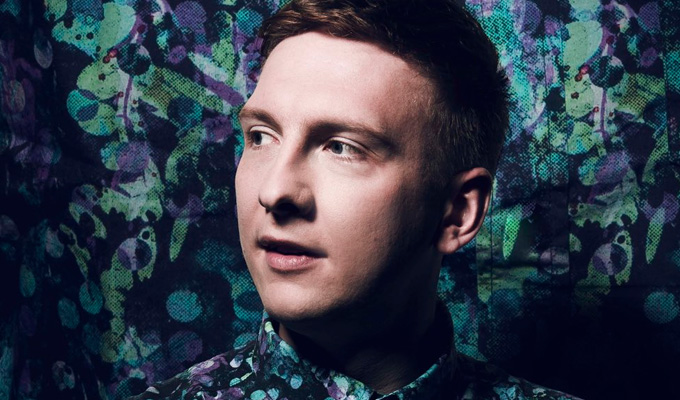 'Arenas might be too big for the type of shows I want to do'
I'm About To Lose Control And I Think Joe Lycett may be a tortured title for a tour – but the Birmingham-born comic admits it could have been much worse.
'James Acaster suggested that I went the whole hog and go for I'm So Joe Lycett, And I Just Joe Lycett, I'm About To Lose Control And I Think Joe Lycett,' the stand-up revealed today as he announced his 2018 tour dates.
So he may have partially seen sense, but the stand-up acknowledges: 'You can't go too far wrong with the Pointer Sisters. There was another long one that was a strong contender but then I listened to the Pointer Sisters song and thought "Can I walk on feeling confident to this music?" And yes I probably can, so let's name the whole tour after that."
The comic may well be running out of titles to maintain life in the 'Like It/Lycett' theme following previous tours called If Joe Lycett Then You Should Have Put A Ring On It and That's The Way, A-Ha A-Ha, Joe Lycett. But he says: 'Any time I meet a musician I request that they write a song with "I Like It" in the title.
'The thing I love about all this is that there are now proper discussions about the title. I'll be sitting down with my agent who also represents Frankie Boyle and Jimmy Carr, and the main question is: "Which Lycett-based pun shall we go for this time?"'
Lycett, whose comedy career started off at Manchester University, winning the Chortle Student Comedy Award in 2009, will be playing some of his biggest rooms yet in his new tour. But he says he's not fazed by the prospect.
'I certainly have some big nights planned on this tour. I said to Sarah Millican that I felt I had to write a show that was big enough for those venues and, in her infinite wisdom, she said "No, the show should be good enough for 100 people." So, it's intimidating in terms of the scale of it and the sense that there'll be a lot of eyes on me, but I always try and do the best possible show I can. There's no point otherwise.'
'The beauty of stand-up is that generally it does scale up and it's about your ability to connect with an audience. I think arenas might be too big for the type of shows I want to do, but the theatres are great. I'll be using PowerPoint again which gives the crowd something to focus on and that can scale up as big as you like.'
In terms of the content of his show, Lycett says: 'I'm not that sort of writer where I can restrict myself to a theme, just in case nothing good comes of it. I prefer to get annoyed about stuff and then maybe you can spot loose themes that you can tie together. This one won't necessarily be about losing control. Or if it is, it'll be by pure chance.'
Famed for online spats, he has a new set of stories for this tour, including a curious pickle he got himself into involving a bank and a ridiculous made-up name. 'This bank went back through all my tweets and Instagram posts to check if I had done something similar in the past,' he says. 'Who knew that a massive bank would have a sense of humour failure? So, I want to make a point about banks and power and the way they mould us into what they want us to be.'
Lycett may even be having his say on Trump. 'I have been writing about him and trolling him a little bit, but haven't we all? It's like shouting into the void. I haven't really done much political stuff in my stand-up but I feel that at this point, as many of us as possible have to say "we're not cool with this".
'Even if he's impeached and leaves, he's opened so many doors that we'll never be able to close on how we expect politicians to behave; people saying appalling things might not seem that appalling because it's already normalised.'
'It's a good time to be an artist because there's lots to talk about, so weirdly all that stuff helps. Unless things go to a complete state of emergency there's always scope for people to hear someone talk about the state of things in an intelligent way. Actually, I don't know whether I'm the person to do that. I can sit here and talk about it at length, but to actually construct a thing that can change people's minds is quite another thing.'
For he admits that the challenge of stand-up is to get audiences on board with ideas that they might not instinctively warm to. And, more crucially, to get them to share the joke.
'You should trust that if you find something funny then other people will,' he said. 'The whole thing about building up an audience is about taking people with you who will be on the same page, but some things that I think are hilarious might die a death so you then try to reconstruct it.
'There's one routine in the new show that I really care about and really want to work, but it's not quite there yet in terms of working for an audience, but I believe in that routine so I will work on it to make it work.
' And there are others that I like but don't quite believe in enough to fight for. You have to pick your battles in writing stand-up comedy: do you want to make that point or not? And if you do then you always find a way of doing it.'

• Tickets for I'm About To Lose Control And I Think Joe Lycett go on sale from Friday. Here is the schedule and box-office links.
Published: 6 Sep 2017
What do you think?