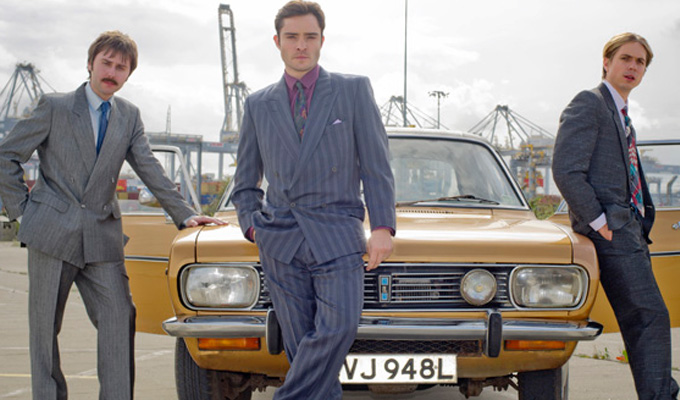 'No one was crying out for a double-glazing sitcom'
It is, inevitably, billed as something of a sequel to The Inbetweeners. Like the runaway E4 hit, BBC Two's new comedy White Gold – which is about brash double-glazing salesmen in 1980s Essex – was created by Damon Beesley and stars both James Buckley and Joe Thomas
Not that comparisons scare Beesley 'It's great isn't it?', he enthuses. 'Because The Inbetweeners was really successful!
'And if it turns out that The Inbetweeners was much, much, much better than this... well, at least we made The Inbetweeners.'
He also believes the precursor, which he co-wrote with Iain Morris, will be 'a way in' for audiences to come to White Gold. 'People will come to the show and enjoy it, hopefully,' he said. 'I think it's got enough of the flavours of the Inbetweeners, but is different.
'I've been thinking of writing this for 35 years because my dad was a double-glazing salesman in Essex and I spent a lot of my pre-teen years just hanging around the showroom.
'Almost before writing The Inbetweeners I wanted to do a thing about salesmen, that world and that patter. When we started The Inbetweeners it was all about 16-year-olds who had their own rhythms of language and we really liked that idea. Salesmen fall into that category as well: stunted children living in the adult world but behaving like sixth formers.'
Beesley, above, recalls being 'fascinated and intoxicated' by his dad and his colleagues. 'They didn't seem to have a proper job,' he remembers. 'They would sit around in the showroom smoking Rothmans, drinking tea and taking the piss out of each other relentlessly.
'I used to hang around and think: "Jobs look cool!" I remember that stuck with me and as I grew up I came to realise that what was going on there was unique.'
He admits that 'no one was crying out for a double-glazing sitcom' but said that once saw how the comedy could also explore a social backdrop, the pieces fell into place.
'The one thing I'd remember about the 1980s was that i was in a South Eastern bubble where things were going really well,' he said. 'A lot of the drama and comedy about that era has always been about the north, about the pits closing, but I lived in this weird bubble where actually people were fine.
'Britain was changing and people were moving away from socialism and becoming more focused on themselves. Thatcherism was on the rise.
'I wasn't trying to do a pro-Thatcher comedy! But what I was trying to create was something that was a good tonal conduit for what was going on. Britain was changing and not necessarily for the better and I think Vincent [the lead character, played by Gossip Girl star Ed Westwick] presents all the attitudes of the day.
'That's a slightly pretentious backstory I've got for it all. But double glazing I think is such a riotous industry and a lot of these things are based on things salesmen have told us about. It is a great, great setting for comedy and bad behaviour.'
He admits there is a lot of his dad in Vincent, whose 'big character' made itself felt throughout filming.
'He would come down to the set occasionally,' Beesely says 'He would get dressed up for it and the car would be polished and waltzed around When he left everyone would be like "was that the exec producer?" and I'd be "No, that's my dad! Like he owned the place.'
There are also plenty of fictional forebears for Vincent's dubious behaviour.
'When I grew up in the Eighties Dallas had just hit. I used to watch that with my dad and JR was his hero,' Beesely adds.
'The idea of these loveable rogues who at times do questionable things, I think that's Vincent's story too. He doesn't get away with it all. He's a risk-taker. He's probably a brilliant salesman but his Achilles heel is his nose for a shortcut. He always wants to get there quickly and he always wants to rip people off.'
Another influence was The Wolf Of Wall Street. 'I was heavily inspired by it,' Beesley admits, 'because I didn't know how you could tell this story, and one of the things the movie did so brilliantly was to "lean in" to the bad behaviour. Enjoy it! You're not making a judgment on it, you're just documenting it…'
Vincent works alongside two newer salesmen, the 'double-act' of Fitzpatrick and Lavender – Buckley and Thomas respectively – 'two characters who had learned to become friends'.
Having worked with them both on The Inbetweeners, Beesley highlights the 'fantastic shorthand one set', adding: 'They are brilliantly funny and I already had them in mind as I was writing those characters'.
Thomas, above, admits that his real-life relationship with Buckley is reflected in the show.
'Fitzpatrick is a character who winds Lavender up, but then that's just my relationship with James,' he said. Just a litany of him slightly undermining me.
'But I do have a genuine chemistry with James, I hope. And he's really very sweet, though he does like winding people up. It was really nice to work with James again. I don't know why, but I do like him.
'We were also quite impressed to have Ed on board. James and I would consider ourselves silly people, really and Ed's done proper stuff. I think we were pretty stoked, genuinely impressed, that he was doing it. It was very nice.'
Beesley reinforces the idea that the pair were in thrall to Hollywood hotshot Weswick, above. 'James was very excited that one day he managed to tease it out of Ed to say that he was cool,' he said.
Thomas also wrote one of the episodes – in which the characters inadvertently find themselves pioneers of 'dogging' after winding up in the wrong car park at the wrong time.
'I volunteered quickly to write the one about dogging,' he admits. 'I don't know why that was. My hand shot up. I didn't know that was my area.
'I thought this was the episode I could do as it was the most self-contained one and the most silly. As the series goes on there are some quite serious things and I wanted to leave that to the adults. There are themes I don't know about – to have kids and to be married.'
Then he quickly insists: 'I do know about things other than dogging. I mean, I don't know about dogging…'
Thomas also confesses that his script was initially like 'Eighties bingo', full of era-specific exercises, but the more senior writers took all those out.
'We tried to steer clear of the deely-boppers and the Rubik's Cube and people wearing T-shirts saying Frankie Says Relax,' Beesley says.
'Even though it's a period piece. it feels timeless and I think that's where I was heading with this I wanted it to feel like a modern piece.The Eighties is sort of important but also should be inconsequential once you get up and running.'
Thomas, who was born in 1983, admits the setting was 'alien'.
'I remember New Year's Eve 1989,' he said. 'Genuinely my memories begin with the Nineties. They just clicked in. Memories begin at a precise date, nothing before January 1, 1990. That's weird? Am I a robot?'
Of the fashions, he said: 'I thought it would all be mullets.But in general, it was just a bit more length, a bit of a mess.
'Eighties clothes were weird because obviously a lot of effort has been put into making them, but it feels like effort that could have not been made, to the benefit of the garment. I imagine it's quite hard to get flecks into a suit, but pointless.'
Another Eighties throwback that features in the show is casual racism, including a 'slanty-eyed' slur in one episode, although Beesley said he was keen to ensure that such comments never went unchallenged.
'There's that line about making it feel real and of that era but also making sure that you're not just using it gratuitously to get a laugh,' he said, 'So as long as people are being picked up on their behaviour… We do think about it a lot. Same with the Inbetweeners. We had to justify it to ourselves first, what we were doing, because if you can't then you shouldn't be doing it.'
He added that the BBC were supportive of such difficult calls - but said the biggest advantage was the corporation's music library and rights agreements, which gave him access to a great Eighties soundtrack.
'It's a boring technical and financial issue,' he said. But when you do films you have to pay a huge amount of money and a soundtrack like we had on White Gold would have cost the same of Guardians Of The Galaxy.
'But as a director, it's super-enjoyable to have this huge library of tracks.Especially if you think you've screwed something up you can just go into the edit and put a bit of Duran Duran over it…'
• White Gold starts on BBC Two at 10pm next Wednesday (May 24)
Published: 16 May 2017
What do you think?