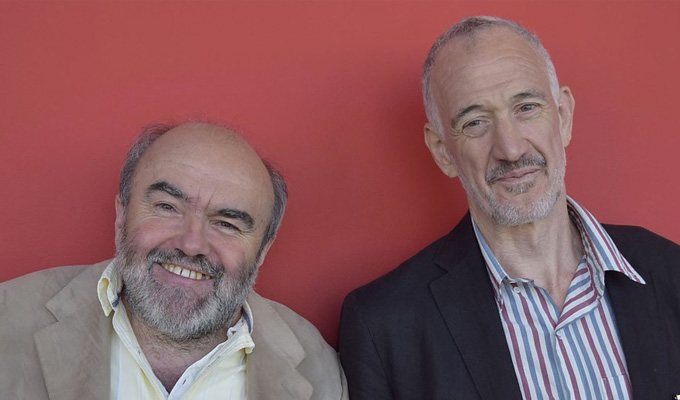 'There's no time to agonise'
Can you explain a bit about Power Monkeys?
ANDY:  It's a peek behind the curtains in the corridors of power – four different corridors of power, looking at the 'oily rag' characters who have to carry out the strategies and whims of the powerful.
GUY:  And I suppose the other important element of it is that it's filmed at absolutely the last moment. There are elements that we pre-record, but a substantial amount of it is shot on the day that it goes out. Certainly, up to this point, we had done shows where we had added material the night before, but until we did Ballot Monkeys [broadcast on Channel 4 during 2015's elections] we hadn't actually tried one where we updated it on the day. It was the first time, as far as we're aware, that a narrative comedy had done that.
How much of the show is written already, and how much will go down to the wire?
ANDY:  Broadly speaking, we're working currently on the two-thirds of the show that is pre-written, and then a third of the show is written on the day.
GUY:  But we will be updating the two-thirds as well, right up until the moment that that's shot, so it's continually being revised.
Do you think audiences make allowances for something this topical, or does it still have to be as funny as something you've spent months and months working on?
ANDY:  I don't think they make allowances, and I don't think they should be asked to do that. I think there is an extra frisson to a joke that is about something that literally just happened. If you can be the first people to make a comic observation or joke about something that has just happened, then I think that has an added spice. But I don't think you get to lower the bar just because you are a topical show.
GUY:  Last time around there were examples where people hadn't seen the stories, then they saw it on Ballot Monkeys and had to go off and actually check that it had happened.
ANDY:  Guy and I have been writing topical comedy since the mid-1970s, and this is probably the most dauntingly turbulent and frightening period of news we can remember. You've got the prospect of Trump, you've got Putin getting very aggressive, you've got the polarisation of politics in Britain and the turbulence around the EU referendum. So I think we'll have an important role, we'll be there with gallows humour about these things that are pretty serious. But they need to be joked about.
GUY:  There's a prospect of some summit where Prime Minister [Boris] Johnson, President Trump, President Putin and President Le Pen are all siting down together. A year ago, you would never have envisaged that.
ANDY:  And they all decide climate change is a myth!
Do you find yourselves wanting Trump to win because he offers such good material, or wanting him to lose because otherwise he'll probably cause the extinction of humanity?
GUY:  So you're saying "Is a good joke more important than the continued existence of humanity?" Yes, I think it probably is.
In practical terms, how does it work, writing and filming so close to transmission?
ANDY:  The writers assemble the previous evening, at a hotel. We have a meal together, and we discuss the things that are looming, and look like they might be big stories in the morning. We kick around various comedy ideas, but we don't write anything down.
Then we go to bed, and get up around 6am. We assemble in the foyer, and a researcher has all the latest newspapers and so on. As we get into the cars to go to the studio, we absorb what's happened, and then from about 7am we kick ideas around, and we write very fast, until about 10:30am, writing dialogue for all four storylines, and dropping them into the places in the script where they need them.
Then we give them to the script PAs to type up, and they're taken down to the sets and handed to the actors. And we start filming at about 11am, and go through til about 2pm. Then the actors go home, and we, the four directors, take what we've shot up to the edit and start weaving it into the pre-shot material. And we keep editing for as long as we can, until someone says: 'Alright, it's getting a bit late now.' Then we commit to that as the final version of the show at about 8pm-ish. Then it has to be conformed and everything.
GUY:  Occasionally, we're a little more ambitious. If a good story breaks at 1pm, Andy or I might just break off from directing and scribble something down. That's a bit closer still to the news, that happened a couple of times last time, and it worked well.
ANDY:  So while we're filming, the researcher and the writers are keeping an eye on the news, and quite often they'll jump onto one of the sets and say: 'You'll never guess what's just happened…' and we'll quickly put together a bit of dialogue.
Throughout the period of transmission, do you find you watch the news in a very different way from normal – simply analysing what material you can get out of it?
GUY:  I think it's true that we do watch it in a different way. But then, to get the comic angle, you've got to absorb the news and weigh up the consequences of things. Certainly we immerse ourselves in the news from about four weeks out.
Is it a stressful experience? Did you have misgivings doing it all again?
GUY:  It's much harder this time, unfortunately, because we don't know which way the referendum is going to go, and the referendum is halfway through our series. So we've probably made it more stressful. Having said that, it actually isn't that stressful, because there's no time to agonise about it - you just get on with it.
There's not a lot of big match nerves, because you're just playing the whole time. Everybody who worked on it last time found it quite a pleasant experience. There's long hours, obviously, but a lot of actors like that immediacy – just acting in the moment and then watching themselves back that night on TV. There's something quite liberating about it, really.
ANDY:  Also, one of the things that gets eradicated is what can be the most tedious part of making a show. The writing and preparation are always interesting, the shoot is usually quite exciting, the beginning of editing is always very interesting, and then there's a long period of rather tedious post-production. You can spend a couple of months thinking: 'Am I ever going to get out of this seat?' We don't have that on this. The minute we've done it, it just spills out into people's living rooms, and we go on to the next episode.
Is it easier to write about the Brexit camp, because they have more 'colourful' characters?
ANDY:  You're right in saying they have a more colourful cast, so to a certain extent that's true.
GUY:  But then also what's interesting is the Tory party, within that. Both the Remainers and the Brexiters, with this attempt to not have a full-on civil war, while having a full-on civil war. That's what we're tending to focus on in the Remain camp.
ANDY:  That will work both before and after the referendum – the internecine conflict inside the Tory party will continue to be absurd.
GUY:  We're presuming the fallout from the referendum will make politics very interesting indeed.
Do you have to work hard to stop your own political prejudices from coming through? And, come to that, do you share those prejudices?
ANDY:  Not identically, I wouldn't have thought! We've spent many years writing comedy and, as |I'm sure you're aware, there are obligations to be impartial, and to be even-handed, so we are used to writing a plague on everybody's houses and sharing that out equally.
GUY:  We're like football supporters who spend half their time abusing their own team, and half their time abusing the opposition.
ANDY:  Neither of us are affiliated to anything – we have opinions, but hopefully they're not too obvious.
Why did you decide on Putin? Did you consider any other world leaders?
ANDY:  We had a conversation about what a strange and worrying time it was, and he kind of sits, like a spider, at the heart of that. Much of the uncertainty about the future centres around the fact that Putin is there. We did contemplate widening the net to show other leaders, but in the end it came down to resources. We've only got 23.5 minutes per episode, and we've only got a certain amount of money.
What will you do after the series finishes? Will you kick back and relax for a little bit?
GUY:  Sleep. For a very long time! That's number one!
ANDY:  I haven't really thought that far. We obviously won't work this hard. You couldn't work this hard forever. It's great to do it in short bursts. Because we are both in our late 30s.
How late into your late 30s are you exactly?
ANDY:  We're about 30 years into our late 30s.
• Power Monkeys starts on Channel 4 from June 8.
Published: 25 May 2016
What do you think?