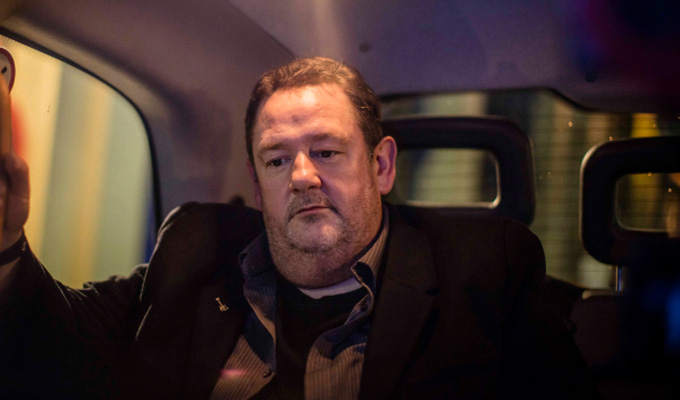 Who doesn't enjoy a ghost story?
Johnny Vegas is about to star in one of four short films written acclaimed author Neil Gaiman.
With the music scored by Jarvis Cocker, Likely Stories will air on Sky 1 later this year.
All four instalments are set in a 'heightened version' of East London and Gaiman says they all have a thematic link. 'There is definitely a theme of consumption,' he says. 'People being consumed by things; becoming other things; resisting or embracing a fate that is going in some way to change them
Vegas's episode, Closing Time, is about a writer who likes hanging around Soho's seedy drinking dens.
Of this story, Gaiman adds: 'There's the theme, I think, that the past, a dangerous place filled with secrets that haven't gone away, can consume you.'
'I started thinking about the 1980s in London and the fact that for a very small period of time I had wound up belonging to a now defunct late-night drinking den. I thought, "Wouldn't it be fun to do a club story but at the same time subvert all of the tropes of a club story?" I had much too much fun writing it.'
Here Vegas talks about his role.
What can you tell us about your role as Daniel in Closing Time?
Well, he's a writer who spends plenty of time in one of those classic Soho drinking clubs. He's the type that wanders the night, wanders the world looking for stories. He enjoys a drink and has a little group of mates.
To me he seems like the type who made his way up through the NME. He probably started doing music reviews and then branched out.
I would say he's also prone to the odd bit of writer's block and enjoys nipping out to see if the next big story is perhaps at the bottom of that glass somewhere. One night he's out drinking with his mates and they're talking about ghost stories and urban myths. He goes on to tell a creepy little tale from his youth and we're unsure whether he's just good at spinning a yarn or if it all actually happened. It seems sincere, but of course it's his job to tell stories.
And then there's a twist at the end, like there is with all great stories of this type.
Neil has spoken about the four stories being linked by the idea of consumption. What is Daniel consumed by?
Gin… I think, as a night person, it's the idea the next story is out there somewhere, rather than it coming from within. He's a nightcrawler, the type who enjoys seeking out inspiration from others' experiences.
What attracted you to the role?
The script, the producer-directors, Neil's writing… all of it. It's just a great little piece of storytelling. Who doesn't want to get around a table and tell a ghost story?
I was chuffed to be asked to do it to be honest; it was just a lovely opportunity.
There were such great people already involved and I predominantly do comedy, so it's always nice to come in and do something a bit more dramatic.
Plus I heard Jarvis Cocker was doing the music for it which was very good of him. He came down to the set and got me out of a huge predicament regarding Christmas and a present for my wife.
Were you able to draw on your own experience for the series?
Well, it really was all on the page. It's that well-written you can just enjoy playing it out and getting into it.
There are elements, though. The idea of a kid who's a bit of a loner and then finds these other kids to pal around with. We've all got that. We've also all been spooked at one time or another haven't we?
When I was younger I went through an obsession where me and a friend were in junior school and we thought we'd uncovered this witches' coven or some kind of black magic coven. We used to go out looking for them, trying to see if there were any sticks that had fallen in certain ways. It was a bit Blair Witch, like a dark version of Enid Blyton.I think every kid has that brief obsession with things like that… a point where you like to be scared a little bit.
What kind of audience will this attract?
That's a really good question. I hope a broad one. I hope it will bring in an audience of people who weren't necessarily fans of Neil's work beforehand because it's just such good storytelling. I hope it appeals to the masses. I hope it goes global. I hope it leads to a three-movie deal.
Published: 29 Apr 2016
What do you think?