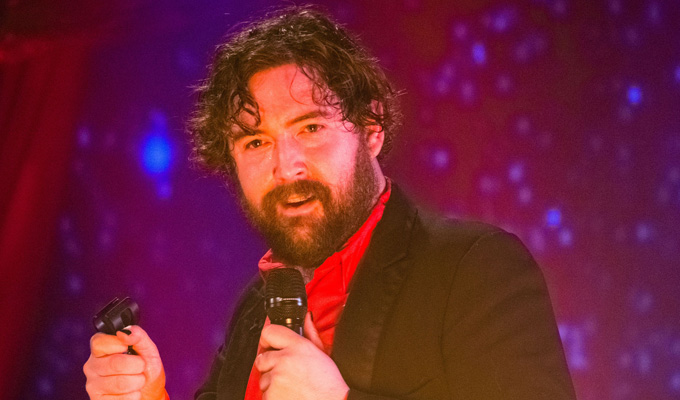 'The whole point isn't to annoy people'
'It's not like started out thinking "I'm going to be a cunt",' Nick Helm says of his aggressive, sweaty on-stage persona. 'But that's what works.'
Indeed it does, with a series of acclaimed Edinburgh shows leading to his first name-in-the-title TV show, Nick Helm's Heavy Entertainment, which starts on BBC Three tonight.
Six episodes were shot in 'a concrete bunker in Shoreditch' – the achingly fashionable East London enclave that Helm admits is 'my worst place to be in. I've never really had a good gig in Shoreditch. But I wanted to recreate the feeling of Edinburgh 2011 when I did Dare To Dream in a Portakabin – all the sweat, the intimacy and the claustrophobia – I wanted to get that into the series. And in the end they were some of the best gigs I ever had. Everyone who came was up for it.'
The show is, indeed, a distillation of his stage shows. 'What I enjoy about doing live work is not necessarily doing the huge rooms, not doing something that's actually glitzy,' he says. 'The persona wants that, but the joke is the gap between his aspirations and his ability.'
Heavy Entertainment comes on the back of Helm's increasing fame courtesy of Uncle – 'a happy accident', he calls it – in which he was cast as a wastrel stoner who forms an unlikely bond with his nephew. But Heavy Entertainment was developed independently of its BBC Three stablemate.
'When we were developing the series, I'd just finished filming the first series of Uncle and it hadn't come out yet,' says Helm – although an early Channel 4 pilot had aired. 'We started working on the Heavy Entertainment series in November 2013 and Uncle came out in the beginning of 2014.'
Heavy Entertainment had, however, first surfaced as an online pilot, part of the Comedy Feeds stand, in 2013. 'They gave us five weeks - it was a tax thing.' Helm says. 'They had to spend the budget by the end of the financial year, so sat me down and said, "We want to do a live thing."
'When you've only got five weeks, you're really only woking on instinct. A lot of people would have said, "It's always been my dream to have a TV show" and know all the ins and outs of it. But it literally had never occurred to me.
'It was a very shiny floor slow, exactly what I end up pastiching on stage. When I watch it back I feel it was half an hour of shouting, really. I'm proud of it, but it wasn't quite exactly how I wanted – it felt like it had been flattened.
'With my live stuff, because I've got all these different elements to it, and also the dramatic arcs, I try to make it three-dimensional, but when you do TV, it tends to flatten things down and make things more two dimensional or even one-dimensional.
'So when we got this series, that was great opportunity to go "I think I know what doesn't work" in the pilot and learn from that. You don't want half an hour of shouting every week, you want to vary it a bit.'
He says the series gave him the chance to revisit all he'd written for his live shows – since it's only been seen by relatively small audiences. 'I've done five hours of material at Edinburgh,' he said. 'Yet most people have never heard of me. I've never toured, and my 2010 show Keep Hold Of The Gold doesn't really exist. That was to a maximum of 70 people a night so really no one's seen it. So I want to use the best of my live stuff.
'That said, I've written lots of new material. The whole series has an arc to it rather than dong a half-hour Edinburgh show each week. It was really fun to put together. like a Jigsaw.'
Far more softer-spoken and considered in real life than his brash stage incarnation, Helm says the stand-up persona gradually evolved.
'But when I started out I was very positive and happy and upbeat. When I started in 2007, everyone wanted to be Stewart Lee, so you'd do a Laughing Horse night and there would be eight acts and they would all be low energy, so the nights would be difficult. So I would be like, "Oh, muggins here has got to put some energy in the room". That's where the high-energy came.
'My favourite comedians are people like Harry Hill, Jack Dee, Vic Reeves, Victoria Wood and Jo Brand. And when I was younger I liked Lee Evans. But that's not what I do. There are elements of these – and Alice Cooper of course – but it's like a cement mixer. You mix all your influences together and this is what comes out. As a comedian, your job is to find a niche. Not in a calculated way, but just thinking what you can add to what's around.'
'Then in Edinburgh one year I was on a mixed bill and Angelos Epithemiou was on. He was in a silver catsuit and he mimes to The Cat Crept In by Mud. it was so funny, but the audience gave him absolutely nothing.
'So I went on and was like "Fuck you then, why are you here for? What do you want? Us comics are all sat at the back and can't figure out what you want. So what's the point? We're not enjoying it; you're not enjoying it." I was being really angry and honest with them. The acts found that really funny and my stage persona gradually turned into that.
'But it's about the audience. They came to me at a certain point in the character's evolution and they went, "This is the voice we want to hear". They hadn't been around before that, and if they hadn't come to me at he point they did, it would have evolved further and they would have gone, "This is the voice" at a different point.'
Given his brash confidence on stage, it comes as something of a surprise when Helm admits: 'It's a nightmare because I don't find performing a natural habitat. I get very nervous. I think about things a lot. Stand-up is terrifying. When you start, you have to ask yourself. Is it scarier to do it, or not to do it? But for me it was scarier not to do it.'
Staying 'true to the spirit of what I do live' was the challenge of Heavy Entertainment, he says, which is reflected in the filming style. 'From the kind of programmes I liked when I was growing up, one of the main influences was the Jack Dee show shot at the Bohemia Club, and also Viva Cabaret, also shot at the Bohemia Club. That is what I thought TV stand-up was.'
It's a style that was lost as broadcasters went to the slicker presentation of Live At The Apollo and Michael McIntyre's Comedy Roadshow, but rediscovered and reinvented by Stewart Lee for his TV shows.
'As soon as Stewart Lee's show came out, every single l comedian went, "Right, that's how you film live comedy",' Helm admits. 'Part of the challenge of Heavy Entertainment was saying we're not doing what Stewart Lee does and we're not doing Live At The Apollo; we've got to work out what our own thing is. We wanted to feel like we've captured a live event - like you get the edited highlights. The balance is making it work in the room and also making it work on telly.'
While Helm is grateful for the extra recognition and acclaim, Uncle has brought him, it also has also brought a 'very different' audience to his live shows, who aren't, perhaps, ready for an overweight man hollering at them as he tries to keep everything together in the name of entertainment.
'Uncle's audiences are very different from my audience,' he admits. 'I found that at Christmas when I did two weeks at Soho Theatre, I guess it was a Christmas treat for some people, the weren't regular comedy-goers. It was weird.
'There are elements of me in Uncle in the songs and the performance but he's not the same character. So what we've done with Heavy Entertainment is made a show for my Edinburgh audience. But hopefully there will be some crossover.'
One of the things that struck him most about Uncle – which is currently under discussion for a third series – is how universally liked it seemed to be.
'I try to avoid Twitter, but when you're trying to promote something you have to. With Uncle, there were just two negative tweets – and even then they weren't 100 per cent negative tweets. I've never been involved in anything that's been so well-received.
'Comedy's weird because people take it personally. You don't get the same reactions from drama and people don't take it personally. People didn't like the second series of Broadchurch, but weren't angrily tweeting David Tennant, they just went "That was slightly disappointing. Whatever".
'If you go and see a play, you appreciate that they're acting but with comedy people think you are that and people can't disassociate the act from the person.'
So what's the worst reaction he's got from his aggressive stage persona? Ironically it was after getting a five-star review from the Daily Telegraph for his 2011 Edinburgh show – as it suddenly brought him their readership, who might not have been attuned to his in-your-face style.
'Literally during the opening song, a man went 'aaargh' and ran out,' Helm recalls. 'That was mental. Then these three women got up and left, then some kids left and I literally cleared the front row, But all the people who stayed, that was one of the best gigs for them because there was a visual representation of who got it and who didn't. And to be honest I'd rather they left. The whole point isn't to annoy people, the whole point is to entertain people who want to be entertained.'
'Comedy is so subjective anyway. There's something out there for everyone. But sometimes there's something that so specifically fits another person that they love it more than anybody else in the world. And for be that's Tony Ferrino, [Steve Coogan's Portuguese Eurovision-singing alter-ego] I think it's amazing.'
Not that Helm wants to be the next Tony Ferrino. 'I don't want to consider myself a musical comedian because I do a bit of everything,' he says. 'I'm more like an entertainer. There are good musical comedians out there but why limit it to that? I'm just doing stand-up at the moment and I'm really enjoying that. But when I'm doing an Edinburgh show I want to do a bit of everything, to make it feel like a night out, like an event and it keeps the hour moving. Also I try to write songs first that are actual songs that happen to be funny, rather than writing jokes and putting a tune to them.'
But he says the 'most personal' thing he's ever done was the recent, bittersweet BBC Funny Valentine short Elephant, which he co-wrote with his Uncle colleague Esther Smith, E, who also stars. 'That's based on something that happened,' he said. 'I lived in Brighton [where it was set] ten years ago. Add a bit of fiction to it, romanticise it a bit, and that's a nice idea. It was one of the best creative experiences I've had'
'I'd love to do a series of Elephant. It'd be foolish to talk about it but the aim with that was always to make a series.'
The film being released online gave Helm a look into the near future where BBC Three no longer exists on TV. With two shows on the channel, Helm admits: 'I might be the iceberg that sunk the Titanic.Or maybe I'm the orchestra playing on as the ship goes down.'
But he concedes that 'there's no fighting online. This is the future – you can either resist and say it's a lesser art form or jump in and do this.
'I know people did watch Uncle on telly, but I don't know personally anyone who watched it live. And there is an argument that BBC Three audiences are mostly young people and they are used to using their mobile devices to watch TV on demand.'
He already has his eye on his next project, though, writing a series for old-fashioned broadcast TV of Channel 4, based on the Blaps he made for them in 2012.
'That's my dream project,' he said. 'That's the Nick Helm sitcom if you like, putting the stage persona in a sitcom, bombastic and loud.
'If that works that's brilliant, but I want to try to do as many things as I can as I can. After Uncle came out I got lots of offers to play an overweight stoner - all exactly the same part. So in Elephant, the Channel 4 series and the live stuff they are all different aspects of me. I'm trying not to repeat myself. And Uncle's acting. People are going to pigeonhole you anyway, so why would you do it to yourself?'
'I didn't get paid for nearly ten years. Since graduating form 2002 to 2010, I worked in pubs, did data entry, just to fund going up to Edinburgh. Now I could go, "Yes I've made it!" , but really now is the time the hard work starts - even though I feel I've worked hard already. But it is fun.'
• Interview by Stev Bennett. Nick Helm's Heavy Entertainment starts on BBC Three at 10.30pm tonight. Here's a preview:

Published: 5 May 2015
What do you think?