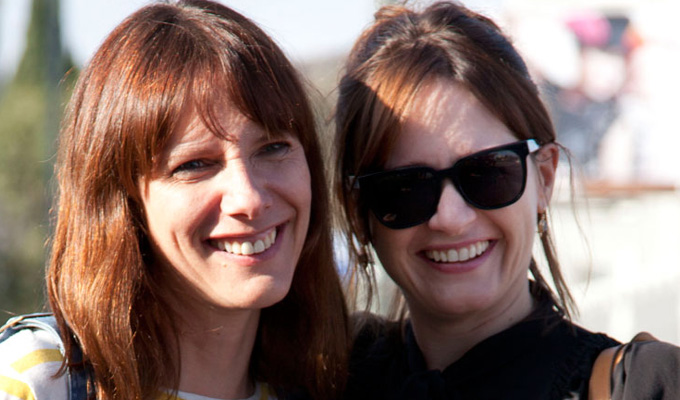 'We were too lazy to learn the lines'
Following Curb Your Enthusiasm, The Trip, Extras, Episodes, Louie and countless others, actors playing 'heightened versions of themselves' is probably the biggest trend in TV comedy.
The latest to join the fray are Emily Mortimer and Dolly Wells – real-life best friends who have just created the new Sky Living series Doll & Em in which they play... two best friends. In a further slice of reality, the Em character is enjoying a successful Hollywood career, matching Mortimer's acclaim in HBO's drama The Newsroom. The show's fictional twist comes when she invites down-on-her-luck Dolly to be her personal assistant, ostensibly so they can hang out together in Los Angeles.
Speaking at a screening to launch the show at Bafta last night, Mortimer said she was fascinated by the 'sado-masochistic relationship between someone and their personal assistant' and 'what a strange dynamic that is'.
'And if you make them equals, it's even more peculiar,' Wells adds, explaining that the show is about more than a self-centred boss and a put-upon employee. 'Female friendship doesn't seem to be covered [in TV comedy]. There's something passionate and amazing in having such a close friend.'
Sky's comedy head Lucy Lumsden agrees, saying: 'We haven't seen anything like this before, about friendships that have nothing to do with men.'
It's certainly obvious that the pair's real relationship informs the show, which they came up with after toying with lots of half-hearted ideas. 'We had to come up with something, as for years we'd been pretending to work on something,' Mortimer says. 'Instead we'd just talk to each other for hours and hours.'
But after all that chatter, they knew this was the idea that would work, as explaining the concept – what happens when you make your best friend your personal assistant – was easy, in contrast to anything else they came up with. 'We had so many meetings pitching ideas we hadn't really had, just a title,' Mortimer said.
And she concedes that ultimately: 'The ten years of gossip in Starbucks did pay off. We needn't have felt guilty.'
After coming up with the idea, the pair shot a 20-minute taster video with their director friend Azazel Jacobs: 'The first scenes were shot guerrilla style, in between my filming scenes of The Newsroom,' Mortimer says. And of the semi-improvisational techniques they us, she confesses: 'We were too lazy to learn the lines.'
But the result helped them convince both Sky's commissioners, and the raft of guest stars who make cameos, including Bradley Cooper, Andy Garcia, John Cusack, Susan Sarandon and Noel Fielding, who previously worked with Wells on his Channel 4 show Luxury Comedy.
'Shooting the first episode gets you so much further than if you send them a script or a treatment,' Mortimer says. 'They know they are in safe hands. We were served so well by the 20 minutes Azazel had shot.'
They way this taster was shot also gave the show – and the characters – its name, leading to extra blurring of the lines between fact and fiction. 'When we did the first 20 minutes, we used our own names because we weren't really thinking about it,' Mortimer says. 'And it did help with the intimacy.
'But Azazel thought we had a show and that we should send it to people – and he wrote Doll & Em as the title.'
It stuck to such an extent that while they were touting the show at the Mipcom trade fair in Cannes, one French journalist asked them: 'This fashion for semi-autobiographical fiction, isn't it the height of narcissism and masochism?'
'We had to agree,' Mortimer says. 'But these characters aren't us, and we [now] have to deal with all sorts of people who think we are horrible.'
Wells admits that their alter-egos are 'not completely likeable... but that's the bit that interests us. We want people to think, "she's being a dick, but I get it."'
'It's so important that you have flawed characters,' Lumsden chimes in. 'There's almost a melody that plays through this series, but there are some really nasty chords played within it.'
She was also keen to ensure that the show wasn't too 'actory', stating: 'This had to have plenty of entry points for a wider audience.'
Lumsden added that Doll & Em struck a particularly British tone – 'we suppress so much, then have these moments of explosion' – but thought the Los Angeles setting would make the show a good fit for Sky Living, which has traditionally shown glossy American imports. 'You've got that California feel with the sunshine, but combined with British sensibilities.'
The combination seems to have worked, as the show has been sold back to the States, with HBO snapping it up.
As well as having their pal behind the camera, the Doll & Em production team was largely comprised of close friends and family. 'We found it makes you up your game,' Mortimer says. 'If you're surrounded by people you love and respect, you want it to be good for them.'
Another member of the team, executive producer Andrew Eaton, had preciously worked on a show with a similar feel, Steve Coogan and Rob Brydon's The Trip. He said: 'What Steve and Rob are doing is similar to what Doll and Em are doing.'
'They were hugely influential,' Mortimer admits, adding that she 'went berserk about it' when she first saw The Trip. 'It was one of the best things I've ever seen. It's embarrassing to admit, and maybe we shouldn't – but it really did influence us. It taught us that you didn't have to say goodbye to your filmic sensibilities to get something snappy that would work in a TV format.'
But they were keen to make just six episodes. 'we wanted a beginning, a middle and and end, and tell a complete story,' Mortimer says. 'In that way it was more like a mini-series. I think it's served us well not to have any more.'
And Sky – which has commissioned long runs of shows such as Stella and Trollied – also felt that less is more. Without naming names, Lumsden said: 'I would say we've leapt in there sometimes and done too many episodes, to the detriment of the show.'
But that's not to say there won't be any more episodes. Asked about a second series, Lumsden says coyly: 'We are having conversations. There are ideas, that's all I can say. really.'
Certainly Mortimer and Wells would be up for that, given how much they enjoyed making the series. 'It was the same feeling as putting on a play on the stairs for your mum,' Mortimer says. 'Doing it just for fun.'
• Doll and Em will launch on Sky Living on Tuesday February 18 at 10pm, on on demand via Sky Go a week earlier. Here is a trailer:

Published: 5 Feb 2014
What do you think?