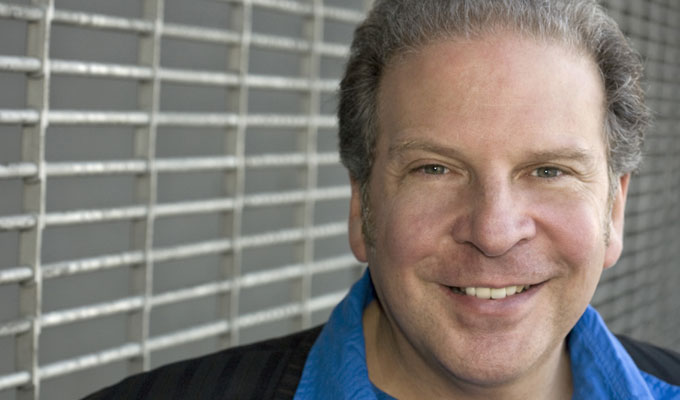 Comedy's gatekeeper
Interview by Jay Richardson at the Galway Comedy Festival:
For more than a decade, Eddie Brill was the man most American comedians wanted to impress. As the booker of stand-ups for The Late Show with David Letterman, he held the key to nationwide exposure – until he lost the role last year following a controversial comment he made to the New York Times (which he maintains was quoted out of context): 'There are a lot less female comics who are authentic. I see a lot of female comics who to please an audience will act like men.'
He continues to be a warm-up on the shw, as well as book festivals and advise promoters – for he may well be the best connected stand-up alive. With his college room-mate Dennis Leary he founded a comedy workshop in Boston, whose alumni include Bill Burr, David Cross and Jennifer Coolidge, while Louis CK recommended him for the warm-up job while he was a Letterman writer, with the comedians' poker in his eponymous sitcom based on the weekly game at Brill's house.
In conversation at the Galway Comedy Festival, Brill won't discuss the New York Times fallout, which saw him accused of overlooking female comics and favouring graduates from his own comedy courses, but he retains a unique position in the industry: 'The comedian who has gotten to be in the meetings comedians never get to go to, for television shows, for festivals, meeting with network executives, fighting for comedians all the time because I'm one of them.'
Quoting Buddy Hackett's maxim that comedians should only seek advice from other comedians, those who have walked 'the final 30 feet' from the back of the room to the microphone, he states baldly 'I know what it's like to be on Letterman and I know what it's like to audition for Letterman.'
Indeed, he auditioned five times for the show before getting his first slot, with Joan Rivers coaching him through his debut set during a chance encounter on a flight. Later, 'whenever I did a set I passed it by Louis first, he gave me critiques and helped me to see things I could never see myself. A comedian can't look in the mirror and see themselves. Because once you look in the mirror, you're not performing anymore, you're just staring at yourself.'
He valorises feedback because 'I never understood why I got the slot and I never understood why I didn't. No-one ever took the time to tell me. I vowed when I got the job that I would spend time with the comedians after each audition.'
Preparing UK and Irish acts for Letterman was a particular challenge. 'Tommy Tiernan is not very network-friendly when he's performing in a club for an hour and a half but he's still capable of doing a tight five minutes if it's demanded,' he explains. 'Danny Bhoy was terrific but that was hard. He had nine minutes he wanted to do and I had to half that. The mindset in the States is that like the bands playing on Letterman, you have an album you want to sell but you can only showcase one cut.'
Brill, it transpires, likes 'what [Letterman] likes, he's a comedian and he likes great comedians. It's all subjective, there are different types of comics and no one's really wrong at what they do. But you have a show and the material has to be tailored to its style, just as it was with Bob Newhart and Johnny Carson. While other shows will go for the most popular though, we always go for the best.'
Readying the acts invariably involved negotiation, compromise and broadcast training. He would always 'tell the comics what was fantastic and what was lacking. But I advised them never to change who they were, just because they were doing Letterman.
'Bill Hicks taught me that when we were travelling around England. We always had great conversations and he said to me "why don't you bring this on stage? Why are you dong this 'love me, love me' dance up there?" At first I was angry but he was right, that's what comedy's about. You get audience approval when you get the laugh.'
Throughout his 37 years in comedy, the only comic Brill has seen express that personal 'truth right away' was the young Dave Chappelle, 'a kid who didn't know any better.
'Mostly, comedians act like a comedian they like at the beginning because that's what you think people want. That idea of finding your own voice, well, it's in there all the time, you just need to get rid of all the bullshit blocking it - all of the fear, hatred and negativity, the lies of society and how you grew up.
'I look for comedians coming from instinct, who can get out of their heads. There are brilliant singers who aren't as soulful as Ray Charles, Nina Simone, Elvis Costello or Aretha Franklin but that soul is what I want in a comic. Chappelle told the truth as a kid and just got better and better and better. You can over-analyse anything and the best artists come from the gut, that soul, that instinct. It's the middle-of-the road ones that operate in their head.'
Brill was close to George Carlin towards the end of his life and told him 'I'd really like to talk about religion but it's such a hot-button topic and people freak out.' Carlin told him: 'Just tell the truth from your perspective and no-one can ever argue with that. Just don't make fun of other people's lives and their ways because then they're going to close off to you... You don't tell the audience "you suck!". It's "we suck!"'
'The comics I love are always the most vulnerable' Brill affirms. 'There are a lot of comedians who are very successful, especially in the United States, and their comedy is "everybody sucks except for me". And to me, that's not very compelling or compassionate. To take it to the next level, the legends like Richard Pryor, George Carlin, Lily Tomlin or Jonathan Winters, they took the tarpaulin off their lives, that vulnerability became a strength. There are technicians who are brilliant but you never really find out who they are. Bill Hicks, Chris Rock, they lay their soul out for you, they're the ultimate commentators, they just lay it on the ground. Paula Poundstone is one of the greatest stand-ups alive because she opens herself up, you can see everything she's thinking and see yourself in that.
'People judge Russell Brand because of who he is on the outside but they're starting to find out what he's like inside too. A comedian telling you they're fat or bald is fine if they're insecure about it but otherwise, the audience can see that already. They want to know what makes you laugh, what pisses you off, what do you find ironic?'
The 55-year-old sweeps aside the muttered resentment of acts he's overlooked, claiming that he doesn't take it personally because 'it's mostly them projecting their fears. They don't really know me and if they did, they would understand I have their best interests in mind.
'To suddenly be in a position where people didn't like me and were projecting who I was, it was kind of hurtful. I'm a human being and I've made mistakes. But I never thought of it as a job of power. I'm someone who really cares about comedians and the industry. I only had limited slots for the show, so I couldn't put my thousand friends on. You might be my favourite comic but not right for what I'm booking, just through the style of comedy you do.'
He'd recommend travelling as essential for any comedian 'because my first few years in England grew me up as a comic more than anything' and says he developed an admiration for British comics 'who weren't famous but were incredible purists'.
'Nowadays, we've got these international festivals with all the traditions mixing together - English, Scottish, Australian, American, Canadian and Irish. It's absolutely the best way to learn off each other.'
Published: 1 Nov 2013
What do you think?