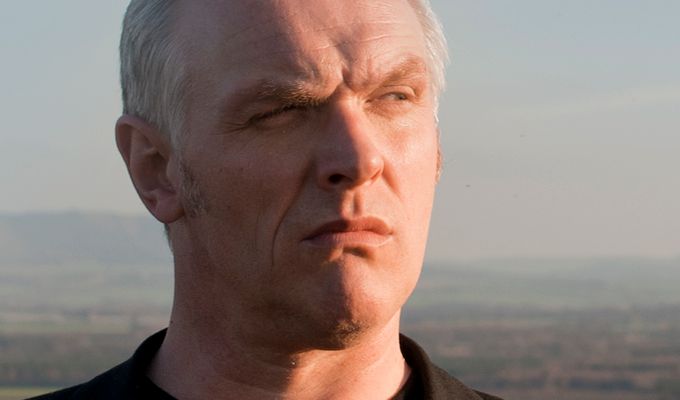 'I came so close to madness'
Greg Davies's new Channel 4 sitcom, Man Down, is due out in the autumn – but industry delegates at the Edinburgh International Television Festival at the weekend got a sneak peek at the first two episodes.
He wrote the comedy loosely based on his own experiences as a disillusioned young drama teacher with an insane father and strange friends, losing his way in life.
After the episodes he was interviewed about the show, and admitted he felt a pressure which he hadn't felt with pure acting jobs such as Cuckoo or The Inbetweeners.
'I spend a lot of time looking in the mirror and saying, "You're not a miner", he told interviewer Andrew Collins. 'I realise that I'm lucky to be doing this nonsense, spending my time playing, which is what it feels like. But it's undeniable you feel the weight of responsibility ten-fold when it's just you and it's just your name.
'And, of course, the ludicrous things that happen on screen haven't necessarily happened to me –  but it is all based in truth, so there is something exposing about realising just how much of a loser you were in your early life.
'The drama studio that's in the series is my actual drama studio from mid-career teaching. I was at that school for about seven years so it felt like some sort of therapy to go back and film in that place where I was unhappiest. When I was writing the show, I was imagining that room, so it seemed sensible to go back to that room.'
Davies admits he has some worries about being typecast as a teacher, given that he found fame as Mr Gilbert in the Inbetweeners, but insisted: 'Man Down clearly isn't about a teacher, it's about a man lost at sea. So there's a passing concern that people will say "Oh, all he can do is teachers" – but any journalist who wrote that would be very lazy.
'In the early development of the script, I turned him into something else. I can't even remember what now. A council worker or something like that. There was a whole script I showed to the people who work with me and we all thought it was a lie, it's just not true. It doesn't ring as true as the years of suffering in that drama studio, so it seemed like the best thing to do, We're in the classroom for two minutes every episode – the rest of it is outside of the classroom.'
Davies turned to comedy after an 'epiphany' that he was reluctant to talk about, save to mention that it came after 'a really strange thing [that] happened in a floatation tank. It was bought for me by an Australian woman.'
But he said the job that he hated so much proved an asset when he first took to stand-up. 'Being a teacher gave me an unfair advantage,' he admitted. 'At my first few gigs everybody went, "Oh my god, he's so confident" because I was used to talking to people. Then there was this massive drop-off when they realised I had nothing to say. So I got off to a fast start and then had to go back to learn how to do it properly.'
His breakthrough came with his 2010 live show Firing Cheeseballs At A Dog, which contains many of the themes now used in Man Down. 'It was where this all came from. Jon from Avalon [producers of the sitcom] and Spencer my agent said there was a narrative in there somewhere, or this is the seed of a narrative, I suppose.'
A key character in both his stand-up and the TV show is his larger-than-life father, played on screen by Rik Mayall – to whom Davies has frequently been compared physically.
'My mum is the long-suffering, nice, caring, lovely mum and my dad is just a nutcase,' Davies said. 'When I used to do the stand-up routines about my dad attacking me people thought it was artistic licence. It's not. If anything, I've had to calm it down for the show to make it more believable.
'He's wonderful my dad, and he's the funniest man I've ever met, but it was bizarre what he thought was acceptable when we were growing up. I introduced him to my first girlfriend when I was 16 years of age. I was so nervous and his opening sentence to her was, "Of course, I used to wash his penis." He didn't even say, "Hello."
'It was a joke as I was developing the series that of course Rik Mayall would play my dad; of course he will that's what must happen. Then he said "yes" and I couldn't fucking believe it. I still can't believe it.
'He's brilliant, he's larger than life and wonderful for it. He's absolutely great and surprisingly professional. I've been a fan of him for years and I suppose I expected him to be sort of, "Yeah, let's just do the show however...: and in fact, he'd learned his lines and he wanted to talk to me about character motivation. God, I had to bullshit him. "What's dad's motivation for punching you in the nuts at this point?"'
But if his father is insane, writing the series almost tipped Davies the same way.
'As a stand-up I don't sit down at a computer and write; it gets developed organically so you go out and do gigs and have a germ of an idea and keep talking, so I've never actually just alone sat at a computer and started with nothing and come up with something.
'I was determined to write all of the first drafts myself. Later in the process I had two brilliant new writers come in and help me shape what I had written. But those first few months were just... [awful]
'It's new to me and I came so close to madness. I don't know how many of you have tried to write alone but I came so close to losing the plot, it's frightening. Your vocabulary shrinks to about five words, you're just salivating in your pants in your flat.
'I really scared myself on several occasions and just had to leave my flat and go and sit in public and that's what I discovered that what I need to be alone and writing but with other people around just to remind you that the world's just carrying on.'
Though based on his own life, Davies points out that the indignities heaped on his TV character, and his status as a loser is 'obviously very heightened' but adds: 'The heartbeat of the sadness is true .'
'It has got to the point that now I'm watching all of them, watching the arc and watching the character get humiliated more and more and more I do think I'm punishing myself for something I haven't quite worked out yet. I think something strange is going on because he ultimately ends up in the most desperately humiliating situations.
'One of the mantras for the whole series for me was that whatever happens, it's always his fault. There are a lot of characters from the past that have things happen to them and you feel sorry for them for that reason, and you feel sorry for them, but I think it's always down to him.
'When I was teaching there were three of us who were very similar. We were all in our early thirties at the time and I think we were all lost. We've all joked about it since as we had no idea how lost we were... all of us kept doing different things to try to make life better but they were always the wrong things, the wrong decisions, you choose the wrong person to get romantically involved with, or you choose the wrong people to hang out with in your spare time, and I think that's what my character is. He's a nice man but he always makes the wrong decisions.'
The 'lost' friends have become characters in the series played by fellow stand-ups Roisin Conaty and Mike Wozniak.
'They're hilarious,' Davies said. 'I was so delighted to work with them, and we had so much fun doing it. I hope that comes across in the series, that we didn't stop laughing for the whole filming process, because they are hilarious people.
'I love it all. I know it's a bit of a cliché, but I spent 13 years in a job that I truly hated, so all of this is playtime to me. Because I came into this business so late, it's great, I love it. When you're on a certain path in life you don't believe you get a chance to change that path
'There are genuine pressures to doing this, but it's brilliant, I just love it. And then I've got live stuff as well, so I feel very lucky. Cliché, cliché, cliché.'
• Man Down starts on Channel 4 sometime in the autumn. Click here for our verdict, based on the preview screening.
Published: 27 Aug 2013
What do you think?