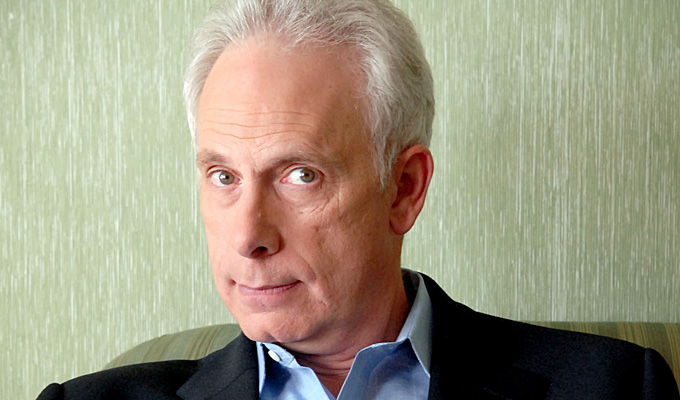 You need characters you care about, not just funny voices...
Christopher Guest is best known for playing Spinal Tap guitarist Nigel Tufnell, an experience that led to him writing, directing and acting in a series of acclaimed documentary-style comedy films such as Waiting For Guffman, Best In Show, A Mighty Wind and For Your Consideration – although he rejects the label 'mockumentary' as he doesn't believe he is mocking the characters.
Beginning on BBC Two tonight, Family Tree is his first TV series, a transatlantic co-production between the BBC and HBO, which grew out of Guest's exploration of his late, aristocratic English father's possessions. He co-created it with actor Jim Piddock, and the series stars Chris O'Dowd as Tom Chadwick, an Irish Londoner left a trunk full of family mementoes by his great aunt, which inspires him to trace his family history across the UK and US. Stand-up Nina Conti is his sister Bea, appearing with her ventriloquist dummy Monkey, while Tom Bennett plays his best friend Pete. Guest's long-time collaborator Michael McKean is Tom's father.
Do the characters' backstories in Family Tree have to be deeper than in your films because there's not a narrative end-point for them?
I approached it in the same way. I looked at it as making short films, each show a small movie. Their backgrounds are not unlike those I've created in the past. The outlines are roughly eight pages long but added to these are character breakdowns about where they went to school and various other things about their lives, so that all the actors when reading don't contradict each other, especially if they're in the same family and they all have the same bible to work from.
Do you find the rhythm of directing for television similar to film?
It feels roughly the same, although we did each show in five days. And because of the time of year that we filmed them – I say film, it was actually HD, but old habits – we had very little daylight, so we were working from 9am to 3.45pm and that was a challenge, because it was the winter and that made it somewhat difficult. Otherwise, it was quite similar.
The post-production was where it became different. Typically in a film, I will shoot the film in roughly 27, 28 days and then spend at least a year editing. Having never picked any takes, having never seen anything, just sitting down with the editor. And in this case, that wouldn't have worked. So there were two editors each working on different episodes and in London I would look at the dailies in my hotel, then I would chat with the editors. They had assembled things that I would then look at and go back and tweak. So actually, it was quite different.
What was it in Chris O'Dowd's IT Crowd and Bridesmaids' performances that made you want to work with him?
Well, his work in the two different projects is quite different, obviously. What I saw in Bridesmaids was an extremely likeable and funny character that seemed like a quite normal person. And this is really the first time I've ever done this in creating a character. Most of the characters in my films are quite dysfunctional. In this, Chris is going through a difficult time. But he really is an Everyman character that can be very appealing and funny. And that's an interesting combination, it's not a very common combination. And his improvising was extraordinary.
Does he retain his Everyman status throughout the series, surrounded by all of these eccentrics?
Yes, he doesn't go insane. But what does change is that when he comes to the States he meets a young woman. There's this pall over the first four episodes, he's feeling quite despondent about being sacked from his job and his girlfriend leaving him. But that changes, he goes to California. And it's kind of this metaphor for the difference between the darkness of a London winter and the cliché of California, where its bright and sunny. The characters wear different colour costumes, we were trying to have this lift. So he meets a girl and then his attitude changes, which is nice.
There's a bit in the second episode where Pete reels off a litany of bizarrely named British beers. Do you have a love of English vernacular?
Well, I spent a lot of time in England as a kid. My dad was English and we would go back and forth a lot, we had a house in London, so the answer is yes. There's a section that will be in the DVD extras where Pete is making an attempt at Cockney rhyming slang but he doesn't actually understand it, which is sort of funny. It didn't make the cut but it amused me to have Pete trying to set Tom up on a date, saying [adopts Mockney accent] 'yeah, she's really great, she's got a great set of Bristols!' Except he says, 'she's got a great set of Putneys!' It was continued into later shows but it was cut for time purposes.
There's another scene referring to footballer Tony Adams. Very few Americans are going to get that reference.
Very few, how about none? I remember the very first movie I made, The Big Picture with Kevin Bacon as a film student. And the talk then, not specifically about that movie necessarily, was that you can't do things about showbusiness because it's too inside. And yet people were doing medical dramas and using medical jargon and no-one minded. Yet showbusiness had this bizarre fence around it, that you couldn't do that. I think you have to be true to the situations and not worry about that. People will infer something and it's OK if some things go by.
In the episode where Tom embraces his family's performing history, the show looks back affectionately at British music hall as distinct from American vaudeville. Does that tradition interest you?
I'm interested in all sorts of entertainment from different times. Panto is not known in the States at all, nor is music hall. We had burlesque and vaudeville, sure, similar time periods. And they do interest me. It was only when I was working on Best In Show that I found out I had a relative in London 200 years ago that was a ventriloquist.
You had a dummy yourself in that film and cast Nina as a weather girl with Monkey in For Your Consideration. Why do you find ventriloquism so compelling and what role do you see Monkey serving in Family Tree?
Nina is different to a lot of ventriloquists because she's a wonderful actress and that creates some gravitas in terms of the emotional part of it. I hope to have emotional underpinnings in what I'm doing so that it's not a sketch. And in her case, it's somewhat sad or interesting, however you look at it. This is a woman that was traumatised and she speaks through this puppet. I'm not a psychologist or psychiatrist but as far as I know, the main premise for this is that people can say things through a proxy and not feel as if they're responsible. So whether it's saying something that's supposed to be naughty or whatever, the performer can get away with it because it's not he or she doing it, it's the puppet.
I understand that when you originally conceived the main characters for Family Tree, you made an audio recording of yourself doing all the voices. Why and when did you get Jim Piddock involved to help you flesh it out?
When I started, it had nothing to do with what now exists. Initially, it was going to be a CD and it was a family from the [American] South. I played all the parts, I wrote songs and did the music and these different characters told stories, it was a completely different backstory. That was about four years ago.
But as I kept going through my father's things after he died – I'm still finding things, it just keeps going – I knew that I wanted to begin the search in London. Jim has been in three films with me. And given that he grew up just outside London, I thought he would be a good person to work with. So we had lunch, then another lunch and it became a very comfortable and fun thing to work on, a lovely connection.
Was a big part of the appeal that a show about genealogy offers so many possibilities to explore?
Well, yes. And that's why I did it as a television series because with a film you would have to dramatically wrap it up after three acts and there really is no easy way of indicating that there was this search. It would have been quite abrupt and never a good idea. We had to make up a fictional family tree, which was very vigorous because all of the dates had to jibe with all the other ones.
We decided not to go back to the 1600s, that would have been mental because there would have been thousands of people. And we limited them to having fewer children than they actually would have because then that too would have been too complicated.
But even though it was really quite confusing, we created this document that we had on the wall of the set and everyone had a copy. I hope they've photographed it for the DVD. Even when we were finishing, we couldn't always remember the names of Great Great Great Uncle Whoever. But it had to be done correctly otherwise the whole house of cards would have fallen down.
Michael McKean has described you as a 'conductor' of actors. And you once said that you were more influenced by musicians than comedians. Is that still the case?
I don't know about 'more', I don't look at in such a literal way. People say, 'well, these are my mentors' and they look at Laurel and Hardy. And that certainly is true, there are people who were comedians that influenced me when I was starting and when I was a child. But I recognised later that music has influenced me an equal amount and it somehow influences what I do. It's harder to articulate because obviously you can say 'Well, I liked Tommy Cooper'. And then you say 'OK, he was funny and therefore ...'.
But if I'm talking about a guitar player or mandolin player that impressed me and had some way of playing that moved me, that all adds up to what I do, I guess. When I play music with friends and we improvise, we're improvising in the same key. This is boring for me to describe, if not for everyone else but it's the only way I can explain how improvisation works.
When you're playing music you just follow someone, you don't question that they're not reading any notes, you just play and follow. It's kind of mysterious and magical and not everyone understands it, in fact nobody really understands it. But I do my best trying to explain.
Are there any Spinal Tap, A Mighty Wind or Waiting For Guffman songs still unreleased?
Um. There are a couple of Tap songs … I think the very first song I wrote with Michael McKean was The Princess and the Unicorn. I don't think it's in the movie, I haven't seen the movie for a long time. That would be embarrassing. But I don't think it is. It was this awful song, intentionally, in their fantasy way of looking at their history in terms a unicorn being a kind of classic fantasy thing. That doesn't show up anywhere. And I don't remember much of it.
Have you been given any indication of whether Family Tree will get a second series?
I haven't, no. I'm proceeding as if I'm on holiday, which I am right now. Typically when I finish a film, I take years off to do other things.
Ricky Gervais admits to 'ripping off' your style. Will you ever co-create something with him?
We've spoken about it over the years. About two years ago, we met in New York and spent the week basically just laughing. It was as if you had two ten-year-olds in a room. Nothing much came of it, other than having a laugh. It's something I'd very much like to do, he's a good friend. I don't know when or how that would happen though.
Will you be adding Chris and Nina to the core ensemble of actors you work with?
Chris is a very popular young actor, he's always working and he's incredibly gifted at this. And that's a quite rare thing. That's why it's not just an accident that the same people appear in my films, it's because they can do this kind of work.
Sometimes people say 'well, why not have George Clooney in the movie?' Partly, because his fame would upset the boat. But also because while I think he's a very talented actor I don't know if he can improvise. There's a reason that people who populate these projects are in them. Tom Bennett did a brilliant job in this, all the people did. I had no idea if they were going to be able to come up to this level and they did.
You weren't the first to use the documentary style for comedy but you've been credited with humanising it. Would you agree?
That's for someone else to say. But what's important is to have an emotional basis for the stories and not just make them people with funny voices. It matters to me to have characters that you care about. That's just my taste. Even in Spinal Tap, where you have these not terribly bright guys, there's this connection between the character I play and Michael McKean, which is quite an important basis. Without that, it would have been a very different film. When the woman comes in and breaks them up, it's the oldest rock and roll story but it's based in reality.
You've sat in the House of Lords because of your hereditary title as the fifth Baron Haden-Guest. Will you ever draw on that experience as inspiration for a future comedy?
It's unlikely. It wasn't such a cliché as one would think and although parts of it were, it wasn't the surface joke I'd been led to believe. It's interesting for some people to hear about but I don't see it as the basis for a film or television piece.
Judging by For Your Consideration, you don't have a fond opinion of reviews. But are you intrigued to see if Family Tree receives a different reception in the UK to America?
Am I intrigued? I don't read any reviews so I wouldn't actually know. So … there you go.
• Family Tree starts on BBC Two at 10pm tonight. Click here for interviews with the cast.
Published: 16 Jul 2013
What do you think?