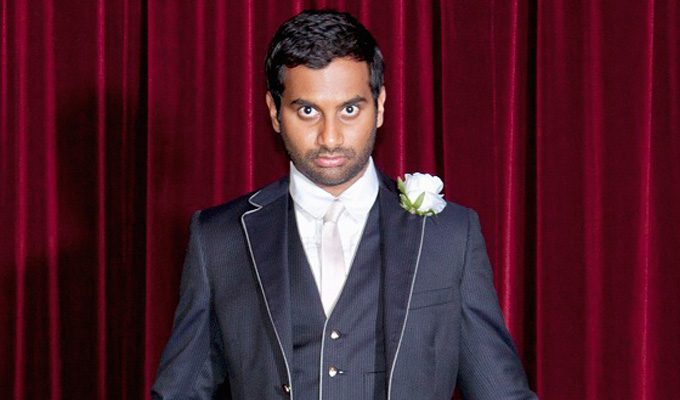 'All the best comics have a tremendous work ethic'
Parks and Recreation star Aziz Ansari is to play the Hammersmith Apollo on June 15, his second UK visit following his short run at the Soho Theatre in 2011. He spoke to Chortle's Jay Richardson from his New York home...
Did you enjoy London last time?
I had a great time. There's a pretty similar sensibility to American audiences. And a lot of stand-up fans, so I'm excited to be coming back.
Why does stand-up attract more critical appreciation here than in the US?
I don't know, for some reason it's just more respected as an artform. When I was in London last time I was reviewed alongside plays. It's not like that here. [US journalists] reviewing the shows will just jot down a few jokes they remember and, of course, mess them all up. It's just not properly done. Whereas in the UK, I noticed right away that it was classed alongside all these other performances.
I guess comedy can't be seen to take itself too seriously, in the way say, film, can.
I don't know. There are comedy plays, they're taken pretty seriously. Is stand-up not the same thing? Like a one-man play? A monologue?
You've been a stand-up for just over a decade. How has your comedy changed in that time?
It's changed a lot. The one I'm doing in London, I just filmed it to put out as a special later this year. It's way different to my other two specials, a lot better. In the past, I'd do shows and it would be random things I found funny. But now my stand-up really focuses on certain topics, exploring deeper things in my head. I talk about the things I've always wanted to talk about but have only recently been able to do so.
Will you release Buried Alive directly through your website, as you did with Dangerously Delicious?
I'm really not sure. I paid to film it myself and we're just editing it. I'm trying to figure out what I want to do with it.
Is there a danger when you're writing your next show that you get bored with the one you're currently touring?
There is that risk. But I really like Buried Alive and there's a lot to it, so I haven't gotten completely bored of it yet. And it's kind of fun, because if you're working on a new show, you're constantly trying to tweak bits to get them to work really well. Then when you return to the old show, it's so polished, it just feels so nice. You're like 'wow, this is all coming so easily'. It feels like a huge gift.
I read that you intensively researched love before Buried Alive. And that you've seen a lot of dick photos since.
I read a lot about marriage and relationships, how the average age that people get married is going up. It helped me wrap my head around these topics. As far as the dick photos, I just ask women in the audience to clap if someone's sent them one. And I've been stunned, the numbers are pretty much in the high 90 per cents everywhere. This is a widespread phenomenon.
With a show about love, is there a temptation to dwell on pain and heartache?
Yeah, it's ultimately more fun to hear about failure than successes. Nobody wants me to come out and be like 'I met this girl, we've been dating for a while and we're really happy! Goodnight!' No one's engaged by that. But if you can tap into those frustrations that everybody has at some point in their lives, you can really connect.
When a relationships fails, do you console yourself by thinking that there might be material in it?
No. You just live your life, deal with things that are happening and when things go down, you can't … OK, whatever's troubling you the most, you put into your stand-up. But I've never had that feeling when a relationship goes wrong.
Have you ever seen any comics that remind you of Randy, the obnoxious, loudmouth comic you played in Judd Apatow's film Funny People?
Not really. He was taking things I did and heightening them to a pretty assertive, extreme level. And luckily, I haven't seen anyone that absurd.
The part of Tom in Parks and Recreation was specifically written for you. Do you feel more personally invested in the show as a result?
Anytime that someone is writing specifically for you, it's a huge help. With all the characters, we figured them out more as we did more episodes. The writers got better at writing for them, the actors got better at embodying them. So, like everyone in the show, Tom evolved over time and became what he is now.
Parks and Rec is very sweet-natured. But it still manages to be consistently funny, which is a tricky balance to achieve.
Yeah, the show has an optimistic, hopeful element that you don't often find. Which is kind of nice. The funny angle is widely represented. But there aren't a tonne of shows that have the uplifting undertone Parks has.
Do you know if everything works out for Tom in the end?
I really don't. Everyone in Parks, they're all weird people. But they're ultimately good people and I sure hope everything works out.
Like Tom, you appreciate a sharp suit. Why do you choose to dress smartly on stage?
Tom's taste is a little bit weirder than mine but when you're doing these nice theatre shows, it's appropriate to dress up. You're showing a bit of respect to the place.
Who inspired you to get into comedy?
When I was in high school, those Chris Rock specials were so huge, they were what everyone was talking about. They were the defining stand-up specials for people my age. I really took to them and they were a big part of why I got into comedy. They were perfectly timed for me.
The MTV sketch show Human Giant was your first acting experience. Did it come easily to you?
I was alright but I've gotten way better with time. You just learn more, it's like stand-up. The more experience you have, the better you hopefully get. For me, Human Giant was like how other people have Saturday Night Live as their training ground. It was my college. When I got to do Parks, I had all the training I needed.
Were you disappointed that it only ran for two seasons?
We chose not to do a third season. We felt like we'd had enough and wanted to do other things.
You have almost three million Twitter followers. Does it feel like you're conducting a huge social experiment?
It's a weird thing to have in my pocket because artists have so much more power now to reach their fans. I'm working on my new special and want to do this thing where I do small, impromptu 100-seater shows, work on it for an hour, an hour and a half. I can just tweet, like I did in Nashville, an hour or two before, announce it and a couple of hundred people show up. I couldn't do that before Twitter. And I think that's really interesting and cool. I love live performance so much that to be able to blast the message out and Do A Show immediately, that's pretty great.
When you're busy filming for television or a movie, do you ever have an itch to escape and do stand-up?
When we're filming Parks we're in LA and I do stand-up every now and then. But right now I'm living in New York, so I'll go out and do three or four shows a night working on new stuff, it's just so much fun. When you get a joke that goes from a B joke to an A joke, that's so rewarding.
How do you write?
I just think of bullet points, talk it through onstage and record the shows, so that whatever I improvise I can listen to later. When I listen to it, I'll think of different tags and 'oh, that didn't get a good laugh, maybe I'll try this angle instead'. It's a lot of repetition and refinement. Yesterday I started my first show at 8pm, then did my last at midnight. It took three shows to figure out how to make the jokes better.
If it wasn't for your commitment to Parks and Recreation, would you try to deliver a new show every year?
I don't know about one every year but let's see. I almost have a new one now, I'm pretty close. It just depends on how much time I have to work in the clubs in New York and get it together. I think it's a really admirable idea. But for me, it's not as much about the speed of one per year, it's about when it's going to be really good. I'd rather it was a year and a half before I put out a special and have it be great, than a year and it not be so good.
Do you unequivocally need to work hard to be the best?
All the best have a tremendous work ethic. Louis [CK], when he's working on stuff, I see him all the time. Chris Rock, he's at the clubs all the time. Younger guys that are really good, like Hannibal Buress, he does sets all the time. I do sets all the time. I literally don't know anyone that's really good that doesn't do shows all the time.
Would you want your own sitcom like CK?
Maybe. I haven't really thought about that that much because I'm still doing Parks and Rec. Whenever it finishes, I'll come to that.
How much longer can Parks and Recreation go on?
I have no clue. Every year, we just keep doing it, having fun and hoping for the best.
• Aziz Ansari plays the Hammersmith Apollo on June 15. Click here for tickets
Published: 7 Jun 2013
What do you think?