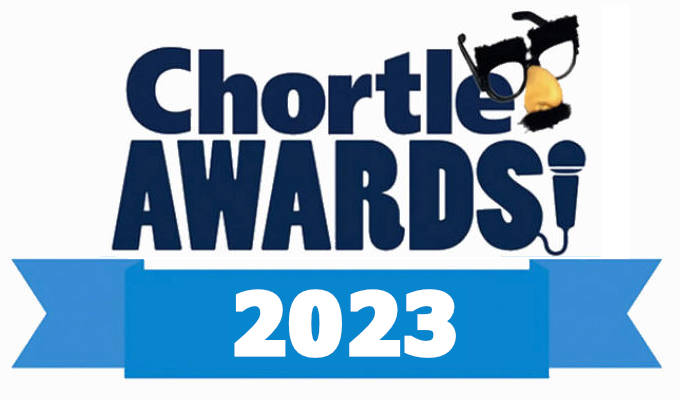 Chortle Awards 2023 winners announced
Musical comedian Jazz Emu was a double winner at the Chortle Awards in a ceremony that also honoured Dara O Briain, Seann Walsh, Bob Mortimer, Joe Lycett and more.
Jazz Emu – real name Archie Henderson – won the variety an character category, and the social media award for the inventive music videos he posts online.
O Briain scooped best tour for So... Where Were We? while Seann Walsh Is Dead: Happy Now? about the fallout from the scandal that engulfed him on Strictly, was named best show.
Lycett was named best TV comedian, while Mortimer won the book prize for his debut novel The Satsuma Complex.
Winners were chosen by the votes of more than 6,000 Chortle readers from shortlists compiled by a panel of industry insiders.
Comics named Janey Godley as the Comedians' Comedian. Although she was unable to attend the ceremony in London, hosted by Mark Watson and Shaparak Khorsandi, she sent this message:
O Briain also sent a video from Norway, where he is currently on tour:
Here's the acceptance video from Bob Mortimer:
And Joe Lycett:
Peter Grahame, who has run Downstairs At The Kings Head in Crouch End, North London, for more than 30 years was awarded the offstage contribution award.
Other winners include Nina Gilligan (club comedian); Alasdair Beckett-King (breakthrough act); Zoe Lyons (best compere for the second year running); and Lorna Rose Treen (best newcomer)
Chortle Comedy Awards 2023 winners
Best newcomer: Lorna Rose Treen
Nominees: Joshua Bethania, Pravanya Pillay, Firuz Ozari
Breakthrough act: Alasdair Beckett-King
Nominees: Chloe Petts, Jordan Gray, Leo Reich, Lara Ricote, Vittorio Angelone
Variety or character act: Jazz Emu
Nominees: Crybabies, Delightful Sausage, Flat & The Curves, Frankie Thompson
Offstage contribution: Peter Grahame of Downstairs At The Kings Head in Crouch End, North London
Club comedian: Nina Gilligan
Nominees: Emmanuel Sonubi, Ian Stone, Jeff Innocent, Markus Birdman
Best compere: Zoe Lyons
Nominees: Mark Olver, Rich Wilsonm Thanyia Moore
Comedian's Comedian: Janey Godley
Best show: Seann Walsh: Is Dead. Happy Now?
Nominees: Crybabies: Bagbeard; Frankie Thompson: Catts; Glenn Moore: Will You Still Need Me…; Jordan Gray: Is It A Bird
Best tour: Dara O Briain: So... Where Were We?
Nominees: Fascinating Aida, Jack Dee: Off The Telly, Kevin Bridges: The Overdue Catch-Up
Best podcast: From The Oasthouse: The Alan Partridge Podcast
Nominees: Birthday Girls House Party, Pappy's Flatshare; Poppy Hillstead Has Entered The Chat; Seancecast with Charlie Dinkin and Zoë Tomalin
Social media award: Jazz Emu
Nominees: Alasdair Beckett-King; Alistair Green; The Northern Boys
Book award: The Satsuma Complex by Bob Mortimer
Nominees: I'll Die After Bingo by Pope Lornegan; Nailing It by Rich Hall; Terrortome by Garth Marenghi
Radio award: The News Quiz
Nominees: Alexei Sayle's Imaginary Sandwich Bar, Mark Steel's In Town, Robin Ince's Reality Tunnel
TV award: Taskmaster
Nominees: Big Boys, Derry Girls, Detectorists, Inside No. 9, The Lovebox In Your Living Room
TV comedian: Joe Lycett
Nominees: Bob Mortimer, Greg Davies, Judi Love
Venue Awards
Best Comedy Venue
London: The Bill Murray, Islington
Scotland: Monkey Barrel, Edinburgh
North: Hot Water, Liverpool
South: Komedia, Brighton
Midlands, West and Wales: Glee, Birmingham
Best Pro Comedy Night
London: Always Be Comedy at the Tommyfield, Kennington
North: XS Malarkey, Manchester
South: Forge Comedy Club, Brighton
Midlands, West and Wales: Comedy Cow, Milton Keynes
Not enough votes were cast for a decisive winner in Scotland
Best Open Mic Comedy Night
London: Comedy Bandits, Clapham
Scotland: Open Comedy, Leith
North: Beat The Frog, Manchester
South: Little Smash Comedy, Southend
Midlands, West and Wales: Comedy Loft, Bristol
Best Themed Comedy Night
London: Quantum Leopard
Outside London: The People's Comedy, Bristol
Published: 7 Feb 2023