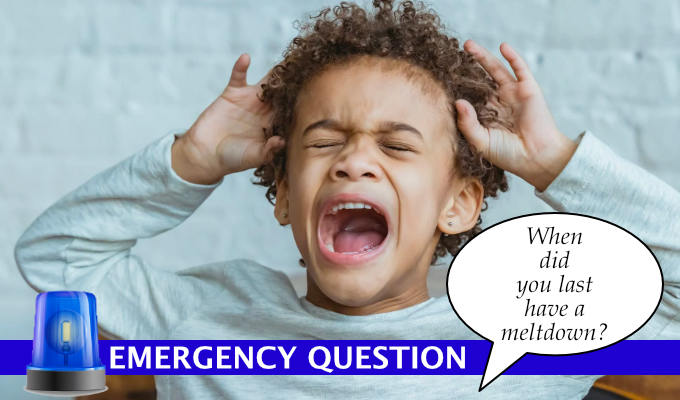 Emergency Question: When did you last have a meltdown?
Every day until the end of the Fringe, we're asking one of Richard Herring's Emergency Questions from the RHLSTP podcast to comedians. Here's today's batch of insights... RHLSTP is also at the Assembly Rooms at 13:00 until August 14. Tickets.
---
Yesterday. I live in America. We're not doing great. Ellie MacPherson whose show Happy Birthday, Mr. President! is on at Underbelly Cowgate at 9:30pm
This morning. I'm currently staying at a motel and I slept through the free breakfast. It was horrific and traumatic. Lanessa Long whose show The Lanessa Show is on at Just The Tonic at The Caves at 10:50am
Summer 2020 – they were frequent and brutal like having my brain hosed down for all it's nice chemicals – turns out you need those to make life bearable and not be an overly internalised, paranoid mess. Tom Ward whose show Anthem is on at Monkey Barrel at 10:25pm
When I heard that absolutely every comedian in the whole entire world will be at Edinburgh Fringe this year. Schalk Bezuidenhout whose show I'll Make Laugh To You (Like You Want Me To) is on at Gilded Balloon at 7:40pm
As I write this I am in isolation for Covid which I caught shooting a reality TV show I was kicked out of, I'm having one extended meltdown. It's going great! Eli Matthewson whose show Daddy Short-Legs is on at Underbelly George Square at 8:50pm
Three questions ago. Sean McLoughlin whose show So Be It is on at Pleasance Courtyard at 7:55pm
Most days. I lose things constantly and rant around the house. I'm pretty sure I have ADHD but it's hack now for a comedian to have that condition. Justin Moorhouse whose show Stretch & Think is on at Gilded Balloon at 7:30pm
When does this come out? If it's July then one hour ago. If it's August then I'm having one right now. Leo Reich whose show Literally Who Cares?! is on at Pleasance Courtyard at 9:35pm
What is meltdown? Tony Law whose show Tony Law A Now Begin in Again is on at Monkey Barrel at 12:00am
A triggering question to ask someone with a chequered mental-health past, though I did once lose my shit over a poster describing McBusted as 'The Ultimate Supergroup'. David Ephgrave whose show Good Grief - Edinburgh Fringe 2022 at Chortle.co.uk">David Ephgrave: Good Grief is on at Just the Tonic at the Caves at 2:40pm
Sinead had recent meltdown during a game of Monopoly after being sent to jail three times. She then cried during a property negotiation and her boyfriend told her she was 'too sensitive to play', ending the game followed by their relationship. Norris & Parker whose show Sirens is on at Monkey Barrel at 9:15pm
One month before the Fringe, this year, I broke my hand. I am a mime. This is a disaster. I am typing this with one hand currently, but the wrong hand. That's why my handwriting on this answer is so bad. I am currently having a meltdown. Luke Rollason whose show Bowerbird is on at Monkey Barrel at 12:30pm
In October 2018. Come see my show to find out more. Ali Brice whose show I Tried To Be Funny, But You Weren't Looking is on at Banshee Labyrinth at 4:50pm
I got into an argument with my girlfriend on whether Tom Hanks was a good actor. I knew I was wrong from the beginning (I said he wasn't) and regretted saying it immediately and she had so many examples of how he was and all I had to do was admit I was wrong but I'm a child so I stormed out saying we had to work on our communication. Patrick Spicer whose show Who's This All of a Sudden is on at Gilded Balloon at 6:20pm
April 26, 1986 (I am the Chernobyl Nuclear Power Plant) Kylie Brakeman whose show Linda Hollywood's Big Hollywood Night is on at Gilded Balloon at 7:00pm
Published: 5 Aug 2022
What do you think?