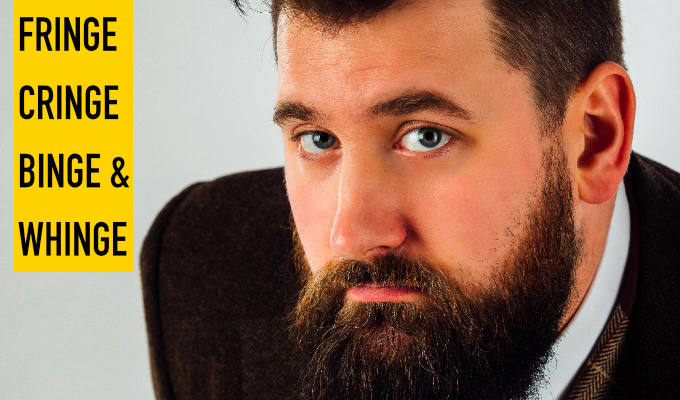 Worst thing about Edinburgh? The audience
Garrett Millerick recalls his most embarrassing Edinburgh experience; what he can't get enough of at the festival; and the worst thing about the Fringe. Apart from the cost of accommodation, obviously...
---
Fringe cringe
I was flyering in Bristo Square. A long slog of a day. Raining. Midweek. Not many takers. A man bounded up to me and exclaimed, 'That was hands down the best thing I have ever seen', gave me a massive thumbs up and dashed past.
I was obviously elated by the compliment, and it put a real spring in my step for the next hour or so until I visited the bathroom in The Pleasance Dome and whilst washing my hands I realised he was referring to the Paul Simon: Graceland Live in Hyde Park T-Shirt I was wearing, which to be fair was better than my debut stand-up show.
Fringe binge
I love all the articles about 'the spirit of the Fringe having been lost'. I can't get enough of them. Stewart Lee writes the best ones. I think the Fringe Society were concerned about the genre dying out due to Covid.
There was a very real danger that everyone was going to just have a nice summer and enjoy the festival. Having the sense of perspective that can only really be attained by having live performance taken away for a few years.
But the festival's barely started and there's been a decent run of arguments so far, I think we're in for a terrible/bumper year of the best/worst, most innovative/dead festival yet.
Fringe whinge
The audience. They think they're so important, but most of them don't live in London, they don't know anyone who works in telly and would struggle to blag it into Brooke's Bar, even if they knew what that was, which they don't, which is how you know they aren't important.
We should be free to decide what's 'funny' without having to pander to these animals and the sooner we find a way to stop them coming up and ruining the whole vibe the better.
• Garrett Millerick: Just Trying to Help is at Monkey Barrel at 6:25pm
Published: 4 Aug 2022
What do you think?