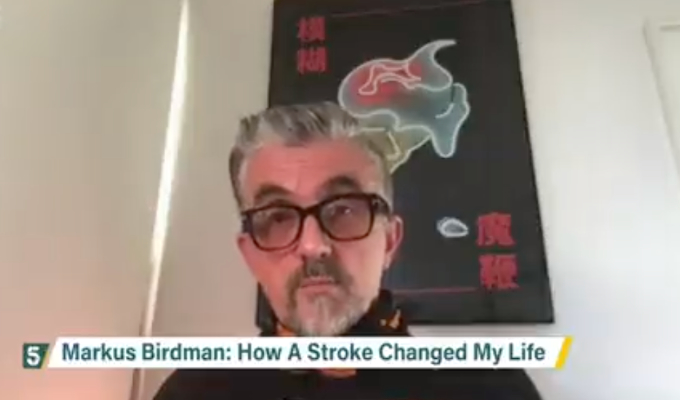 'Stand-up helped me deal with my strokes'
Stand-up Markus Birdman has spoken about how comedy helped him deal with the effects of suffering two strokes.
Speaking on 5 News tonight, the comic said: 'This is a horrible admission about the psyche of stand-up comedians, it takes you about 0.2 of a second if something horrible happens to you, or ridiculous, to think "Oh hang on a minute, I can talk about this"
'It's a tragedy and a psychosis, probably, of a stand-up!'
'I say that facetiously, but also it's been really useful for me to talk about it.'
Speaking of how he addresses the issue on stage, he said: 'When I get it right, I find that audiences respond in kind – but not always.
'One of the problems I'm having now is that people don't necessarily believe me and that's something I have to pitch right and address.
'Which is difficult because then you [as an audience] think "that's just some able-bodied man going out and mocking those less fortunate than himself", you have to be on board with the fact that I have been through this.
'But, hopefully, if I can persuade people, then they respond by not necessarily their experience with stroke, but they might have had their illness or something that they need to get over, so, it's kind of universal in that sense.'
The comic had a minor stroke a decade ago, at the age of 40, which cost him some of his sight, then a second more recently.
Speaking of his latest incident, he told 5 News presenter Sian Williams: 'It was sort of curious because I woke up experiencing it, in the dark, but I could feel like my head was in a washing machine, going over and over but with a lot of pain and I think I knew what was going on because I'd had a previous stroke, but I got up and I could sense… well, I couldn't see properly, so obviously that was the secondary thing, but my eyesight was all over the place.'
He said his first thought was, 'not again', adding: 'I think that was the thing that frightened me, that I knew what had happened in the past, what it was, and I just didn't want to go through this again, I don't want to have this trauma, this problem,
'I felt like in retrospect, foolishly, that the first one was an anomaly, like a blip. Perhaps that was my way of dealing with it, I kind of put that to bed, that it was a one-off and I could get on with the rest of my life. I think that the trouble is that when it happened again, I couldn't play that game any more.'
Asked how the stroke affected him physically and emotionally, he said: 'I was very exhausted, which is a well-known post-stroke thing. But, I was very lucky that I didn't have any motor skill deficiency or speech [issues].
'I was very worried, I was talking to people and going "is my speech all right?" because I had no idea. But, it's affected my eyesight, so I have lost half of my eyesight which under the circumstances I'll take, but, it's obviously quite debilitating.'
He said he has been helped by his partner Melinda and 'loads of people' – which taught him a valuable lesson.
'I was very independent,' he said, but now 'I've been really keen to take people's help when it's been offered, ask for help and accept help – no man is an island, and all of that.
'People say they don't want to be a burden on their friends and family, but I absolutely intend to be! It's good, I think people do make a fuss of you and I've enjoyed that, but I've also needed that, and you don't want to be the most selfish person, but people do want to help you and I might need help so I have found that a very encouraging thing, to ask for help and to receive it. '
Watch the interview here:
"Comedy helped me cope after two strokes"

In June 2021, stand-up comedian @birdmanwatching had a stroke - and he now lives with the physical and psychological after-effects of it.

He spoke to @sianwilliams100 about the impact this had on his life.#MindMatters | #5News pic.twitter.com/V5PzDaBxSD

— Channel 5 News (@5_News) January 12, 2022
And here's how he addresses it in his comedy:
• 5 News is on Channel 5, weekdays at 5pm
Published: 12 Jan 2022
What do you think?