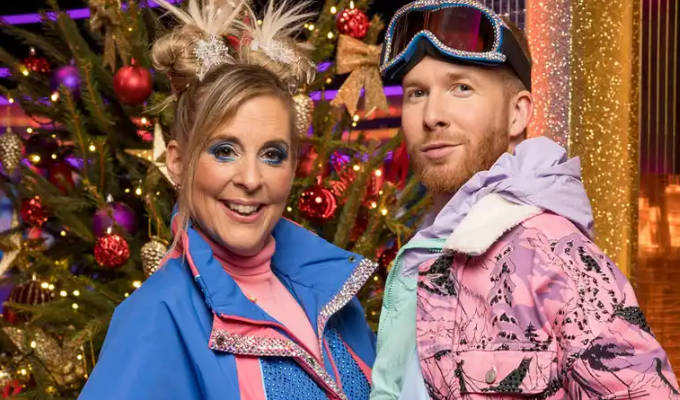 It's all my Christmases come at once...
Mel Giedroyc is taking part in the Strictly Come Dancing Christmas special this year. Here she and professional partner Neil Jones talk about the show, Christmas traditions – and favourite ever gifts.
---
How are you feeling about being a part of the Strictly Christmas special?
Mel: It is all my Christmases come at once! Christmas: favourite time of year; Strictly, favourite show; put them together, I can't believe I am here to be honest! It is very life affirming. Without wanting to sound too cheesy, to be able to do this and to know we will hopefully be entertaining people and giving people some Christmas cheer.
Neil: It's crazy, I love it. I'm doing commercial dancing to Ice Ice Baby on Christmas Day with Mel, there is nowhere else you could do that!
Mel: It's such a great song, I might change my ringtone to it…
What made you want to take part?
Mel: It took me about one second to decide, not even that. My agent asked if I wanted to take part in the 'Strictly Come Dancing Chris…' and at that moment I jumped up and said yes, absolutely.
What did your friends and family say?
Mel: I haven't told all of them, but my oldest school friend will be in the audience watching. I've known her since I was 11 years old, she is the biggest Strictly fan and I think she is most excited about meeting Neil.
Tell us about your partnership, what's training been like?
Mel: What a laugh, from day one. I was really scared on the first day, we hadn't really met before then other than a brief encounter where we briefly passed each other in the corridor at an awards ceremony. So he sat me down and showed me the routine, which went on for a very long time, and in my head I was panicking, I thought, 'I need to phone my agent!'
Neil: On day one, she went for a stress nap for an hour and a half. She had her blanket with her and everything.
Mel: It was just seeing it in its entirety.
Neil: There is a hell of a lot of steps in it, and you manage it and make it look good.
Is Mel a good student? What kind of teacher is Neil?
Neil: The best, a dream!
Mel: Amazing, absolutely off the scale! Calm, kind, patient and fun, what more can you ask for?
How do you feel about being 'Strictly-fied' festive style?
Mel: I can't get enough of it, I have just heard they are going to put lights in my hair - as far as I am concerned too much is not enough. Let's hope I don't get electrified.
What would you buy each other for Christmas?
Mel: I have already bought Neil's, but I will give you a tease. It is something me, Neil and Ben - my husband - can do together.
Neil: I'm looking forward to that. I'm thinking of a video message from Vanilla Ice for Mel.
How do you rate yourself as a dancer?
Mel: I am always the first on the floor and the last to leave. I have to get my money's worth. I was in a musical a few years ago, Company, it wasn't dancing, more choreographed moves, and that took me three months to learn that!
What's your favourite Christmas movie and why?
Mel: I love movies which have nothing to do with Christmas, like Die Hard.
Mel: I am old school, I love Oz.
What song gets you up dancing at festive parties?
Mel: Pretty much anything for me.
Neil: Pony by Ginuwine
Mel: Now that I am a street dancer, anything that is Skepta or Stormzy to be honest. Last Christmas by Wham too of course.
Brussels sprouts - yay or nay?
Mel: Yes! Ben, has the most wonderful recipe that he does.
Neil: I'm going to say no. I used to get paid a pound per sprout when I was a kid, my Mum knew I would only manage one.
Best and worst Christmas present you ever received?
Mel: A Cindy Doll, the ballet version, 1976, from my godmother, nothing has ever topped that. I still have her, but she is bald now, as is the way with dolls.
Neil: Mine was a remote control, red fire engine, it turned out it was for my brother though which crushed me. Not my best present, but definitely most memorable.
Which judge are you most keen to impress?
Mel: All of them. I love them all. I'd love for Anton to say 'you old sausage!' If Motsi was to stand up I think I would faint. If Craig was to say a whole load of critique and then say '…but' I'll be happy. From Shirley I want a maternal glow and moisture in the eyes.
What are the Christmas traditions in your household? How will you be spending Christmas Day this year?
Mel: We go half Polish and half English, as my Dad was Polish. So we do Christmas Eve Polish style, big feast, 20 people round the table - I'm not cooking this year, hurrah. Christmas Day we take it up to my mum in Oxford, and serve it there.
Neil: My tradition is that I leave the country. This year I am off to Mexico, I love it, I'll be living my best life.
Any new year's resolutions? Will you be taking your new found dancing skills into the new year?
Mel: I want to dance more, definitely. I asked Ben if we could start taking ballroom classes together in the new year.
Neil: More Brussels sprouts and get Mel dancing!
• The Strictly Come Dancing Christmas special will air on BBC One on Christmas Day at 5.10pm.
Published: 21 Dec 2021
What do you think?