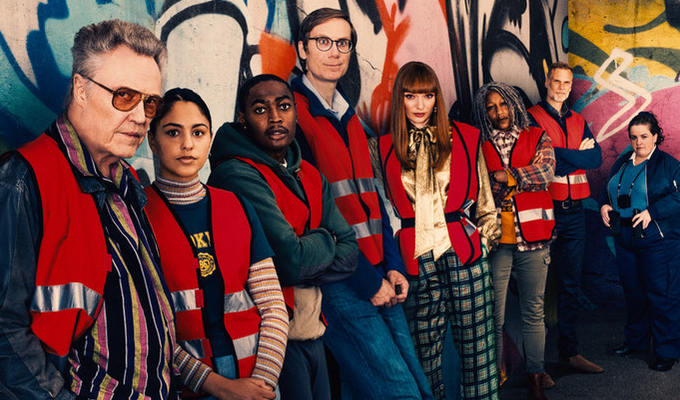 Meet The Outlaws
The Outlaws, Stephen Merchant's new comedy-drama series about a disparate group of people thrown together to complete a community payback sentence, starts on BBC One tonight. Here's our guide to the characters
---
Rani
Oxford-bound high-flyer Rani has been hot-housed from a young age by her overprotective family. But she's a serial shoplifter, too. Rhianne Barretto, who plays her, says: 'I think it's purely the release and the adrenaline rush of misbehaving. That's the catalyst for her doing community service. I think that's such a shock to her when she starts the community service, where she sees all these people that have not only done something naughty, but are continuing to be naughty and just not obeying.' While serving her sentence she realises there's a world beyond her textbooks.
Christian
Christian is a bouncer is in debt to the wrong people, doing everything he can to keep his kid sister Esme free of their clutches. To protect her, Christian agrees to do the bidding of the gang's charismatic leader – including something that threatens the safety of anybody in his orbit, including the others on their community service programme. Actor Gamba Cole says: 'I feel like every character in this show comes from a completely different world from him. Initially there is that great clash of worlds when many different people collide - their ideals, thought processes, the way they do things – and for him he doesn't want to obviously draw too much attention to himself. His job is literally to just get in and get out and do what he needs to do.'
Greg
Sad-sack corporate lawyer Greg finds himself on the wrong side of the justice system after indulging his loneliness in the wrong car park. Recently divorced Greg just wants to keep his head down yet across the series, finds himself battling workplace bullies, aristocratic landowners and even scary men with knives. He's played by series creator Stephen Merchant, who says: 'He's a divorcee who has got himself in a bit of bother with a lady of the night and finds himself doing community service. I always like the idea of the least equipped people getting involved in a crime situation. So Greg is an awkward and geeky guy who's suddenly involved with gangsters, (always a fun thing to play).'
Frank
Frank is a twinkly-eyed, seventysomething, small-time crook who has seen the world and done everything under the sun. After passing one too many counterfeit cheques Frank must move back in with the daughter he abandoned decades before, and finish his custodial sentence of community service while wearing an ankle tag. But he's an inveterate womaniser and con-artist who has spent a life running away from responsibility and letting down those who love him. Hollywood legend Christopher Walken play him and says: 'He's a kind of a ne'er-do-well, I guess, a good man who's good hearted and good natured but he's made a lot of mistakes. Probably has poor judgement. Often in trouble with the law, you know?'
Gabby
Poldark's Eleanor Tomlinson, who plays Lady Gabriella Penrose-Howe describes her as 'a sort of Instagram-famous socialite. She's descended from the landed gentry and she's a bit outrageous. She's that classic girl who's had everything you could ever buy, but never had what she probably needs... which love from her father, who's been absent. So she's fallen into behaviour that feels all about her trying to be noticed and loved. And she surrounds herself with people who don't really have her best interests at heart. But she's fascinating. She's hilarious. She's a great one for a cause but without really understanding the cause. She's just gets behind something and hilariously gets it wrong all the time. She's always saying the wrong things without really knowing what she's saying, which adds to the hilarity of her character. We watch her make these mistakes that just make you cringe.'
John
John is a middle-aged and middle-class white businessman – a pillar of the community who has nothing but contempt for political correctness – and has landed himself with a community payback order after being accused of racially aggravated assault. . Actor Darren Boyd says: 'I don't think of John as a racist, although that's one of the stereotypes that some might draw in those very, very early stages. I do think John represents this idea of this sort of inherited worldview. Sometimes, without realising it, we can basically be a sort of loudhailer for somebody else's rhetoric, and we can go through a good chunk of our lives repeating that and taking it as read without ever stepping back.. He's very much the son of an Irish Catholic: someone who's grown up in the shadow of a very dominant, aggressive, opinionated, paternal figure. And someone who hasn't really seen or experienced much support and love and affection. As a result, at the outset of the series he is very defensive, very standoffish, a loud mouth and an antagonist. He's someone who's very willing to throw his weight around, verbally or physically, whenever he feels it's necessary. Essentially, though, he's the sort of person who goes through life picking lots of small fights because he's been unable to resolve the big conflict within himself.'
Myrna
Black Bristol civil rights veteran Myrna was there when Edward Colston's statue went into the harbour. She was there at the St Paul's riot of 1980 sparked by a police raid on a Caribbean cafe. Clare Perkins, who plays her, says: 'She's an activist who cares very much about the community and about how political decisions affect society - particularly the black community. She set up a group called the Bristol Justice Collective and she's finding herself an old person in a young person's world for the moment. She's a lefty, socialist character (unapologetically) - and she's front and centre in the drama. A lot of the conversations or arguments that people are having now about political correctness and being 'woke' and all that sort of stuff… that is in the show, often with a humorous edge, but it is characters having those conversations on TV. That's one of the things that drew me to it.'
Diane
Diane, is the hyper-confident and seemingly competent supervisor for Bristol's Community Payback programme who exudes the sense of power that minor authority bestows on insignificant people. Jess Gunning, who plays her, says: 'She's more petty than tyrant. She conducts quite a lot of spot checks and some very thorough frisk searches. She quite enjoys being suspicious of everyone, yet her suspicions that something's going on are always of the mundane variety. She's constantly trying to prove herself to her boss.'
---
• The Outlaws starts on BBC One at 9pm tonight. Read an interview with Stephen Merchant here.
Published: 25 Oct 2021
What do you think?