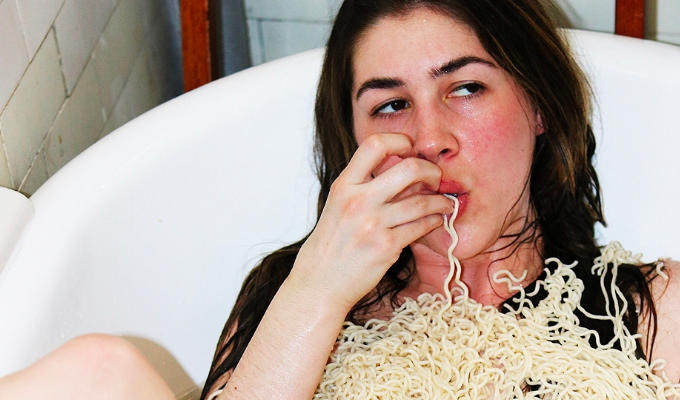 Thought you had a tumultuous pandemic? Wait till you read this!
New York comic Katharyn Henson returns to the Fringe today with her show Ew Girl, You Nasty.
What have you learnt about yourself and your comedy during lockdown? Has it changed anything?
I had a very unusual lockdown experience. I left my apartment in New York in early 2020 to tour abroad, not knowing that I'd never return to my home of 15 years again. After arriving in Australia in March 2020, I got stranded in Melbourne for six months because of coronavirus, and proceeded to go broke and get married there during lockdown.
In September 2020, on advice of my immigration attorney, I escaped Australia's hardcore, 8pm curfewed lockdown to London with my new Irish husband to start anew just in time to enter into London's second lockdown in November. Unable to work due to coronavirus in a foreign country once more, I had to sell off and hire someone to trash what I couldn't sell of my 15 years of life in New York from London while in lockdown.
This was the most difficult year of my existence, and I used to smoke meth, so that's saying something.
Once the dust settled at the beginning of 2021, I went from being manic with stress to deeply depressed by my perceived loss and bad luck with both people during the hardest time in my life and also just my situation in relation to how it seemed others were fairing through this, though I know it was difficult for everyone.
In early spring 2021, I was struggling to see the other side of 13 months of hard lockdown with nearly everything out of my control, newly living in a foreign country without any of my stuff (just the carry-on suitcase I took with me to Australia in March) or real financial stability or support system, and drained of hope. I ended up having to explore actual options of 'self care' in order to save my own life. This is something I had never explored within myself, as I was satisfied with my life, my ability to take control of it as necessary, and excited about the future prospects of my years of work and where it was taking me prior to coronavirus.
Through meditation and Wim Hof breathing, I continue to work through both the experiences I had as a result of Covid as well as unearthed experiences from my child and young adulthood that I had stored somewhere in me marked as 'complete' for decades that have started surfacing, though I welcome all that comes up at this point.
By working through these things, I have made more space for comedy from other perspectives within me and am writing jokes in a new way.
I've always been fascinated in exploring worlds, topics, and people often judged as seedy, things avoided or left unsaid, by both how I live my life and also how I write comedy about it but, after this past year, I want to take those topics and highlight the thread of humanity that runs through them and hopefully help some people along the way by doing so.
I've also learned through this to try and have more gratitude for what I do have when I have it and be a bit kinder to myself in lieu of things I cannot control... though that, along with the jokes, is still a work in progress.
Did you do any Zoom or drive-in gigs? How did you feel about them?
I did one drive-in gig in London in November in-between lockdowns and, begrudgingly, several Zoom gigs for money only as there was no joy in them for me. I'll take a car lot filled with cars honking at me while I can see my own breath any cold dark winter night over Zoom.
I appreciate that many people made Zoom work for them, and it's always great for there to be a new medium to connect with an audience. For me personally, Zoom felt like a husk of a version of something I love dearly and I usually closed the computer feeling worse than I did before doing the gig, deeply missing live performance, and desperately trying to fill the void with Gummy Bears in-between complaining and crying.
What does the Edinburgh Fringe mean to you?
My first Edinburgh was in 2019 and it ultimately changed my life. I had never left America before August 2019 and, after my one trip abroad to Edinburgh, I ended up married to a wonderful Irish man and am now living with him in the UK accidentally by way of Australia.
Prior to Edinburgh and coming up in comedy in NYC, I was one of thousands of comedians in one of the most competitive markets and naively convinced that New York City is the only city to be doing comedy in.
Doing a full run in Edinburgh showed me glimpses of the rest of the world and how there are so many more people out there to make laugh in amazing places to visit, and perhaps those people are my audience over New York City natives and American mid-west tourists.
Opportunity suddenly seemed endless and exciting. I did not expect to receive the positive reviews I did for my first run in Edinburgh and the positive reception I did from non-American audiences.
From my run at the Fringe and with the help of some very kind, caring, and hilarious comedians I met and now call friends, I planned both a mini tour in London in early 2020 followed by two festival shows for the Melbourne and Sydney Comedy Festivals 2020 (how I got stuck in Australia for Covid) and I also met the man I am now married to.
I connected with comedians and people from all over the world, something I really value now after venturing out of NYC: the differing perspectives of the rest of the world.
I love the idea of reuniting with colleagues or venue staff year after year in this one place where we are all trying to make something happen for ourselves, for better or worse. I know I've only done the festival once, and had a pretty good run, but if it was only the one time, I'm thrilled to remember it this way (except I'm going to be here for a week this year so let the good times roll!).
What would your perfect Fringe day be, in a normal festival year?
I honestly just love performing. I had so many days at the Fringe in 2019 where I would do two early shows then do my hour and race to 3-4 shows after. It's like doing comedy in New York but on steroids and I live for it.
Between shows, Mosque Kitchen is the jam for most meals (both of the restaurants, but if I had to pick it's Original Mosque Kitchen for me, all the way) and I would eat with whatever comedians I ran into who were also looking for food at the same time.
Edinburgh, for me, has that magical way of just uniting people in moments for moments all day every day of the festival.
What's the best experience you've ever had doing comedy?
It's hard to pinpoint just one. The day I ran my hour for the first time ever in Edinburgh, I got a little misty in the back of the room as my seven audience members clapped me off stage.
I had never run an hour before - NYC doesn't allow for that kind of stage time really unless you are already touring as a headliner - so I had only run the hour in 20-30min chunks in my own comedy rooms I ran in New York so it was really nice to realise I did it and they liked it.
I would say another overall best experience is witnessing first-hand the support of the clubs I have worked in London. Someone once told me, 'go where you're wanted' and I have been fortunate enough to get to perform my insane truth and be encouraged and embraced for it by many of the clubs in London, which is a feeling unlike any other. I truly appreciate and thank everyone over there who continues booking a weird loud American and encouraging me to do my thing the way I do it.
What does your show reveal about you?
It's hard to say what it doesn't reveal, really.
If you have special walk-in music for this show, what is it, and why did you choose it?
I don't but, when I've been asked what song I want to play as I get on stage, I usually say Evil Woman by Electric Light Orchestra. One of my favourite bands and I love catchy pop songs talking about darker things... could be symbolic for my comedy even.
Describe your show in the form: 'the bastard child of X and Y on (drug Z)'
I don't watch a lot of comedy in my free time and am not well-versed in their work but I have been told numerous times over the years that I remind people of Doug Stanhope and Bill Hicks (was recently told I LOOK like Bill Hicks which is a whole other thing) so I guess I am their bastard child on the drug of Richard Pryor... but a woman.
• Ew Girl, You Nasty is at the Laughing Horse at The Counting House at 2pm from today until August 25, with a couple of extra performances. Details here
Published: 19 Aug 2021