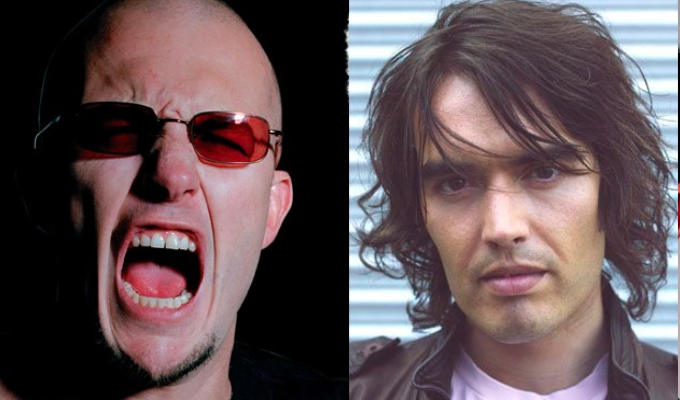 Russell Brand makes his solo Edinburgh debut
Our journey back through the reviews archive arrives in 2004, when unknown Will Adamsdale took the Perrier for his show Jackson's Way, and Wil Hodgson was named best newcomer. Here is a small selection of the reviews written by Chortle editor Steve Bennett at the time...
Brendon Burns: Burnsy vs Brendon
Like many comics, Brendon Burns has two sides to his personality: an exaggerated onstage persona, and the 'normal' self.
When the spotlight comes on, he plays up the 'Burnsy' ego ­ a savage explosion of aggression who respects no taboos, sensibilities, or often even common sense. The feral persona isn't always left in the dressing room, either, firing Burns with the uninhibited spirit to party harder than most.
Or at least, that was the case. After 14 reasonably successful years, Burns want to give voice to the other aspect of his life, the sensible dad who strives to be a better, more intelligent man and do the best for his family, the side he calls 'Brendon'.
So in this show we get both yin and yang, half an hour of each side of the coin ­ conveniently not alienating fans of the loud-mouthed powerhouse, but presumably designed to attract a few more who prefer their comedy more thoughtful. Something for everyone in this comedy tonight.
The only slight problem is that personalities are rarely as clear-cut as that; we all demonstrate a spectrum of behaviour, not just the two extremes. Though Burnsy was boorish, pig-headed and ignorant, some semi-serious issues did permeate the bilious anger ­unhindered by being in full possession of the facts. But the new Brendon would dismiss any such attempts as spurious and trite socio-political comment.
So to make the distinction most pronounced, the Burnsy who first takes to the stage exaggerates all the worst aspects of the persona: shouty, misogynistic and moronic, cheerfully spitting out swear words by the paragraph for no other reason than to shock. The playfulness has gone, as has the semi-serious topical stuff.
At first this is slightly stilted, odd for a persona Burns has adopted for so long, but he soon loosens up as he hits his stride, mixing the provocative and the idiotic, the obscene and the insane. It's wild, shocking and passionate ­ sometimes sensible, often not. His solution to the Middle East crisis? Get everyone to move. That probably counts as a not.
Then, as he nails a particularly fine joke by yelling just inches from the face of some poor front-row unfortunate, it's freeze-frame. A slightly clunky bridge between the two halves then sees Brendon discussing his act with his toddler son, Luke, who encourages him to be less rude. Well, he can't offer worse advice than many agents
So we're introduced to the 'real' Brendon ­ a transformation achieved by the Clark Kent school of disguise: glasses. He's got the good bits of Burnsy, especially the cheekiness, the quick wit and the social comments, but without the indignant fury only the ignorant can truly muster. This character;s not afraid to have some more homespun observational comments in the mix, too. Why shouldn't he talk about his pet lizard Dave, if it's funny?
In keeping with the more genuine voice, Brendon becomes more introspective, especially when it comes to his failed relationship with the woman of his dreams; dumped for a DJ in South Africa. Was it the excesses of the Burnsy side of his character that drove her away?
Burnsy, of course, would sees this as self-pitying bellyaching ­ and doesn't mince his words in telling him so in voiceover, sparking an animated debate with his two selves over the nature of his personality, and indeed comedy itself. Ultimately, the old Burnsy is laid to rest in what would have been a poignant moment ­ had Burns not corpsed, turning it instead into hilarious farce.
It's an ambitious show, but Burns near enough pulls it off without falling into the twin traps of pretentiousness or self-indulgence the conceit could offer. And, of course, it helps that both personas are damn funny in their different ways - though whether Brendon would be quite so effective as Burnsy as silencing the Friday night hen-party end of the comedy market has yet to be seen.
For comedy-literate Edinburgh, though, this is an interesting and often hilarous look at the nature of the art. With swearing.

---
Russell Brand's Better Now
t's instantly obvious why MTV employed Russell Brand ­ a quirkily good looking comedian with a passionate delivery and a certain edgy, eccentric style.
And when you hear of his heroin-fuelled exploits ­ including showing up to work on September 12, 2001, in Muslim fancy dress with his terrifying dealer in tow - it's easy to see why they fired him, too.
Brand's solo Edinburgh debut, promises to be a redemptive tale of how he conquered his addiction to smack and crack and got his life back together.
But he's never quite so obvious as that. Indeed, plenty of the laughs come from the fearless jinks his altered mental state gave him the misplaced courage to attempt - which sometimes feels as if we are celebrating the appalling behaviour of a sick man.
This is never more obvious that when we are shown TV footage of him at the May Day protests in London, repeatedly stripping naked, waving his genitals around, tumbling over railings and feigning an epileptic fit. It reduces the audience to hysterics, but to my sensibilities, it's uncomfortable.
Elsewhere we hear how he gave Hand Relief to a man in the cubicle of a public toilet ­ a shameful episode mined for plenty of easy laughs ­ but this was actually for work, encouraged by the TV company who stumped up the cash for an edgy series.
Eventually, his agent decided enough was enough, and packed him off to a drying-out retreat, and he kicked the habit. But if his experience in rehab were bleak, he never lets on ­ sharing instead only jolly, self-deprecating stories of trips to the go-kart circuit or the pretentious daily diary he kept on the orders of his counsellors.
For whatever the serious undercurrent to his story, the irrepressible Brand always keeps things bright and bouncy. His unflagging energy is a marvel, and his skilful use of language and metaphor vividly memorable.
Some of his finest material doesn't rely on his dependency one jot ­ suggesting he'll be able to pick up his aborted stand-up career exactly where he left off, or probably even higher, without being saddled with the label of just being the 'ex-junkie' comic.
Best of the lot is his portrayal of The Sun newspaper, as a toxic, cockney mate; sharing the laddish joys of women and sport but always tagging an offensive comment against minorities on the end. He really does become the newspaper, with an animated, effective delivery.
The hour was a blast, whatever my concerns about mocking the afflicted, even when it's the formerly afflicted themselves leading the way. The majority don't share those hangs ups and enjoyed it even more. For them, it would no doubt be thought miserly not to award that fourth star for a show that has plenty of ­ legal - highs.

---
Jackson's Way
Chances are this is a masterpiece of inspired comic genius. But there's also the real possibility it's just a load of silly nonsense given structure and credence by an immensely impressive performance.
Either way, it's a hell of a lot more entertaining that the unpromising premise suggests. If there's one thing the Fringe doesn't need, it's another spoof on spurious life coaches or motivational gurus.
But Will Adamsdale, the man behind Chris John Jackson, has used the character for so much more than a predictable satire on this easiest of targets. Instead he has created his unique, weird and wonderful comic mindset which he imparts to the audience using every trick in the power-speaker's book.
There are obvious parody elements ­ and for this he has the character down perfectly, creating a careful, subtle mockery of all the psychobabble and oratorial trickery they employ.
Every little touch is covered: the drinking straw gaffer-taped to the side of his head to resemble a discrete microphone; the phoney precision in his language; the use of pseudo-vocabulary like 'instinctual'; the creation of pointless TLAs (three-letter abbreviations); or the way he vocalises imagined audiences responses to his pronouncements in order to make a point.
Jackson's Way turns out to be a method of improving your life by adding pointlessness to it. For example: by shaving bits off a bar of soap and simply leaving them in another room to absolutely no end whatsoever.
That's the basis for plenty of silly, surreal, Vic-and-Bob style imaginings ­ though these are only the punchlines. The way he explains the bogus philosophies behind these random acts is the real joy. Worryingly, you even start to wonder if he might be onto something at times, so perfect is the mimicry.
The show gradually spins into weirder and weirder territory: he changes words just for the sheer hell of it, develops a baffling blind-spot theory of 'looking at things beside things' and launches into an extract from an imaginary film set in America's Deep South, which he finds embedded in the Underbelly wall. By the end, we are in an underwater Jacques Cousteau world.
That description has probably left you befuddled, but Adamsdale gives all these strange elements a warped logic that makes some kind of sense, just as long as you don't think about it too hard.
Yet another stratum to this densely complex idea is the hint of dysfunction and madness that created Chris John Jackson in the first place; something involving a business park and his overbearing brother, that's satisfyingly never fully explained.
In his mesmerising performance, Adamsdale employs PTI by the shedload. That's Pushing Through with Intensity, for the uninitiated; for the rest who've taken this Level One taster, it will no doubt become a cultish catchphrase, alongside: "Achieved!"
He prowls and paces the stage, passionately espousing his theories, plucking ideas from the audience and maintaining a cracking tempo to the whole bizarre proceedings.
This is a show that divides an audience, and its Perrier acclaim will only widen that rift. But if you do 'get' it, the hour will be over far too quickly, and you'll want to jump straight back on the Jackson Express for another exhilarating ride.

---
Russell Howard
Like a fat child on a treadmill, the ragged young clown of comedy embarks upon his first full-length show.
Big things are predicted for 24-year-old Russell Howard, and with his first hour-long show it's easy to see why; even if this is probably not yet the breakthrough performance that will catapult him into the big league.
If there's one word to describe this mild-mannered Bristolian, it would have to be jaunty. He's a perky, playful character, full of almost childlike delight at the world and its workings ­ and with a pesky mischievous streak to boot.
But while he has a juvenile outlook, he has a grown-up vocabulary, and loves nothing more than constructing elaborately florid sentences with such delightfully semi-archaic words as 'kerfuffle','poppycock' or even, well, 'jaunty'. It's a verbal trait he shares with his friend Daniel Kitson, though without the accompanying misanthropy.
No, with Howard the emphasis is firmly on fun. Whether it's bidding for a world record for the world's campest frog, 'bumming a mongoose' or prick-teasing horses in a genuine, if worrying, Equus moment from his childhood there's a winning mix of the inquistive, eager and carefree in many of his anecdotes.
This all culminates in probably the finest of his routines, about a woman who, when a little girl in the early days of prosthetics, was sent to school with full-size man hands. For Howard this is the perfect combination of the real and the surreal, and yields many a great line.
But, fully aware of comedy's current vogues, Howard also includes his fair share of the confessional in this self-titled show. He talks about a testicular cancer scare, his unglamorous addiction to phone sex lines and the bizarre lengths to which he went to relieve boredom during a tour of New Zealand ­ lending the show pathos and weight.
Not every anecdote is laugh-out-loud hilarious, for sure, but they are all well-told by a quirkily charming comic, who's equally, if not more, comfortable chatting spontaneously as he is with his prepared material, with the off-the-cuff comments delivered with the same wonderfully ornate language that colours the set pieces so vividly.
When Howard does make his name, and that probably won't be too long now, you'll be glad you saw the show where it all started.

Two years after a different Chortle critic had given his mixed bill performance one star, we'd warmed a bit to Howard and seen some star quality...
---
Paul Sinha: Aspects of Love, Actually
As an overweight, gay, Begali doctor, Paul Sinha's decision not to exploit any of those adjectives to hit a certain Fringe demographic is a bold one. Instead, he tells us, he wanted to discover whether he could use his first hour-long show for a topic he feels genuinely passionate about.
The good news is, he can; the bad news is that in choosing an hour-long deconstruction of all the inanities in Richard Curtis's latest blockbuster, he's ended up with subject matter isn't all that appealing ­ as proven by his dismal box office figures.
What Sinha has proved is that he can easily hold an audience's attention. He chats away naturally, even though he's working through carefully scripted material, demonstrating a impressive level of stand-up performance.
The problem is the subject. I've never seen Love, Actually ­ but the consensus seems to be that it's a slushy, romantic but utterly harmless piece of nonsense. If you like it, why would you want to spend an hour having it ripped to bits? If you didn't, then you're unlikely to want to invest more time and money in hearing any more about it.
Sinha makes a convincing argument about Curtis's exploitative use of September 11, his festering attitude to fat people (by which the film means the perfectly well-proportioned Martine McCutcheon), his portrayal of inner-city London as a homogenous mass of middle-class white people, his crushing insensitivity and illogical plot flaws.
Problem is you could apply any film to this sort of severe analysis, and it would fall apart once you don't suspend your disbelief. There's nothing especially clever about Sinha's material here, he's just made some cynical observations and delivered it with conviction and passion.
However, he has achieved one first with this show. It's the first hour of stand-up to be prompted by a disagreement on Chortle's forums; it being Sinha's considered response to the backlash he received when he ventured his negative opinions about the film on this very website.

Published: 11 Aug 2020
What do you think?