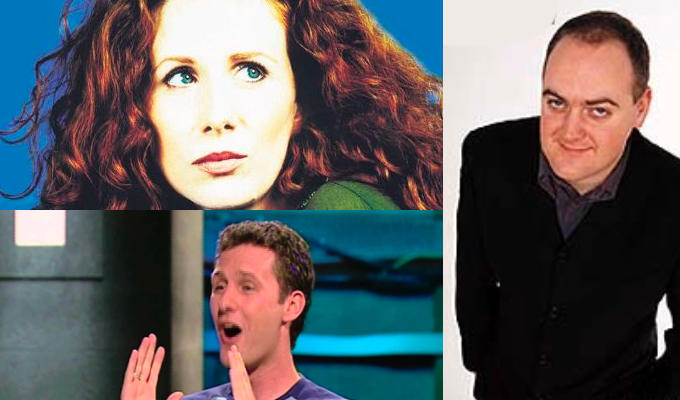 'Daniel Kitson is going to be a star'
In lieu of any new Edinburgh Fringe shows, we continue our journey back through the reviews of Chortle editor Steve Bennett, this time looking at some of the picks from 2001, when the Perrier was won by Garth Marenghi...
---
Catherine Tate
This is character comedy at its best.
Edinburgh audiences had a taste of Catherine Tate's substantial talents in last year's Perrier-nominated Lee Mack show, where her gloriously rancid pensioner, especially, threatened to steal an already brilliant show
The good news is that the foul-mouthed geriatric makes a welcome return in this splendid collection of vignettes. The better news is that this hilarious creation isn't even the best thing in this delightful show.
That honour goes to the unabashed bitchy and drunken bride. Or perhaps to the randy nurse with the one-track mind. Or maybe the immensely irritating Essex girl squawking about the tedious minutae of her dull day.
No, there's so much to enjoy here, it's hard to pick out favourites. Each beautifully drawn creation is as believable and funny as the last, and every laugh true to the character.
And it's not all the gentle humour of observation. Some killer one-liners arise from these vitriolic and self-obsessed characters.
The only disappointment is the opening sketch, based around a pompous drag artist regaling theatrical anecdotes, which somehow fails to have the bite evident in subsequent scenes.
But overall, this is a fine showcase for an undeniably brilliant comedy actress.

---
Dara O Briain
Dara O'Briain is yet another of those comics who has come to Edinburgh with an more of an extended set, rather than any particularly significant or well-structured show.
So it's a tribute to his skills as an easy raconteur and instantly likeable stand-up that he pulls off such an enjoyable hour.
Irishman O'Briain - pronounced Oh-bree-yan, although he's too easy-going to care about the anglicised bastardisation he usually hears - has perfected the relaxed 'pub chat' style of stand-up that many aspire to.
He involves his audience in a genuine conversation, asking them to guess his age, make suggestions about his life or give advice about what to do in case of animal attacks.
The feedback is not used as a springboard for some flight of fancy, Ross Noble-style, nor as an excuse for easy laughs at the expense of a paying punter, but rather a real attempt to get a dialogue going.
It's not political, surreal, offensive, aggressive or challenging - yet it's far from bland, thanks to O'Briain's mastery of his craft.
And the show seems over in an instant, so enjoyable is it to be in this man's company.
O'Briain is clearly someone who has perfected his art and is now firmly establishing himself as a real talent in a particularly crowded field.

---
Daniel Kitson: Love Innocence At The Word Cock
He may look like an Open University lecturer who's been dragged through an Oxfam shop backwards, but Daniel Kitson is going to be a star.
Now sporting a marvellously unkempt beard - as if his Jim Royle glasses, scraggly hair and stutter weren't attracting enough ridicule - Kitson defies every convention in the increasing prevalent world of slick, confident stand-ups tossing their glib observations at the audience.
Kitson began to attract attention at last year's Fringe for the way he commanded the rowdiest of Late 'n' Live audiences with his laddish, foul-mouthed and spontaneous banter - spiky enough to dominate the beered-up audience yet also self-deprecating enough to avoid downright aggression.
Adapting this full-on style to the more willing audiences you get at one-man shows may have been a challenge - but it is one Kitson has triumphantly met.
Discarding all the usual pretence of the stand-up - including the microphone - Kitson just starts talking. And pretty soon the audience starts laughing. But not just in a 'ha ha, that's very amusing,' sort of way - great gales of uncontrolled belly laughter.
Maybe it's his open style, happily admitting his own failings, that proves so infectious, or his playground sense of silly fun, sharing the sheer glee of being naughty, but the unadulterated joy never flags for a second.
All the usual structures of comedy seem to be out the window. No clever set-ups, no well-crafted routines, just simple, but hilarious, stories that reduce the most cynical to helpless laughter.
It actually comes as a surprise at the end of 60 woefully short minutes that there actually was a theme to this funniest of shows, although it makes sense in retrospect. It's even more of a surprise theme is the loss of innocence, given that it's Kitson's almost childlike take on life that drives the show so successfully to its great heights.
This show should be on everyone's 'must-see' list, as it will be, quite simply, one of the funniest hours you'll spend in Edinburgh this year.
All that, and you get a badge too. Mine says 'cock'.

---
Adam Hills: Go You Big Red Fire Engine
This is just so much pure, unadulterated fun - an exhilarating celebration of the simple pleasures in life.
The fantastically positive attitude encompassed by the title, originally shouted by an audience member and gradually becoming a rallying cry for good times everywhere if Hills has anything to do with it, proves surprisingly infectious - thanks in no small part to the gleeful enthusiasm of the performance.
Hills has an unrivalled joie de vivre, a genuine desire to get people involved and make them happy. When he singles out an audience member, they're always going to have a great time - being chosen for fun, not ridicule.
Like an overactive child, he always wants to come out to play. And like the typical Australian he describes in his set, everything's ripe for a prank - even a couple of punters sneaking off to the toilet - but never at anyone's expense.
But it's not all messing about, there's good solid material here, too, which is mostly as fresh as his attitude. Even when he does tread where others have been - Jerry Springer, and crocodile hunter Steve Irwin, for example, he does so with such panache that familiarity breeds only contentment.
Yet this is ultimately not about observations or gags, but comedy as a state of mind.
I defy even the most jaded of festival-goers not to come out of this fabulously joyful show with a spring in their step and a song in their heart. Even if that song does contain the chorus "No way. Get fucked. Fuck off."
And at £9 an hour, that's remarkably cheap therapy.

---
Margaret Cho: The Notorious C.H.O.
Margaret Cho has the most incredible background - a Korean-American fag-hag raised by drag queens who's battled eating disorders, drug dependency and a stint as Quentin Tarantino's girlfriend.
Yet what comedic gold comes out of this amazing life? Tampon gags. "Isn't porn funny?" and the sort of lazy comedy by shock that idiots lap up in place of material.
And, it had to be said, a large part of this audience were in gales of laugher at this weakest of routines.
Maybe it's me. I don't think I was the target audience, being neither gay, American or moronically easy to please, but this is definitely a case of the emperess's new clothes.
It's all very well delivered, and Cho knows how to press an audience's buttons, but that's all this is - a perfect Pavlovian exchange.
Every outrageous reference receives an exaggerated laugh - but for what reason? She talks about being fisted by a lesbian (yes, this is how classy it is) for the sole purpose of saying the word. It's a sad day when you pine for a double in the entendre.
And it's all wrapped up with some sickly Springer 'be nice to yourself - and each other' type platitudes.
All very unexciting stuff.

Yet somehow her already well-established career wasn't crushed by this takedown and has continued to forge success as a comic, actor and more.
---
Cambridge Footlights: Far Too Happy
The Footlights gang have been nothing if not ambitious with this year's show.
Themed sketches, interlinked by the recurring character of Death - who turns out to be a mild-mannered Welshman with repressed homosexual leanings - provide a depth and a suitably theatrical feel to the whole proceedings.
All in all, this clever show is impressively well-constructed, brilliantly staged and almost perfectly acted.
There are nice ideas at play, and the array of young characters is pretty spot-on. In fact, there's only one real problem. No laughs.
For while there is an undercurrent of dry wit, it's an ambience rather than anything more substantial. Were this a piece of theatre, that would be fine, but since it calls itself comedy, would it be too much to ask for more than the odd wry smile?
But you can't help but get the impression that this is one of those shows which feels that laughter would be beneath it. Just some cheap way of pandering to an audience.
The team seems too busy shouting 'look at our talents' to employ them to maximum comedy effect. But if they could just get over themselves and focus their undeniable skills on forming some actual humour then they could really be onto something.

The Perrier panel clearly disagreed and nominated the show for the best newcomer award. And some of the cast went on to do rather well for themselves, including Mark Watson (the aforementioned Welsh Death), Tim Key and Sophie Winkleman, who went on to play Big Suse in Peep Show among many other roles – and married into royalty, becoming Lady Frederick Windsor.
Published: 8 Aug 2020
What do you think?