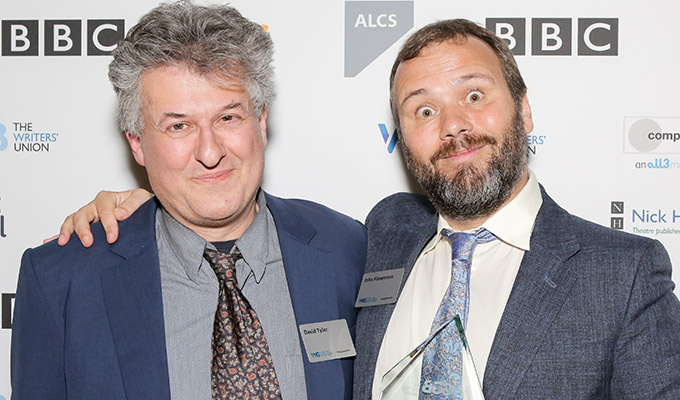 My one tip for writers: Be a friend of David Mitchell
Last night, the Writers' Guild Of Great Britain hailed John Finnemore with their award for outstanding contribution to writing – the first time the accolade has gone to a comedy writer. Here is the speech that David Tyler – who produced Finnemore's Radio 4 shows Cabin Pressure and Double Acts – gave as he handed over the prestigious gong. Tyler is pictured above with Finnemore at the event.
---
Hello, I'm a producer, not a writer, so when they asked me to write a speech about John, I panicked. Then I thought: I know - channel what John does.
So first of all, I bought a notebook and covered it with fantastically complicated plot wheels and character arcs, pausing only to illustrate it with little cartoons of the characters. Then, as the deadline loomed, I went on a four-week cycling tour of several random European countries.
On my return I rang myself to ask if the deadline could be extended and I said 'no', and then finally I finished it just as I was walking... onto... (WRITES) the stage
I first met John when he sidled up to me in a pub after a recording of Armando Iannucci's Charm Offensive. David Mitchell was on the show that night and had invited John along. John introduced himself and said 'I'm a writer'. I said: 'Great.' Then: 'Can I send you a script.' 'Yep.' That script was Episode 1 of Cabin Pressure.
I think that teaches you two things - as a producer - ALWAYS read a script, it's an honour to be asked and it could change your life
And as a writer – ALWAYS... be a friend of David Mitchell
In fact, the script was initially turned down by Radio 4, but thanks to the collective muscle of the comedy editor Caroline Raphael and my mild petulance, we persuaded the controller to admit he'd been wrong. That man was Mark Damazer, who went on to become a leading British academic. What I'm saying is that John Finnemore proved the Master of St Peter's College Oxford wrong, the first person to do that since Bertrand Russell in 1928.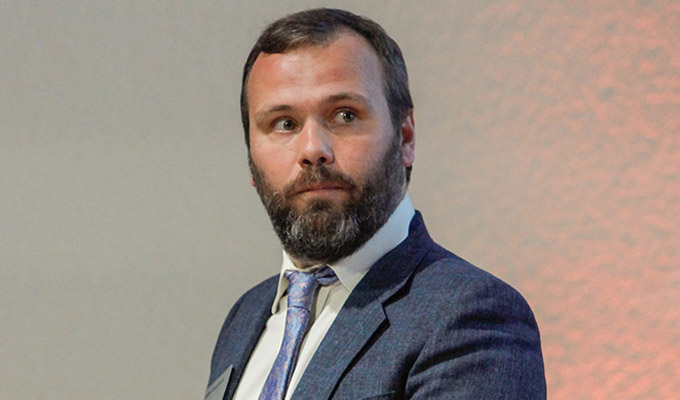 I learnt so much from John making that show. I learnt about kindness - how, one week when Benedict Cumberbatch was unwell and not able to make the recording, John personally bought a load of cakes and went up and down the queue outside making sure that everyone at least knew in advance. Nobody left, by the way.
I learnt about tolerance - for example, that four pints is the required minimum for a post-show drink
And most importantly of all, I learnt that if you ever have to sign an excitable Cabin Pressure fan's T-shirt, the only - THE ONLY - acceptable place is between the shoulder blades
Next, John went on to create John Finnemore's Souvenir Programme, or to give it it's full title - 'And the winner is John Finnemore's Souvenir Programme'. I didn't get to produce that alas - it's actually produced by Ed Morrish. A fact Ed never fails to remind me of whenever we meet, and occasionally by post
Now under that affable exterior and intermittent beard, John can be pleasingly determined too. John Finnemore's Double Acts, was a series of two-handers for Radio 4 and in the final one we had to cast the part of an elderly Oxfordshire railwayman
To my utter joy, Michael Palin took one read of John's script and immediately signed up. I rang John from the office with the good news. He was at home. 'But who should we get to do the other part?' I said: 'You know, in a two-hander with Michael Palin?'. Just then the doorbell rang. It was John.
OK, look. I did him a grave disservice at the start when I said he missed deadlines, but he does work quiiiiite tightly up to them.
When we were rehearsing his touring show, John Finnemore's Flying Visit, with opening night looming, John would disappear after rehearsals to rewrite and appear the next morning bearing new script pages and an ashen face. At one point, the cast were so concerned they asked him if he was getting any sleep? 'Oh yes,' he replied. 'Don't worry. I've been having Night Naps.'
Dictionary definition: 'Night Nap', noun. What other people call sleep.
Dictionary definition: 'Writer', noun. See 'John Finnemore'
Dictionary definitions: 'Funny', 'talented, 'profound,' 'humane', 'outstanding', adjectives. Also see under 'John Finnemore'
So let's have a listen to some extracts of his work, which, since this is the Writers Guild, I must stress are for the purposes of private entertainment only solely within the UK and thus not liable for any royalties or residual payments for the usage thereof.
Enjoy!
---
This wasn't the footage played, but here are some clips from Cabin Pressure:
Published: 14 Jan 2020
What do you think?