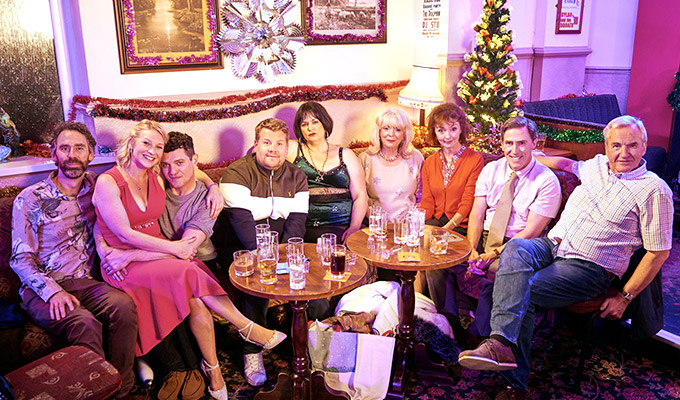 Gavin & Stacey comeback: There were times when we almost gave up...
The over-used words 'long-awaited' can't do justice to the return of Gavin and Stacey this Christmas, after almost ten years away. Most people – including its stars – had reluctantly assumed we'd seen the last of the Shipmans and the Wests, not least because co-creator James Corden had embarked on his super-lucrative career hosting a nightly talk show in the US.
But, as his co-writer Ruth Jones revealed, the characters never quite went away. Speaking at the first screening of the festive special where the cast saw the finished article for the first time, she said: 'Ever since it finished in 2010, James and I have always secretly texted to each other ideas for characters. A line for Pam or a situation for Bryn or a new job for Nessa, that kind of thing.
'One time I changed the entire lyrics to Adele's Hello and made it a Barry version that started: "Alrigh?" and sent that to James.
'So we were always going back and forth with little ideas and every now and again one of us would say, " Do you think we could do another one? Could we do a special? Could we do a series?"'
Concluding that a full series would take too much time to write and film, given the demands of everyone's schedule, they decided to try for a special – but even then the project was almost abandoned while they were writing it.
'We found some time in September last year and I went out there [to LA],' Jones recalled. 'We managed to get a long weekend and that's where we mapped out the story and said, "yes I think we've got something".
'Then we found a week in February this year so I went out again and my friends were saying, "Ooh you're going out to LA again Is it for work?" I was going "No just a little holiday." The truth was we were not lapping up the LA sun, we were indoors writing.
'It was a bit of a journey. There were some times during that week when we thought, "this isn't happening, let's not do it."
'More than anything we wanted to be sure that if we did bring it back that it was good. We didn't want to risk people going "Oooh it's not like it was." We wanted to bring it back where we still pay tribute to what the series was but still bring it back to the present day.
'We were trying to find what [the situation] was for Gavin and Stacey because they are the heart of this show. The only reason that all these characters have ever come together is that Gavin and Stacey met and got married.
'We felt early on that we hadn't got something solid and chunky to tell the story of Gavin and Stacey ten years on.'
Eventually they struck on an idea to resolve the issue of what happens when the passion of a new romance subsides into a long-term relationship – which crystalises in a key scene in the special.
'I am so proud it,' she said. 'The acting by Mathew Horne and Joanne Page is superb. They so capture what I think it is for a lot of couples with kids who started out on this big romantic journey. They still love each other, obviously, but sometimes there's no time for that romance and keeping what they were alive.
'That was the heart of the show. Once we got that, everything else was just a joy and a bonus. I'm really, really chuffed I know James is... I hope it will resonate with a lot of couples.'
After cracking the storyline, Jones and Corden had to get the old gang back together… and find a time when they could all make the shooting.
'James and I contacted half and half the cast each to ask if they'd be interested,' Jones recalled. 'Thankfully they all said yes because we had written the script by then.
'We were so lucky because we had so many factors to take into consideration. James gave up his summer holiday to come over and then we had to find out if everybody was available… It was a really lovely phone call to make. Absolutely joyous.'
There had been reports that Mat Horne, Gavin himself, had fallen out with former double-act partner Corden. But when journalists asked him whether there was any tension that needed to be resolved before he returned, he said simply: 'Well you made it up, so no!'
In similarly flippant vein he said: 'It was Ruth who asked me and my initial reaction was relief because I thought, "Thank God James has got some work.. he wouldn't be able to eat otherwise!"'
Joanna Page, Stacey to his Gavin, didn't immediately respond to Jones's message to get in touch, and said she didn't know what to think when the co-writer started bombarding her with please to get in touch.
'My first thought was, "This is either something really, really good like the show's coming back or something really really bad, like there are some dodgy photos going round." There aren't any dodgy photos by the way! But then I thought, "Why would they go through Ruth to tell me? For God's sake just call her." Then she told me [about ht comeback] and I was so excited.'
'That's an understatement,' Jones adds. 'You were hysterical.'
Her excitement only heightened when she received the script and she could finally discover what had happened to her character. 'It was was emailed through just as I was about to do a read-through for another job,' she recalled. 'I had to go into this room for about three hours. It was there on my email and I couldn't look at it.
'I came out and sat in the car for ages because I didn't what to read it, it was so exciting. Then I read it there in a car park for a couple of hours, all the way through sending emails to Ruth and James quoting their own lines back at them, saying, "I love this."
'After the excitement then came the nerves – "Oh shit!Am I going to be able to do it? Can I even act any more?"'
Melanie Walters, who plays Gwen, said she thought the initial approach was a hoax: 'James texted me: "It's James Corden here, Mel, you may remember me from playing Smithy".
'I thought I was being trolled and I completely ignored it. Then he rang from a weird number so I ignored it. It was only the fourth time that I responded, when he left a voicemail so I could recognise the voice.'
Addressing the cast, Jones admitted: 'It was a miracle that you were all available to be honest. We managed to find a two-and-a-half week period when everybody could pretty much commit to it and that felt like a good luck omen.'
Although Robert Wilfort, who plays Jason, joked: 'Everybody else was worried about organising their schedules but I was unemployed at the time. So it was really quite good to go "Mum! I got a job!" I was absolutely thrilled.'
Larry Lamb, who plays Mick, admits he was initially baffled when Corden called him, too. 'I kept thinking what's he calling for, it can't just be a chat,
'When he finally said what was about to happen, my first thought was "are they able to carry this off?" because it could go so wrong in the same way you hope it could go wonderfully right.
'Now I've seen it I feel so extraordinarily overcome with emotion, frankly. This is every bit as good as you could have hoped it might be and probably a bit better.'
Once the cast were all assembled, next biggest problem was keeping the comeback secret from journalists and fans hungry for news.
'I always used to lie in the press and say, "no we're not doing any more",' Jones admits, 'because until we were absolutely sure we were doing something there was not point in telling anybody.
'Often there would be stories anyway saying we were bringing it back, which weren't true because at that stage we hadn't written anything.'
Lamb also admitted: 'The hard bit was not telling anybody about it. I had about three months of that, not just the normal "I don't know" [in response to questions about whether the how was coming back] but actually lying.'
Then came the actual filming. 'It was like a family getting back together again,' Jones recalled. 'The atmosphere was really good fun. Rob Brydon's responsible for a lot of the fun, I think. He keeps us entertained.'
Brydon, who plays Bryn, wasn't always having the best time himself, however. ' It was so hot because we filmed that in July.
'It was a heatwave and Bryn's trousers are 100 per cent polyester and the jumper is 100 per cent polyester and the short-sleeved shirt is 100 per cent polyester, the tie is 100 per cent polyester. I was sweating!'
But filming had its advantages, he added: 'I know when you hear casts say how much they like each other you probably raise an eyebrow because it's not always the case, but in this case it was the happiest job I've ever done. It was so lovely…'
Alison Steadman, who plays Pam said: 'When I'm in the character of Pam I feel so happy.'
Turning to on-screen hubby Lamb, she added: 'When we're together, I feel right, I feel like I'm in the right skin. I love him, I feel the love. There's never a moment I feel this is not right.'
Page admitted she was trepidatious about returning to Stacey. 'You want to be able to deliver what is a fantastic script and the nerves built up and up,' she said.
'Then after day one of filming everything settled down because we realised it was going to happen and with all the love it happened with before.'
Indeed, after the first scene had been shot, she said: 'We just had fun and drank lost of gin. It was like a holiday!'
Proud that she was able to get back into her original outfits, Jones also spoke of the joy of getting in character.
'I absolutely adore Ness,' she said. 'When I'm playing her I feel brave and so at ease. I find it liberating
'Lots of people would come and watch us film in Barry and sometimes we needed them to be quiet. Rather being Ruth Jones going "ooh, would you mind being quiet just for a little bit while we film this,' I was able to go [in her ballsiest Nessa voice], "Oi! We're tryna film in there, have some respect!"
'Sometimes people want to get photos with you and get so excited they put their arms around you. As Nessa, I can go, "Oi love, don't manhandle me! Who do you think you are?
Lamb also recalls how the locals' attitude to the show has changed over time.
'The first time we filmed in Barry we were doing a travelling shot and there were kids throwing rocks at us and the police had to come,' he says. 'The next time we wanted to film on the bank holiday weekend on the beach they said, "Yes you can have the beach.
'This last time we were so inundated. Every time we you moved there were 300 to 400 people. It's quite extraordinary the way that Barry has adapted to being 'Barrybados' it's just extraordinary what the show's done for them and they really appreciate it. They love it. There's no pretence. They feel part of it. It's been good for everybody.'
And the big question. Now the team have reunited, will there be any more Gavin & Stacey's in the future?
'Hand on heart at the moment there is no plan,' Jones says, but mindful of her previous comments about this show, she has to admit: 'No one will ever believe me again.
As it is, 'there has been no plan, no Post-It notes, no sitting in a room and mapping out episodes.'
But offering a glimmer of hope she admits: 'There is room for it to move on so all I'm going to say now is, "Who knows?"'
- by Steve Bennett
• Gavin & Stacey will be on BBC One on Christmas Day.
Published: 3 Dec 2019
What do you think?