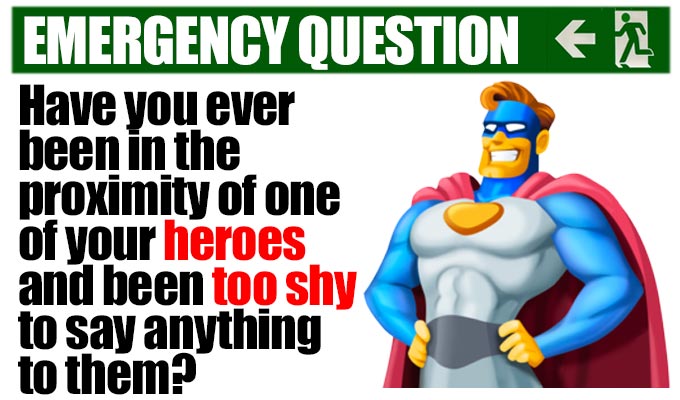 Have you ever been in the proximity of one of your heroes and been too shy to say anything to them?
David Tennant. Went to watch my writing partner record Have I Got News For You with him. Went for drinks afterwards. Stood next to him half the evening. He says his goodbyes to everybody, gets ready to go, hitches his trousers up, pats his pockets to see if he's got everything, looks up, catches me dead in the eye. I stare at him right back. The Doctor. The oncoming storm. The last of the Time Lords. He grins at me. As warm and friendly a grin as e'er was grinned. A beat. I smile - it comes out as a wet lipped grimace. I look at my friend's arm. I look back, he's stopped smiling, he's on his way out. George Fouracres, Gentlemon, Pleasance, 15:30
I met Lightning the Gladiator at a young age and managed to shout 'I love you in her face. She assured me that was 'nice' so I've always been pretty good at talking to my heroes. Anna & Helen, Stuck in a Rat, Pleasance, 17:45
I met Ruby Wax about seven years ago, before I got into comedy, and I couldn't talk to her because I used to do an impression of her when I was little, so I was worried I'd end up doing an impression of her whilst talking to her. Harriet Braine, Les Admirables, Gilded Balloon, 18:00
I was a flyerer back in 2011 and I stood in the same room as David Mitchell for ten minutes, just the two of us, nobody else and didn't say A WORD to him out of shyness. He ate some sweets and I stared at him. it was horrifically awkward. In many ways, the perfect David Mitchell experience. Lewis Dunn, Any Suggestions, Doctor? The Improvised Doctor Who Parody, Pleasance Dome, 19:00
I was metres away from Justin Bieber and ready to say 'hi' but then a pesky child ran up and got in the way of my grown adult dreams Eli Matthewson, An Inconvenient Poof, Underbelly, 21:20
I wish I was too shy when I met Jos Buttler. Unfortunately I was drunk at 10.30am and starting telling him how much I loved him. Aaron Simmonds: Disabled Coconut, Underbelly, 13:30
My best friend used to joke about how we should abduct Nick Mohammed with a sack, Borat-style, so that we could always have him near us. It did make it – and by 'it' I mean me – weird when I met him. Also, I'll always regret not hitting on Bo Burnham in 2010. He walked into a bar & stood by himself looking all awkward but he was rescued by Alex Horne before this little nobody could pluck up the courage. Sophie Duker, Venus, Pleasance, 19:00
My Holy Trinity: Dawn French, Michael Palin, Stephen Fry. I garbled fan-girl style over Palin. French said I was 'a beaut'. Still not met Fry but I did manage to get listed in Top 10 audiobook readers alongside him in The Telegraph along with Hugh Laurie, Emma Thompson, Douglas Adams and more... It was a good day. Juliette Burton: Defined, Gilded Balloon Teviot, 17:30
One time, Cassie was introduced to everyone's hero and funniest northern woman of all time Victoria Wood. She was so nervous that she for some reason took on the demeanour of an early 1990s Liam Gallagher, nonchalantly nodded and said 'alright' before casually sauntering off. She then proceeded to quiver in a corner, go home, and regret the moment for the rest of time. The following week she saw Alan Bennett, and thinking 'don't do a Victoria Wood' she bowled over to him, enthusiastically rubbed his arm and said 'I just think you're great'. He simply looked at her, rubbing his arm, with confused panic in his eyes. Cassie has a lot of regrets. Northern Power Blouse, Touching Cloth, Opium, 15:35
We shared a venue with Daniel Kitson in Melbourne this year. He asked another venue buddy if we were the Two Little Dickheads, and said he'd enjoyed our show last year. Despite feeling like we now had an excuse to say hello we chickened out. We also chickened out of sneaking into his dressing room and stealing a keepsake from him. Two Little Dickheads: Kapow!, Just The Tonic at The Charteris Centre, 22:40
Yes - Reginald D Hunter. I've loved his comedy for years and gigged with him last year at Rewind Festival. There's not really a backstage at festivals you just wait outside the back of the tent. I didn't know what to say so I got him a bottle of water (because I heard him ask someone else for one?) He didn't watch the whole show so I think he maybe still didn't realise I was another act. I comfort myself that someone passing him a bottle of water was not a significant event in his life, so he has probably forgotten, even if the person doing it (me) just quietly stared at him as they did it, like a creepy intern. Daisy Earl, Fairy Elephant, Guilded Balloon - Patter Hoose, 16:00
Yes, Louis Theroux. I saw him on my lunch break. I mention him in my stand-up and wanted to say, 'hi, I'm a big fan and I mention you in my stand-up!'. I was also thinking a lot about 'authenticity' and the 'truth' that day and had been thinking about his work, and I really wanted to ask what he thinks they mean and how he decides to construct a narrative out of reality in his documentaries and whether narratives are a lie or, at best, just an artificial approximation of the truth . But I clammed up, he walked past, and then I went to Pret. Flora Anderson, Romantic, Underbelly, 15:10
Yes. My first fringe, one of them put their arm around me for a photo and I squealed in his ear like a donkey. Lucy Frederick, Famtastic, Underbelly, 14:50
Tickets for Richard Herring's Edinburgh show are available here.
Published: 20 Aug 2019
What do you think?