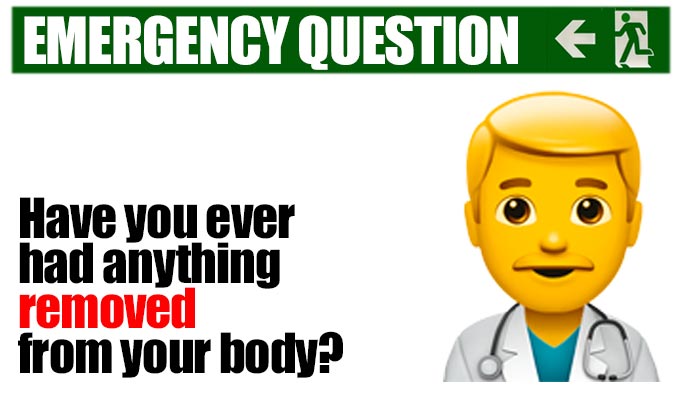 Have you ever had anything removed from your body?
A huge part of my bowel and small intestine. I actually brought my medical records on a third date to prove I'd had 4cms more of my ileum removed than the person I was dating. Pope Lonergan Pope's Addiction Clinic, Monkey Barrel, 20:35
A lot of hair from the top of my head, nature's choice not mine Neil Frost, The Establishment: Le Bureau de Strange, Heroes @ Hive, 20:40
Chin. By the up-turned corner of a paving slab. Slipped over and fell onto it face first. Chin was removed very swiftly and efficiently like a hollowed-out sponge full of wet meat. It essentially disintegrated. Thirteen layers of stitches my friend. George Fouracres, Gentlemon, Pleasance, 15:30
My appendix. My consciousness. And a condom I used to put a candle up my bum, which ended up stuck in there when I pulled it out. Thankfully I have disgustingly long fingers so I was able to fish it out after an hour or so. Eric Lampaert, Borne Of Chaos, The Counting House, 16:15
Yes. My heart. Her name was Christine. Schalk Bezuidenhout, South African White Boy, Pleasance, 21:30
A toothbrush from my cheek after I fell down the stairs brushing my teeth as a kid Danny Ward: Danny's Got Talent, Banshee Labyrinth, 15:35
Does air count? I once knew a girl with the lead of a pencil permanently stuck in her leg. I jokingly called her 'lead leg' and I've only just realised why she never slept with me. Dylan Dodds and Friends (Friends Not Included), Just the Tonic at the Grassmarket Centre, 23:10
I had a fairly gruesome tooth extraction and exposure under general anaesthetic, and also had two ear reconstruction operations which involved surgeons taking cartilage from my ribs and doing some fancy moulding and sticking it to my head to form ear shapes. Hopefully it still counts if it was removed from me then immediately re-purposed. Ros Ballinger, Better Than Dying Alone, Sweet Grassmarket, 21:30
I had a nipple piercing pulled out by my costume onstage! What a kids' show that was! John Robertson, The Dark Room, Gilded Balloon, 21:15
I've had dicks pulled out but they always pop back in again. Laura Lexx: Knee Jerk, Gilded Balloon, 17:15
Part of my skull (tumour in the early 00s). I had stitches from ear to ear and wore a headscarf to hide them, a headscarf which my five-year old ripped off on the school run a few days later to show her friends how great I was looking for Halloween. Cally Beaton, Invisible, Assembly George Square Studios, 17:10
Yes. We won't say what it was but it weighed three kilos, put up a fight and really did hum. The Delightful Sausage: Ginster's Paradise, Monkey Barrel, 12:00
Tickets for Richard Herring's Edinburgh show are available here.
Published: 15 Aug 2019
What do you think?