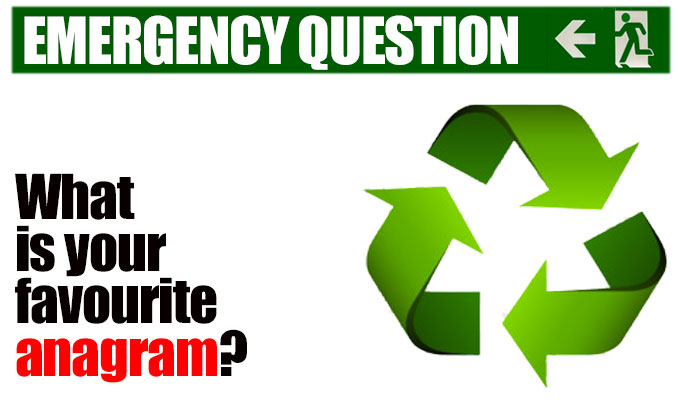 What is your favourite anagram?
A decimal point = I'm a dot in place Caitlin Cook: Death Wish, Just the Tonic, 17:50
Dickhead - dead hick Two Little Dickheads: Kapow!, Just The Tonic at The Charteris Centre, 22:40
Duskier Hope. That's what I aim to be for UK comedy - its duskier hope. Sophie Duker, Venus Pleasance, 19:00
Eleven plus two = Twelve plus one. My grandpa used to bust that little gem out about twice a year. The Noise Next Door's Comedy Lock-In, Pleasance, 22:50
Finsbury Park backwards is Krapy Rubsnif. James Gamblin, Any Suggestions Doctor? The Improvised Doctor Who Parody, Pleasance Dome, 19:00
Funeral = real fun Melinda Hughes, Off the Scale, Assembly Rooms, 16:50
I have a large penis = he is plain average Dave Bibby: Crazy Cat LAD-y, Globe Bar PBH Free Fringe, 16:45
Listen and Silent. Anagrams are one of my favourite things. Truly. Yurlt. Flora Anderson, Romantic, Underbelly, 15:10
My favourite anagram is I'm Eric Barthram which is an anagram of my name, Martha McBrier. This was the title of my Fringe show in 2011 which I performed as Eric Barthram, ie. a man. I had a beard and everything. This turned out to be an unintentionally seminal work, as in later years other female comics on the Fringe performed as men. This will always be my favourite anagram as like so many performers I am an egocentric fuck. Martha McBrier, Happiness Bully, Counting House, 19:15
Rotator. No hang on that's a palindrome sorry Harriet Braine, Les Admirables, Gilded Balloon, 18:00
The eyes -> they see Anna & Helen, Stuck in a Rat, Pleasance, 17:45
Tom Marvolo Riddle = I am Lord Voldemort, only because its translation into various languages has brought me so much joy. Did you know they had to name Voldemort 'Elvis' in French to make the anagram work? His full name in French is Tom Elvis Jedusor. Glorious. Louisa Fitzhardinge, Comma Sutra, Gilded Balloon, 21:00
Published: 7 Aug 2019
What do you think?