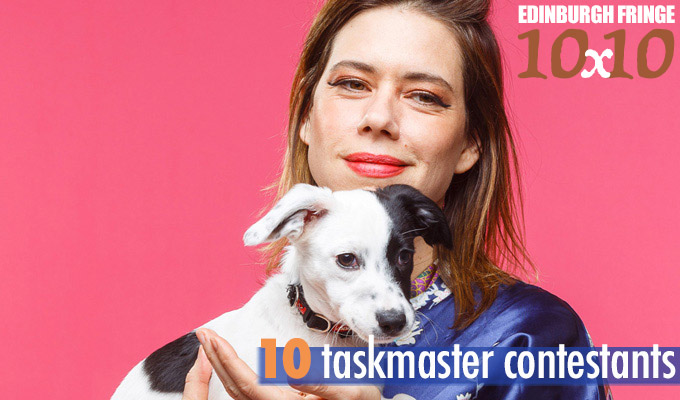 Edinburgh Fringe 10x10: Ten Taskmaster contestants
And finally this year - some people you probably already know about. Ten comedians who have been given silly things to do by Alex Horne, then judged by Greg Davies
Lou Sanders
Sanders had a real breakthrough year in 2018, both artistically and career-wise, thanks to her show Shame Pig in which she took ownership of her past mistakes, but also vowed to move past them. And it made her a better comedian, if no less nuts.
This time she says: 'I'll be oversharing, wanging on about spirituality and giving everyone some much unwanted advice'. The show, Say Hello to Your New Step-Mummy, will also tour the UK after the Fringe.
Here she is trying to make something that looks like a moustache from far away in a 'Tachemaster' challenge:
Monkey Barrel, 15:156
Rose Matafeo
One of the contestants in the forthcoming ninth series alongside David Baddiel, Ed Gamble, Jo Brand and Katy Wix – Matafeo ism of course winner of last year's Edinburgh Comedy Award for Horndog, which she's reprising for a final-week lap of honour this year.
Pleasance Courtyard, 21:30, August 20-24 only
Ed Gamble
Another of the series nine lot, Gamble says: 'I'm having a year off the Fringe, so instead I am doing a work-in-progress show at the Fringe.' Is that cheating?
Monkey Barrel, 18:15, August 12 to 16
Mark Watson
The Fringe wouldn't be the Fringe without Mark Watson. This year he has a work-in-progress show politely and honestly titled I Appreciate You Coming to This And Let's Hope For The Best at the Stand (13:40, August 13-25); as well as a reprisal of last year's show The Infinite Show (Pleasance Courtyard, 23:15, August 9, 10, 23 and 24) and no doubt popping up to do other things, such as hosting the Chortle Student Comedy Award Final (Pleasance Courtyard, 22:15, August 12).
Here he is kicking a yoghurt pot in an outtake from series 5
Frank Skinner
The 1991 Perrier-winner is back doing work-in-progress, too… although he's been doing the same in London for several months so the material he's working up for a new tour, entitled Showbiz, should be in decent nick by now.
Here he, and the other series one Taskmaster contestants try to throw a teabag into a cup.
Assembly George Square, 21:00, to August 18 only
Phil Wang
One of the most memorable contestants from last year's seventh series, primarily because of his Bruce Lee inspired yellow jumpsuit. His main run of his new show Phil Wang: Philly Philly Wang Wang is sold out, but he has some late Saturday extra shows still on sale.
Here he and Jessica Knappett try to work out which sock contains a satsuma.
Pleasance Courtyard, 23:00, August 3, 10, 17 and 24 only
Tim Vine as Plastic Elvis
Series six contestant Vine will always be remembered for 'winning' Edinburgh in 2006, when he placed a massive poster on the site of the former Gilded Balloon with a huge picture of his face and his name in 4ft letters. Then, much smaller '…is not appearing at this year's Edinburgh festival …' This year he's back as his pelvis-swinging alter-ego, Plastic Elvis, for one night only.
Underbelly's Circus Hub on the Meadows, 22:15, August 7 only
Here he uses a lobster to determine how long a piece of string is.
Nish Kumar
Another series 5 contestant, Nish Kumar is reviving his political – and, yes, a bit ranty – show It's In Your Nature To Destroy Yourselves for a brief run. But here he has a special cuddle with Alex Horne:
Assembly George Square, 21:00, August 19 to 25 only
Russell Howard
Of course you won't be able to get tickets to his work in progress shows, so here's him trying to blow out a candle from a distance:
Heroes @ The Hive, 14:20 and Assembly George Square, 18:30, August 1to 13
Tim Key
Not in the Fringe programme, but Key has nonetheless snuck back into Edinburgh for a series of work in progress gigs. As a mate of Horne's he was with Taskmaster from the start and is still credited with helping to come up with some of the challenges.
Here he and Skinner come up with a You've Been Framed style blooper from a home video:
Pleasance Courtyard, 23:00, from August 14 only
Published: 18 Jul 2019
What do you think?