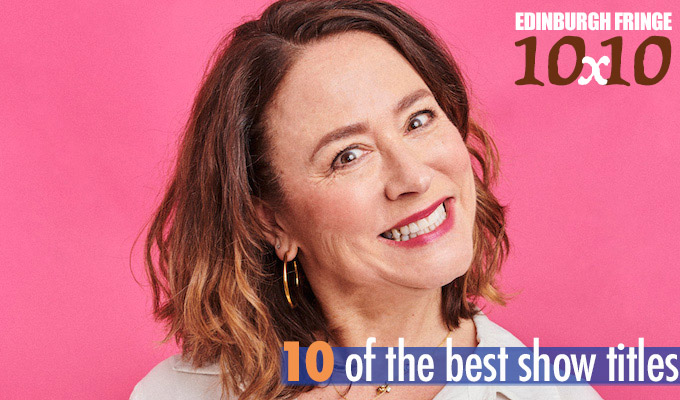 Edinburgh Fringe 10x10: Ten great titles
Love Don't Live Here Glenny Moore
Contrived name-based wordplay might have fallen out of fashion in recent years – by which we mean since Joe Lycett stopped coming to the Fringe.
But a fellow Chortle Student Comedy Award alumnus Glenn Moore is keeping the flame going with this title, which also reflects some of the tricksy wordplay this erudite comic is likely to include in his show.
Pleasance Courtyard, 16:00
And an honourable mention in this category for Alison Thea-Skot's Thea-Skot Through The Heart And You're To Blame.
Bob Slayer Wrote the Copy For This Show In March When He Didn't Have The Foggiest Notion Of What Might Happen On Any Given Day in August, He Still Doesn't Really, But At Least He's Found This Snappy Title
While titles can still be punny, modern comedy is more about unvarnished truth these days. And that's exactly what Heroes Of Fringe founder Bob Slayer has gone for in his title. Given the programme's strict word counts, it doesn't leave much room for a description… but then what else is there to say?
Heroes @ The SpiegelYurt, 22:20
White Collar Comedy
It's not what you think… the name comes because the comedians taking part – Maggy Whitehouse Ravi Holy and Kate Bruce – are all vicars in their (Sun)day job.
Laughing Horse @ Sofi's Southside, 18:15, August 1-10 only
Arabella Weir: Does My Mum Loom Big in This?
Yes, she's STILL milking her Fast Show catchphrase, but kudos to Arabella Weir, pictured, for twisting it into a pun that's relevant to the show's content about her dysfunctional childhood and how it's affected her. Now an author as well as starring in Two Doors Down, Weir will be embarking on a UK tour of this show after the Fringe.
Assembly George Square Studios, 16:00
Mat Ewins: Actually Can I Have Eight Tickets Please?
A clever ruse to a) boost ticket sales from misunderstandings at the box office, while b) not having to perform for so many people for this publicity-shy former Edinburgh Comedy Award nominee. This year he has chosen a picture of a random older man, looking like a long-serving BBC local radio presenter, to conceal his identity.
Just The Tonic @ The Caves 21:00
Maybe The Real Comedy Awards Are The Friends We Made Along The Way
A sentiment that's cheesier than a Babybel dunked into a fondue, but that's exactly what the much-tipped Josh Pugh was going for. Just The Tonic @ The Caves 18:25
Never Mak The Same Mistak Twice
Applause emoji for Jake Lambert's title, which apparently refers to the fact that he's moved in with his girlfriend and he's trying not to mess it up, learning from past mistakes. But it's just a good title, right?
Pleasance Courtyard, 20:15
Why I'm No Longer Talking to White People About Rice
It's probably a sign of required wokeness if you get the reference to Reni Eddo-Lodge polemic book, so the title might serve as a filter to select the sort of audience that best would appreciate Christopher KC's debut show, which addresses race, among other topics. KC has twice been nominated best newcomer in the Scottish Comedy Awards... which rather raises the issue if you can be new twice?
Gilded Balloon at Old Tolbooth Market, 16:15
Seymour Mace Is My Name Climb Up My Nose And Sit In My Brain
A title that's poetic, evocative and silly from Fringe veteran Seymour Mace – which hopefully reflects the content of his show.
The Stand 3&4, 13:30
A runner-up in the poetic stakes from Andrew O'Neill, who titled his show We Are Not In The Least Afraid Of Ruins. We Carry A New World In Our Hearts. However they are not his words but that of Spanish anarchist Buenaventura Durruti, and we all now how hack it is to quote him…
Insane In The Men Brain
This is the great title of a men's mental health podcast in which comic Rich Wilson talks to fellow funny folk about anything they've been through. It's only at the Fringe for a two recordings, even though Wilson's stand-up show Death Becomes Him runs for the duration.
Gilded Balloon Teviot, 14:30 August 12 and 20:00 August 19
And the worst titles? Excluding all those that put a string of As in front of their name – is there a more surefire signifier of a poor offering? – we'd go for Actually Totes Amaze, a two-header that seemed to be named in 2012. The blurb only makes it worse, promising stories that will have you ROFL. YOLO!'. That or the show entitled Amazing Adventures Of Her Majesty At 90, which sounds utterly fawning.
Published: 12 Jul 2019
What do you think?