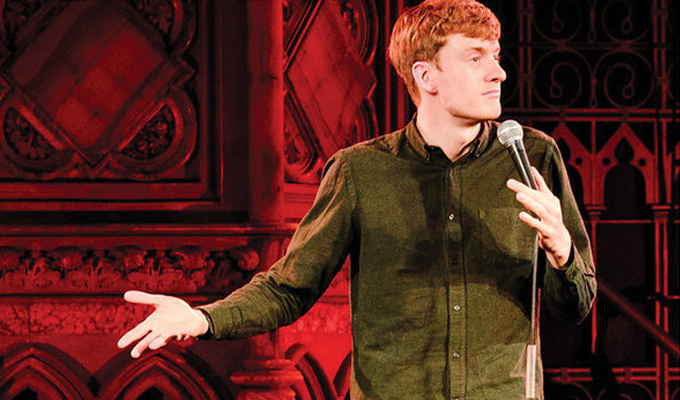 The best of British at the Melbourne International Comedy Festival
As The Melbourne International Comedy Festival kicks off yet again, here's out guide to some of the Brits heading to town.
And we've gone for a newer generation of comics rather than festival favourites like Daniel Kitson, this year presenting his new theatrical offering Keep, about cataloguing every item in his home, at the Coopers Malthouse; Mark Watson, whose wittily neurotic Infinite Show is on at the town hall; and perennial Stephen K Amos, back at the Athanaeum Theatre for the first two weeks.
So here are ten other Brits who might not be so well known… but who are definitely worth an hour of your time
Fresh from a run in London's West End and sure to be one of the best shows of the festival, the supremely creative Acaster gets personal for the first time, reflecting on the best year of his life and the worst year of his life. Odd and mainstream in equal measure, this  five-time Edinburgh Comedy Award nominee and producer of a four-part Netflix series is simply one of the best comedians currently working in the UK. Read our five-star review here.
ACMI and Melbourne Town Hall, various times from April 9 to 21
Two-time Edinburgh Comedy Award nominee Ahir Shah Is known for his passionate and very well-informed liberal tirades, and his latest show is no different – as it tells of the deportation of his grandmother from England to India a quarter of a century ago. Although based on migration issues, this show is as wide-ranging as it is powerful and funny.
Mantra on Russell at 7pm from April 7 (6pm Sundays, not April 8; but at Melbourne Town Hall on the 15th) 
This former Chortle Student Comedy Award winner offers grown-up comedy that mixes his encounters with white supremicists (he has a Louis Theroux-Theroux-style programme on Viceland)  with personal anecdotes and pondering about he nature of how we all identify ourselves now.
Greek Centre, 7.15pm (from April 9, no show April 15, 6.15pm on Sundays)
4. Lazy Susan
Just last week this duo – aka Celeste Dring and Freya Parker – won the Chortle award for best sketch, character or improv group. Their silly and absurd scenes in Forgive Me Mother may have a serious underbelly, but the accent is always on the funny.
ACMI 7pm (not Mondays and 6pm on Sundays)
The newly-crowned Chortle Best Newcomer, and nominated for the same prize at last year's Edinburgh Fringe, Sarah Keyworth offers a heartwarming and insightful take on modern womanhood in this dry but powerfully funny debut.
Melbourne Town Hall, 8.30pm (7.30pm Sundays; no show Mondays)
Caustic and provocative, Fin Taylor tackles the thorny issue of gender politics. Yet while some men might walk on eggshells around such a topic, Taylor has little time for niceties. Although he flirts with offence, and is certainly guilty of mansplaning, his intelligence offers an insightful and penetrating summation of the situation as he sees it. As we said in our review from the Edinburgh Fringe: 'Fin Taylor flirts with the boundaries of good taste like Aziz Ansari flirts with women: awkwardly, eagerly and ignoring all the warnings as to when he should probably stop.'
The Westin, 9.30pm (Not Mondays. 8.30pm Sundays)
Worldess but not silent is the watchword of this creative physical comedy double-act, whose latest show is inspired by the circus. It promises 'incredible stunts and inspired illusions' as it aims to relight a childlike spark for the joys of play.
Coopers Malthouse, 7pm (From March 28 to April 7 only, not April 1. 6pm on Sunday April 2)
This Scottish comic mixes crude humour with the more poignant story of a long-distance relationship and its ultimate demise in the critically acclaimed, and Edinburgh-nominated Bampot. He's a natural storyteller with a confidence bordering on the cocky; but with more than enough impish cheek to see him through.
ACMI, 9.45pm (Not Mondays. 8.45pm Sundays)
Expect Rosie Jones to be the breakout star of the always intriguing New Order showcase this year - an outrageous, mischievous and flirtatious presence who uses her vast, cheeky charm to get away with comments that might otherwise be considered beyond the pale. Plus she leverages her cerebral palsy to her advantage, both in giving her free rein on tough topics, and because no one would surely dare call out a disabled woman.
The appealing New Order line-up also includes delightful Irish charmer Catherine Bohart, funny and affable storyteller Chris Washington, and energetic oddball Mawaan Rizwan.
Melbourne Town Hall, 9.30pm (6.30pm Mondays. 8.30pm Sundays, no show on Wednesdays)
You are guaranteed an inventive evening with 2017 Edinburgh Comedy Award nominee Jordan Brookes, who deploys and some unusual theatrical tricks to create his thoroughly distinctive shows. Moreover, he's a compelling, and sometimes unsettling, physical presences
Melbourne Town Hall, 9.45pm (Not Mondays. 8.45pm Sundays)
Also recommended are the sharp-suited and sharp-tongued Tom Allen; jaunty musical numbers with bite from Flo and Joan and mischievously grumpy comedy with great gags from Carey Marx
Published: 26 Mar 2019
What do you think?