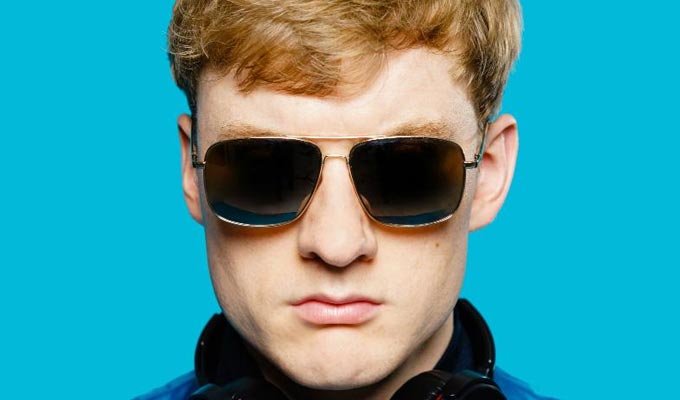 James Acaster: Cold Lasagne Hate Myself 1999
In his seventh solo show, James Acaster is still reinventing himself. First, he's abandoned his self-imposed ban on swearing – a bid, he says, to shed the unwanted 'poshos' and the Christians from his audience, who hate the 'effing and jeffing'. Much more significantly, he's started speaking about things that genuinely happened to him, rather than inventive flights of fancy, which adds extra piquancy to his already complex comedy palette.
Cold Lasagne Hate Myself 1999 contrasts two years of extremes. In the first part of the show, he speaks of the year of the title, and from whence he appears to have got the rather hideous multicoloured shellsuit-style jacket he's wearing on stage.
This was an idyllic year both for himself – getting to chase eclipses on a family holiday to France when all were united in reverence of this natural majesty – and for society, as the nascent internet was still a benign force: a playground for pranks, maybe, but nothing worse.
The second half of the show concerns his annus horriblis, 2017, when a relationship ended, he was dumped by his agent, he feared for his mental health, and a had a very embarrassing incident in a steak house.
And if you think it can't have been that bad a year given that he had four Netflix specials commissioned – the trigger for the greater success that gives him this sold-out West End run in the first place – well he's ahead of you there with a brilliant explanatory gag. Indeed, he's always ahead of you, for Acaster is one of the rare comics who could probably use the cliché 'I know what you're thinking' and actually mean it. Though of course he would never do anything so crass as use a cliché: take for example the way he describes how he looks, not by reference to a celebrity but in the cartoonish way we'd imagine he might descend a staircase.
Broadly spilt over the separate years, Cold Lasagne very much a show two halves, both brilliant in their significantly different ways. The first is a masterclass of observational comedy, as meticulously written as ever, precise in the off-kilter analogies, and picking perfect targets that are both everyday and obscure, such as the nomenclature of spoons or his adoration of the Moon.
But Acaster never goes down the well-established route. Even though his routines are as perfectly polished as Jerry Seinfeld's his responses are much quirkier, a unpredictable mixture of irony, awe and modest outrage, as if the world's been playing a trick on him.
More common subjects that you might think exhausted, are given fresh examination, too. He has a fabulous analogy for Brexit and why he believes we should have a second referendum, while the related theme of misplaced arrogance and nationalistic unpleasantness is embodied in a loutish England fan he encountered on the night of a World Cup victory.
He senses that as his fan base widens, not everyone is on the same liberal elite page, but he's far more persuasive than pugnacious, given that any swagger comes from a beta-male acting up. Similarly, a sarcastic takedown of self-proclaimed edgy comedians (Gervais, R, he's looking at you) sets out his stall as something different.
The second half, 'bleaker than the first', is where things get more personal. Bending the premise of contrasting years a bit, he first relates an earlier relationship break-up where he was left for a much more famous person. But you'll have to watch the show to find out who; the audience are sworn to secrecy for the very good reason of necessary context.
It's an astonishing routine that will leave you gasping for breath as the universality of the observational natural of part one abandoned for the precisely unique. 'I'm literally the only person this has happened to,' he complains in exaggerated exasperation.
We get into even more complex territory when speaking about his being dumped by his former agent. Protesting he hasn't got time to tell both sides of the story, he takes an unexpected route of shifting viewpoints, but one which makes his feeling very clear. As he speaks about gaslighting, the story gets momentarily over-complicated in the telling, a rare moment of imperfection just to remind us he is human.
The stands are woven together again as he speaks of going to therapy, winding up with a counsellor whose woefully unprofessional conduct proves a rich source of embittered comedy of semi-impotent outrage. He makes clear that such incidents took their toll on him, but never plays for sympathy or manufactured poignancy, merely allowing the honesty to lend an extra push to brilliantly funny gags.
Acaster's always been good at endings, and here's another doozy, throwing the preceding show into sharp focus and suddenly dropping all the jigsaw pieces into place. Had he been manipulating our emotions all along, like… well, a gaslighter? You bet. This is as finely engineered a show as Acaster's ever produced, but less self-consciously so, with structure hidden beneath a dazzlingly funny display of superlative stand-up.
• James Acaster is at the Vaudeville Theatre in London until Sunday. He will be taking the show out on a UK tour in the autumn of 2019. Click here for schedule.
Review date: 1 Nov 2018
Reviewed by: Steve Bennett
Reviewed at: Vaudeville Theatre
Recent Reviews
What do you think?