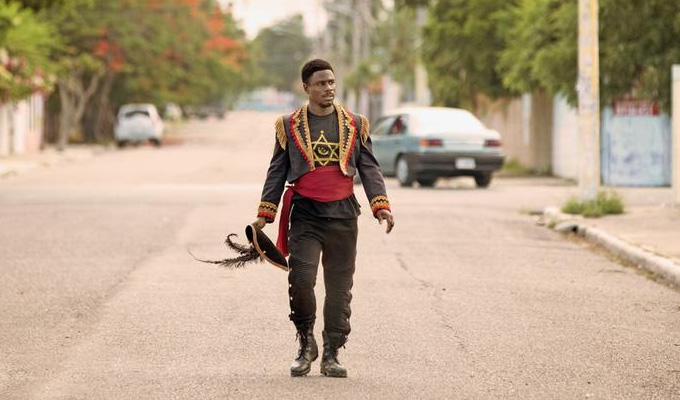 What we know about Chris Morris's film The Day Shall Come
Chris Morris's second film, The Day Shall Come, received its world premiere at the SXSW festival in Austen, Texas, this week – offering the first look at a film that has been shot under a veil of secrecy, with Chortle first revealing it had been shot back in 2017, as well as disclosing the plot points earlier this year.
So here's what we now know about the movie, which returns to the theme of homegrown terrorism that Morris first explored in Four Lions.
The official blurb
'Based on 100 true stories, the explosive new film from Chris Morris is an emotionally gripping, laugh out loud thriller that exposes the dark farce at the heart of the homeland security project: It is harder to catch a real terrorist than it is to manufacture your own.'
Who's in it?
Relatively unknown Marchant Davis – pictured above – plays Moses, an impoverished preacher in Miami
Anna Kendrick as an FBI operative called Kendra Glack. while Orange Is The New Black's Danielle Brooks is Venus, the mother of Moses's seven-year-old daughter, Rosa, played by Calah Lane.
Fonejacker's Kayvan Novak plays Reza the Shopkeeper, while stand-ups Jim Gaffigan and James Adomian also have roles, the latter paying a police officer.
The cast also includes Rupert Friend, who starred in The Young Victoria and The Death Of Stalin, True Blood's Denis O'Hare, and Iranian-American actor Pej Vahdat.
It has been co-written with Peep Show's Jesse Armstrong.
What's the plot?
Misguided preacher Moses is trying to start a race war to overturn white dominance, but (with echoes of Four Lions) his army comprises just four people and he has mental health issues, with delusions brought on when he avoids his medication. Including the fact God speaks to him through a duck,
He comes to the attention of eager FBI agent Glack via informant Reza (Novak), who has turned grass so the Bureau overlooks his paedophilia.
Glack and her boss Andy Mudd (O'Hare) subsequently try to manufacture Moses into a threat so they can bring him down, and make his name just before he retires. Several stings are set up, including a deal involving fake nuclear weapons from neo-Nazis and a phoney Islamic State backer offering Moses money – which he needs to avoid eviction – and guns.
Realising the threat has been inflated, Black tries to scale back the operation – but it is too far gone for that
Do the critics like it?
In short, yes. Mostly
The Guardian's Benjamin Lee gave it four stars, saying: 'While there's anger kept at bay throughout, offset by the film's many hilariously unhinged elements, there's a finale that drives home a devastating truth. Morris handles a delicate balancing act with an expected ease, the work of a satirist with so much to say yet with an awareness that saying less leads to so much more.'
The bottom line of John DeFore's write-up in The Hollywood Reporter was that the movie is 'smart, bitterly funny and probably too true for most Americans to bear'.
Screen Daily's Wendy Ide praised it as a 'tart and unvarnished view of the savage, sweary machinations of power and the expendable status of the powerless'.
On IndieWire, Eric Kohn was more circumspect, saying The Day Shall Come wasn't as strong as Four Lions. He wrote: 'Morris has less command over the edgy material, positioning his modern-day Keystone Cops in a series of smarmy vignettes that don't cut quite as deep. But it still delivers a scathing and often very funny indictment of homeland insecurities.'
When is it being released in the UK?
No date has yet been set.
Published: 13 Mar 2019
What do you think?