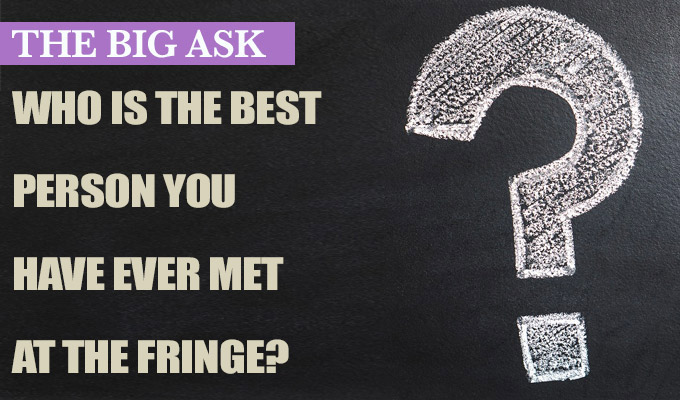 Benedict Cumberbatch stole my act... literally!
The man who brought me chocolates to my show last year. He brought me some gin flavour chocolates and I could have cried cause it was so thoughtful and I've never really had people bring me gifts. I felt like Beyonce or Mary Berry. Lauren Pattison, Peachy, Pleasance Courtyard, 19:00
Ronnie Corbett came to my show in 1995. After chatting with him afterwards I got him to agree to make an appearance in my show the following night. We sneaked him him round the back entrance and when the lights came up instead of me there was the iconic comedy master himself sitting in his chair telling a story. I then walk out and announce: 'Ronnie, you're in the wrong joke.' Jim Tavare, From Deadpan to Bedpan..., Laughing Horse @ Counting House, 16:15
Richard Bacon, he has so much love for the Fringe it's infectious Justin Moorhouse, Northern Joker, Gilded Balloon, 19:00
Dave. He's a hairy Glaswegian metalhead, and he teched a show I was in. Years later, I wrote a facebook status about how I would never change my surname if I got married. He commented that he'd take my surname if we got married. All our interactions now begin 'Dear Husband/Wife.' I've not yet told my actual fiancé about Dave. Lisa Klevemark, Lemons, The Place, 12:30
I met Eddie Izzard in a newsagent in 2005. We were both awkwardly detained when the till broke. He broke the ice and struck up a conversation. I wasn't having a nice day. He was really supportive. He asked how many Edinburghs I'd done. I said three. He told be he hated his first eight. Then he walked down the Royal Mile with me being very nice and encouraging. He didn't have to do that. I'll never forget it. It was a real: 'Do meet your heroes, sometimes they're even nicer than you may have imagined' moment. Garrett Millerick, Garrett Millerick: Sunflower, The Tron, 17:00
Rich who runs The Loft - such a sound guy. Or Bronston Jones who is my illegitimate father. Che Burnley, Elvis Was Racist?, Bar Basis, 21:30
Masai Graham: he's a lovely comic who's so hardworking and great to other comedians, also he knows how to run a great show and draw in a receptive and fun audience day after day. Adele Cliff, Sheep, The Caves, 16:10
A couple who didn't put any money in the bucket. But 10 minutes after the gig came back to give me money as they had to run to the ATM to get some out. I didn't hate them. Ashley Haden, We all Die C*nts, Harry's Southside, 20:45
Molly Stewart. She is a technician/sound engineer/unofficial producer who is talented, kind, and funny without limit Rob Oldham, Rob Oldham: Worm's Lament, Pleasance Courtyard , 21:30
Comedy producer Ally Wilson. She was the one who first employed me to be at Fringe and would probably not be here without her. She is incredibly hard working, caring and knows far more about comedy than most people at the fringe. Weirdly enough Ally has been one of the constants for me who is always at the Fringe and can catch up with but is sadly not this year due to having a baby. A terrible sense of priorities. Struan Logan, Struan All Over the World, Counting House: Attic, 18:05
David O'Doherty was one of the judges for the So You Think You're Funny final, and after I won, he really took the time to not only congratulate me but also gave me advice, introduced me to several people, and just was really lovely to me throughout the evening. It was all a bit overwhelming that night; there were so many people to meet. David - and Aisling Bea who was the compere - really looked after me, and continued to do so which I really appreciated. I saw David again recently at the Cat Laughs festival in Kilkenny, and he sometimes just drops me a text to see how I'm getting on, and Aisling had me on at one of her new material nights earlier this year. It meant a lot to me, as I looked up to both of them when I watched comedy when I was younger. Maisie Adam, Vague, Gilded Balloon, 16:30
Katie on the Royal Mile. She recognised me from my Youtube videos and I have never felt more famous. Naomi McDonald, Naomi McDonald: Stardumb, Fireside, 15:45
Harriet Bolwell. When I met her in 2014 she was baking biscuits as a more sustainable form of flyer. She's the Producer for Paines Plough now. Helen Duff, How Deep is Your Duff, The Hive, 21:00
A drag queen called The Nightbus. She has an act where she shoves a bell up her arse and plays along to Ring My Bell. My review? 10/10 #BOOKHERNOW Georgia Tasda, Georgia Tasda Means Business, CC Blooms, 22:30
Even though I've met boyfriends, agents, producers, star names - the best person is always the audience member who stays and enthuses about the show. Yes that is saccharine. But sincere all the same. Juliette Burton, Juliette Burton: Butterfly Effect, Gilded Balloon , 16:15
---
Strap in... this is a long one, from Sara Barron (For Worse, The Tron, 15:40)
Last year, I left my husband and one-year-old at home and came to Edinburgh on my own for ten days (this, in an effort to 'scope it out', as it were, in anticipation of doing my debut hour this year.) I'd like to find an innovative way to describe the adrenaline rush of being on my own after a year that included childbirth and nursing and nursing bras and hair loss and scaring and enough shit and puke to fill a bathtub, but in the absence of such innovation, let me just say this: I was on Cloud 9.
I missed my child a very little bit. Mostly I was thrilled to not be in a nursing bra.
Anyway, on my last night there, I went out, totes on my own, for a drink. I had on eyeliner, and a silk shirt, and my hair, as the kids say, was 'did'. I was on a barstool watching the world go by and feeling a level of joy that can only be experienced by a stay-at-home mum who is NOT with her child, and then:
THERE HE WAS.
'He' was/is one of my favourite comics, and he was entirely drunk, and he wound up sitting next to me, and slurred his way through various questions that lead me to believe I was being flirted with.
Now: I was being flirted with because this guy was drunk, but this is not the point. The point is that my one-year-old son had worked very hard the previous year to decimate my sexual sense of self, and look: my husband might have *tried* as best he could to help reverse our child's efforts, but the honest truth is that a husband is actually the wrong man for this job. For this job, a lady needs a stranger. She needs a drunk stranger to approach and to flirt, and if he's famous in alt comedy circles and this lady worships at the altar of alt comedy circles, then 'oh' to the 'em' to the 'god': she's entered a little piece of Scottish heaven here on earth.
I left the bar after a half-hour of edifying chat (nothing more!), and the following morning called my husband to tell him all about it. I said, 'Last night, the greatest thing that could've happened, happened. I saw so-and-so at a bar and he definitely flirted with me, and I need you to understand, after 80 hours of childbirth and a fucking year of feeding our child with my tits, it means a lot to know I can still maybe pull. And, of course - my lover! My husband! My life! My king! - I have eyes for you and you alone, obvi and 4evah, but can we take a moment AS A TEAM to understand how fucking good that made me feel?"
My husband said he could. He was very happy for me.
This Edinburgh will be my first 'real' Edinburgh - the first where I'm up for the month; the first where I'm doing an hour - and my hope is that others will follow. Assuming they do, however, and no matter how many other Augusts go by, no other person could do me as big favour - no one else could give me so glorious a boost! - as my drunk and flirty angel. A year ago, he brought me back to life.
---
My wife. We had our first date in Edinburgh and then got married there last year. Chris Betts, Chris Betts Vs The Audience, Bob's Blundabus, 17:20
I did a gig at the top of Arthur's Seat in 2013 and David Hasslehoff was in the audience. It was hard to do the show, because people kept looking at him to see if he was laughing. He was really clearly David Hasslehoff - as he was standing there on a rock with his legs wide in a power pose. He didn't sit down. He laughed distractingly loudly too. In the end I had to bring the fact that David Hasslehoff was in the gig into the show - and we ended by all singing the Nightrider theme tune as he ran down the hill. Barry Ferns, Barry Loves You, The Tron, 21:00
Benedict Cumberbatch. He stole the Socks. At the bar of the Gilded Balloon he inadvertently started walking off with the bag that had the moist and smelly post-show Sock puppets in, thinking it was his friend's. Had a very enjoyable half hour chat with pre-fame 'call me Ben'. Scottish Falsetto Sock Puppet Theatre, Scottish Falsetto Sock Puppet Theatre: Superheroes, Gilded Balloon, 22:30
I've met loads of great people but Jayde Adams was the best. She'll cry when she reads this. Rich Wilson, Still Relevant, Sneaky Pete's, 18:15. (And Jayde – The Divine Ms Jayde, Pleasance Two, 21:30 – said Rich. Aww...)
Probably Christian Brighty. He heads up the flyering team for Heroes and gave us some invaluable advice. The Delightful Sausage (aka Chris Cantrill & Amy Gledhill), The Delightful Sausage: Regeneration Game, Monkey Barrel 2, 12:00
In a way, I suppose I met myself in Edinburgh... Soft music plays, the camera cranes up over Matthew and the top of Arthurs seat revealing Edinburgh. The sun is rising, the skies clear, despite all that went before maybe there's still hope. Matthew Highton, Insufficient Memory, Heroes at Dragonfly, 20:40
Mary Beard popped by my flat one year. Steadyyyyh! Name drops. Met at Edinburgh? My wife returning to me when I got sober probably. Though that was after. And still on tenterhooks. I need boundaries. Tony Law, A Lost Show, Monkey Barrel, 15:00
Published: 3 Aug 2018
What do you think?