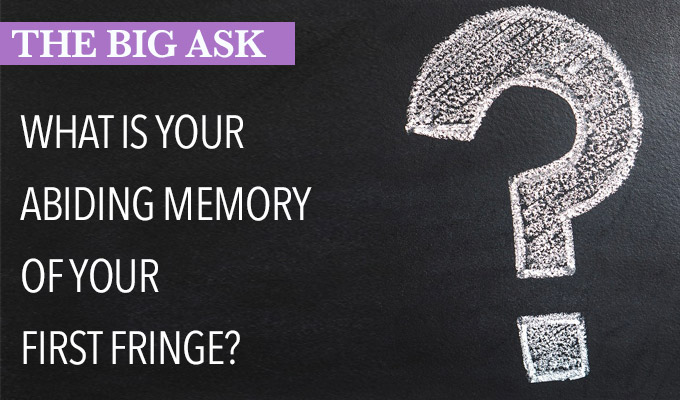 The Big Ask 2018: What is you abiding memory of your first Fringe?
Sleeping in the bus terminal, and not knowing whether I could get home (I was 16). And amazement - coming up to the Edinburgh Fringe was phenomenal, just to see the craziness of what all these people were doing with their lives. It was so inspiring. It felt like running away to the circus for a week. A human circus. Where the animals treat themselves badly. Barry Ferns, Barry Loves You, The Tron, 21:00
My very awkward friend getting a lapdance (it was his birthday). There was a power cut, and the music stopped. He proceeded to sing the rest of the song that had been playing so the dancer could finish her job. He's a good singer. Church choir. Lisa Klevemark, Lemons, The Place, 12:30
Working the bar at the Forest Fringe when Amanda Palmer played a secret gig. And serving porridge to people at 8am who had queued up to see Daniel Kitson live. Elf Lyons: ChiffChaff, Pleasance Jack Dome, 18:50
I remember me and my friends dancing like maniacs to a beatboxer we saw in the street and me loudly proclaiming, 'I have to come here to perform one day!' What a naive loser I was. Jack Barry: Tango, Globe Bar, 20:30
The Megabus from London to Edinburgh. 8hrs 55mins endurance. Lola & Jo, Focus Groupies, Underbelly (Delhi Belly) 16:00
Watching Bill Hicks perform to 20 people at the Speilgeltent. Rob Newman and I were fans and would go night after night to watch him. Jim Tavare, From Deadpan to Bedpan..., Laughing Horse @ Counting House Ballroom, 16:15
A homeless guy asking a street performer if he could piss in his pocket. Joe Sutherland: Toxic, Underbelly, 20:10
Will Smith's show about the band Marillion, it was very funny but the seats were very tight and I had sore knees afterwards.Ian Smith: Craft, Underbelly Buttercup, 17:15
Finding a party where Phil Kay and a couple of friends were dancing naked around the living room. They still wearing ties. That image is burnt onto my soul. Rich Wilson, Still Relevant, Sneaky Pete's, 18:15
Arriving and not realising I should have booked a hotel or something.Justin Moorhouse, Northern Joker, Gilded Balloon, 19:00
Thinking, 'Yeah, people will want to come and see a play where I, an 18 year old, play a New Yorker in his mid-forties having a mid-life crisis. Of course they will!' Brett Goldstein: What Is Love Baby Don't Hurt Me, Pleasance: Beneath,19:00
Phil Nichol in 2003. He refused to end a late-night show. Got other comics down, got audience members up on stage, made them re-open the bar, refused to let anyone leave, ended in the small hours of the morning with the audience on stage doing a sing-a-long. Garrett Millerick: Sunflower, Tron, 17:00
A 40 year-old man walking up to the stage during my show, screwing up his ticket, throwing it in my face and saying 'My Mum said this show was good'.Rob Carter, I Spy With My Little Eye Something Beginning With Why Have You Been Sleeping With My Wife: a play by Christopher Bliss, Pleasance Dome, 19:00
I did a comedy show where I played a life model, I was naked on stage for the entire hour of the show. On the first preview my audience consisted of three old men in trench coats who sat at the back in silence. It was very weird. Owen Roberts: I Let A Six Year Old Write My Show, Pleasance, 16:45
I went to a show where I somehow ended up winning a lettuce. I then spent the night walking through Edinburgh clinging onto my beloved lettuce. Unfortunately I think I lost the lettuce.Lauren Pattison: Peachy, Pleasance Courtyard, 19:00
Seeing Simon Munnery riding a white van with a glove made of dildos while 'Attention Scum' flashed on a screen behind him. John Luke Roberts, All I Wanna Do Is [FX: GUNSHOTS] With a [FX: GUN RELOADING] and [FX: CASH REGISTER] and Perform Some Comedy! Assembly George Square, 17:30
Having my flyer shoved back in my face after a brief critique of it by a then-member of the Oxford Revue. They now work in TV.Pierre Novellie, See Novellie, Hear Novellie, Speak Novellie, Pleasance Courtyard, 19:15
Having to eat half a jar of Branston Chunk Pickle every day on stage.Damien Warren-Smith, Garry Starr Performs Everything , Underbelly Cowgate, 20:10
A grubby homeless woman asked for my number and I was excited for a friend that I gave it to her. She also came to my show. She never called. On second thoughts this might be my worst review. John Hastings, John Hastings: Float Like A Butterfly John Hastings Like A Bee,Pleasance Courtyard, 20:20
Being backstage at the BBC New Comedy Awards and thinking the other performers were acting far too cool. Except for Matt Winning. Christian Talbot, Desperately Seeking Approval, Finnegan's Wake, 12:00
At the age of five I saw a man frothing at the mouth with a cabbage on his head and I remember thinking well that's odd. I think I might fit in here. Ruth E. Cockburn, Love Letters From Blackpool, Summerhall, 14:40
A guy threatening myself and my friend with a knife whilst the show was still happening. He didn't put anything in the bucket. Alexander Bennett: Housewives' Favourite, Waverley Bar, 19:30
In the hostel where Nicola was staying she rolled over in the middle of the night and there was giant, naked Hungarian man spread-eagled on the top bunk opposite her. None of him fit in the bed. Flo & Joan: Alive on Stage, Pleasance Courtyard, 16:00
Seeing that glittering tower, to the sound of jovial French music and the smell of rich Parisian coffee before realising we'd taken the wrong train. The Pin: Backstage, Pleasance Two, 20:00
Published: 30 Jul 2018
What do you think?