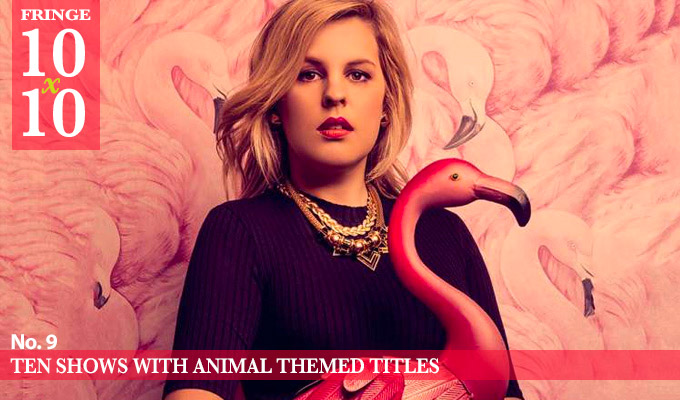 Edinburgh 10x10: Ten shows with animal-themed titles
Because this seems as good a way to select some random shows as any…
Sheeps
Liam Williams might be finding solo success, not least with BBC Three's acclaimed Pls Like, but that doesn't mean he's going to abandon the sketch pals he first came to Edinburgh with since 2011. Although this is the first show in six years for Williams, Daran Johnson and Alastair Roberts. It's called Live And Loud Selfie Sex Harry Potter, but it has absolutely nothing to do with the boy wizard. Pleasance Dome: 19:00
Also, promising newcomer Adele Cliff's show is called Sheep. It's like everyone's following each other, for which there must be some sort of analogy… Just the Tonic at The Caves, 16:10
Monkey
Ventriloquist Nina Conti has finally given in to her inner voices. No longer will her impolite thoughts come through the vessel of her sidekick Monkey… for he has taken over completely. And that doesn't just mean her ego, but her physical being too. In short, she's going to be stuck inside a stiflingly hot monkey outfit for an hour. Better than Bikram. Underbelly Bristo Square, 19:00
Pelican
You can't knock the credentials of Sam Grabiner, Jordan Mitchell and Guy Emanuel having gone through all the comedy education you could hope for: Cambridge Footlights, Ecole Phillip Gaulier and working with renowned physical comedy company Spymonkey. No surprise that there's a theatrical element to their comedy with credentials like that.
Their debut in 2015 was a little smug, but with inventive ideas underpinning them. Will 2018 be the year they step up into the next league? Bedlam Theatre, 20:00
Chameleon
Nathaniel Metcalfe is 25 per cent chameleon if the title of his show is to be believed (it isn't). The rest being comedian, Corinthian and caricature. This is his third solo show – although it's been four years since the last, a fact that could well be related to the fact that on the very last day of the 2014 Fringe he broke up with his girlfriend of four years. (That's duration not age).
A noteworthy fact about this comeback is that it's been directed by James Acaster, who knows a thing or two about funny. Laughing Horse @ The Counting House, 13:10
Wolf
This is the debut show from Lewis Doherty of the underrated sketch group Laughing Stock - a strong outfit who never quite managed to take Edinburgh by storm. Wolf is a hard-bitten detective in the hellhole that is Shadow City, a man who is reeling from the murder of his partner, Jay Walker. Of course, he now has just one mission, to hunt down whoever did it… Underbelly, Cowgate, 20:00
Horse (Dark)
A finalist in many a new act competition, Sarah Keyworth makes her debut this year with Dark Horse, 'a story of her life with an important little girl and her battle against every expectation of what it means'. Her credits include supporting Stewart Francis and Kerry Godliman on tour, and having Sarah Millican admire her gag about her fanny… and the Geordie is a connoisseur of such jokes. Pleasance Courtyard, 17:30
Flamingo
Bryony Twydle, pictured is a character comedian and member of sketch troupe The Jest, who won the Leicester Square Theatre Sketch Off Competition in 2016. As an actress her CV boasts that she's been in E!'s The Royals… although is a bit quieter about the fact that her role was the less than pivotal 'Paparazzi 2' in one episode. Still, everyone's got to start somewhere.
Speaking of which, Flamingo is her solo Edinburgh debut, and promises a 'chaotic collection of interconnected characters'. Underbelly Bristo Square, 20:30
Camels
A sketch show featuring Patrick McPherson and Zac Peel who, despite being relatively unknown, recently filled the 300-seat Tabernacle Theatre in West London. Much more we do not know… Underbelly Bristo Square, 13:00
Elephant (Vanishing)
He's starred in Ridley Scott's The Martian, Bridget Jones's Baby, Ab Fab: The Movie, Netflix's Collateral and Disney's upcoming feature Christopher Robin.
But Nick Mohammed most successful creation of his own is the enthusiastic, domineering, irritating, unselfaware and incompetent alter-ego Mr Swallow.
He's a man who loves a big spectacle and has previously staged a full-on musical of Dracula and recreated one of Houdini's signature water tank escapes.
Now the alter-ego says he's ditching his human sidekicks for something more spectacular. 'After much speculation, I have finally (temporarily) replaced Mr. Goldsworth and Jonathan with an actual real-life elephant called Hayley,' he says. 'God help us all!" Pleasance Courtyard, 19:30

Goose
Comprising former Cambridge Footlighter Adam Drake and the unseen hand of director Ben Rowse, Goose has become something of a Fringe favourite, with their intense, high-octane, one-man, many-character shows. But they are only in Edinburgh for a fleeting visit this year, presenting the best of the last three epic performances. Assembly George Square Studios, 23:00, August 17 to 19.
Published: 26 Jul 2018
What do you think?