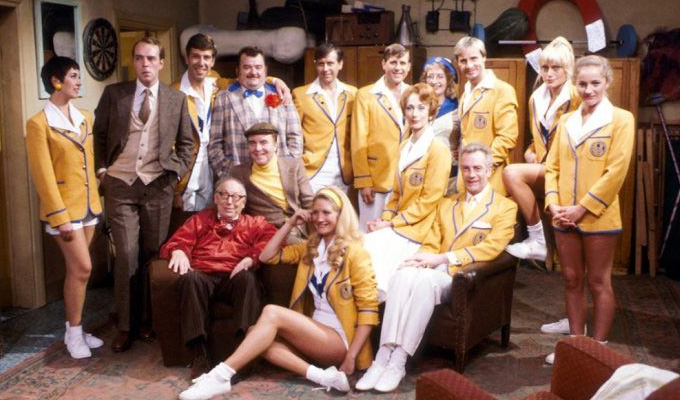 Whatever happened to the Hi-de-Hi! cast?
Exactly 30 years ago today the last episode of Hi-de-Hi! aired. After eight seasons of 1950s holiday camp fun, the yellowcoats were told that Maplins was going upmarket and their services were no longer required – a bitter blow to enthusiastic cleaner Peggy (Su Pollard) who had just landed the job after spent eight years eagerly campaigning for it…
But what happened to the cast? Here's our guide:
Simon Cadell
Played: The well-educated fish-out-of-water entertainments manager Jeffrey Fairbrother in the first four series.
Before Hi-de-Hi!: The son of a theatrical agent, he trained at the Bristol Old Vic and had a successful career on the stage.
After Hi-de-Hi!: Immediately after Hi-de-Hi!, he played the disingenuous civil servant Dundridge in the TV version of Tom Sharpe's novel Blott On The Landscape. He starred in the BBC sitcom Life Without George which ran for three series from 1987 and the ITV sitcom Singles.
He also married actress Rebecca Croft, the daughter of Hi-de-Hi! co-creator David Croft, in 1985, the year after he left the show.
But in January 1993 Cadell, aged just 43, suffered a near-fatal heart attack after appearing on stage with Joanna Lumley at the Queen Elizabeth Hall, in London. He underwent triple heart bypass surgery, but was then diagnosed with lung cancer later that year, too. He died on March 6, 1996, at the age of 45.
David Griffin
Played: The Honourable Squadron Leader Clive Dempster DFC, who took over from Fairbrother from series five onwards.
Before Hi-de-Hi!: A long career of bit parts in shows including Doctor Who, Ripping Yarns, Dixon Of Dock Green and Z-Cars
After Hi-de-Hi!: Went on to another massive sitcom, playing Emmet Hawksworth in Keeping Up Appearances between 1991 and 1995. He then toured the stage show The Good Sex Guide alongside Hi-de-Hi! co-star Su Pollard, but, now 74, has not been seen professionally for a couple of decades.
Paul Shane
Played: Camp host Ted Bovis.
Before Hi-de-Hi!: He was a miner until suffering a back injury at the age of 27, after which he became a singer and then a comedian. He had small roles in the likes of Coronation Street, but Ted Bovis was his first big role
After Hi-de-Hi!: Like many Hi-de-Hi!! alumni he went on to be in the stately home set sitcom You Rang, M'Lord?, again penned by David Croft and Jimmy Perry, and Oh Doctor Beeching, set in a rural railway station, written by Croft and others. Shane also had his own, long-forgotten, 1991 sitcom, Very Big, Very Soon. Other significant TV credits include 1997's Common As Much, playing Stan Ashleigh in 11 episodes of Holby City, and Solomon Dingle in eight episodes of Emmerdale. He died in a hospice in May 2013 at 72 after a prolonged period of ill health.
Jeffrey Holland
Played: Camp comic Spike Dixon, learning the tricks from old hand Ted
Before Hi-de-Hi!: He trained at the Birmingham School of Speech Training and Dramatic Art a before becoming a professional actor in the late 1960s. He appeared in an episode of Dad's Army, and twice in Are You Being Served and It Ain't Half Hot Mum.
After Hi-de-Hi!: He joined his castmates in You Rang, M'Lord? and Oh Doctor Beeching as well as being a straightman in the Les Dennis and Russ Abbot shows. He continues to be very active in the theatre, appearing in the play based on the movie Brassed Off last year and the recent stage revival of the sitcom Waiting For God alongside Nichola McAuliffe. At 71, he continues to perform his tribute show …And This Is My Friend Mr Laurel from time to time. (Review from this time last year)
Ruth Madoc
Played: Sports organiser and 'Hello campers' voice of Radio Maplin, Gladys Pugh
Before Hi-de-Hi!: After training at RADA Ruth Madoc spent three years with The Black and White Minstrel Show, among many stage and radio roles.
After Hi-de-Hi!: She appeared in stage productions including the musical Annie, a series of Agatha Christie plays and panto. She played Daffyd Thomas's mother in Little Britain and appeared in BBC's flop circus sitcom Big Top alongside Amanda Holden.
At the age of 74 she will bare all in Gary Barlow 's new touring musical of Calendar Girls, having previously appeared in a play based on the story of the Women's Institute members who made a nude calendar.
She says she's comfortable with nudity, adding: 'I might be old, but in the days of The Black and White Minstrel Show, we were doing two shows a day, would have 16 costume changes on the side of the stage, and all that that I had on is a g-string and a pair of fishnet tights…'
Su Pollard
Played: Chalet maid and wannabe yellowcoat Peggy Ollerenshaw
Before Hi-de-Hi!: Su Pollard got an early break on Opportunity Knocks in 1974, singing I Cain't Say No from Oklahoma! Her first comedy role was in a BBC series entitled Two Up, Two Down in which she played a hippy named Flo in 1978, the year before Hi-de-Hi! launched.
After Hi-de-Hi!: As well as appearing in You Rang, M'Lord? and Oh Doctor Beeching, Pollard has fully embraced the celebrity circuit, appearing as herself on everything from Noel's House Party to Loose Women. She has also toured with her own one-woman show. and has just finished a stint in panto in Aylesbury.
In an interview last month she said: 'I still get money when Hi-de-Hi! is repeated. I think the last cheque was for something like £11.20.'
Leslie Dwyer
Played: Kid-hating children's entertainer Uncle Willie
Before Hi-de-Hi!: The son of music hall comedian Johnny Dwyer, Leslie Dwyer acted from the age of ten and appeared in his first film in 1921, aged 15. Other appearances include the Kenneth More version of The 39 Steps, Steptoe and Son and Terry and June.
He died in 1986, at the age of 80. His character was written out of the show to be replaced by tramp turned children's entertainer Sammy, played by comedy veteran Kenneth Connor.
Felix Bowness
Played: Riding instructor Fred Quilly
Before Hi-de-Hi!: Bowness was a D-Day veteran, whose landing craft was sunk on the Normandy beaches. During recovery he attended a Vera Lynn concert, after which she gave him a singing lesson
He joined the touring comedy circuit in the late 1940s before becoming a TV warm-up act for the likes of Morecambe and Wise, the Two Ronnies and Terry Wogan's chat show.
After Hi-de-Hi!: He appeared in You Rang, M'Lord? and Oh Doctor Beeching, but little else, and died in 2009, aged 87.
Diane Holland
Played: Snooty ballroom dance teacher Yvonne Stuart-Hargreaves
Before Hi-de-Hi!: Diane Holland genuinely trained as a dancer – and got the role because she was Jimmy Perry's sister-in-law. She had formerly played the recurring role of Sarah Maynard in Crossroads from 1964 to 1970.
After Hi-de-Hi!: She he sitcom The Upper Hand, and the Are You Being Served? sequel Grace and Favour. One of her last appearances before she died in 2009 at the age of 78 was as the Maiden Aunt in a production of The Nutcracker in Covent Garden.
In a 2010 stage revival of Hi-de-Hi!, the role of Yvonne Stuart-Hargreaves was played by Nikki Kelly, originally one of the glamorous, sex-mad Yellowcoats
Barry Howard
Played: Yvonne's henpecked husband and dancing partner
Before Hi-de-Hi!: He funded his place through drama school by working backstage at the Alexandra Theatre in Birmingham. He had a number of small parts in TV series, including Terry and June, before landing his Hi-de-Hi! role. He also regularly appeared in pantomimes as an ugly sister opposite John Inman.
After Hi-de-Hi!: In 1994, he appeared in all six episodes of the comedy series The House Of Windsor alongside Leslie Phillips and Warren Clarke. Among a smattering of later roles he was was in a 2012 episode of Radio 4 comedy Fags, Mags and Bags as 'Frank Butcher'. He died from blood cancer, aged 78, in April 2016
Published: 30 Jan 2018
What do you think?